Dave Spaite - Community Life Pastor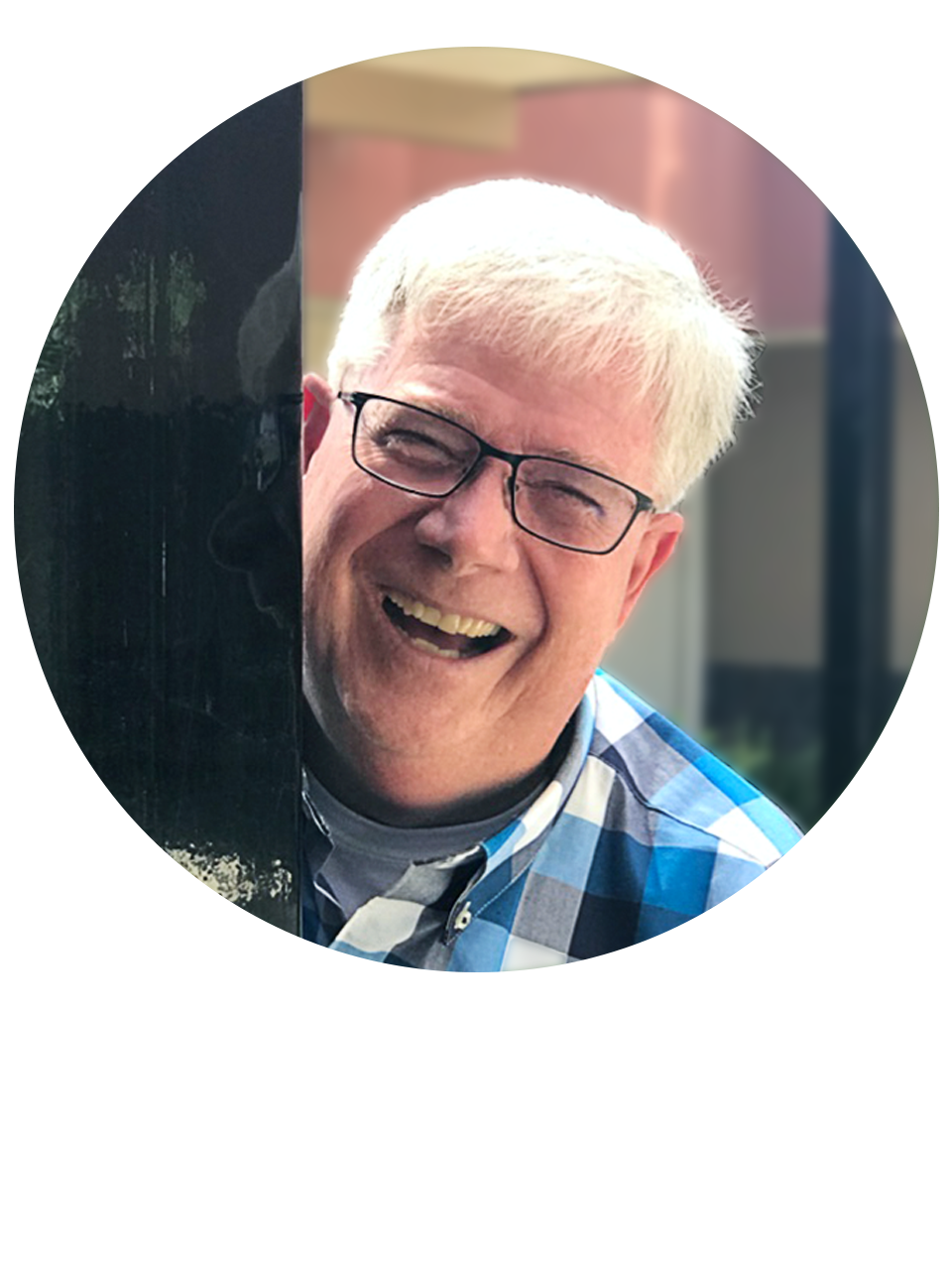 Dave's Daily Devotion, Monday, April 5, 2021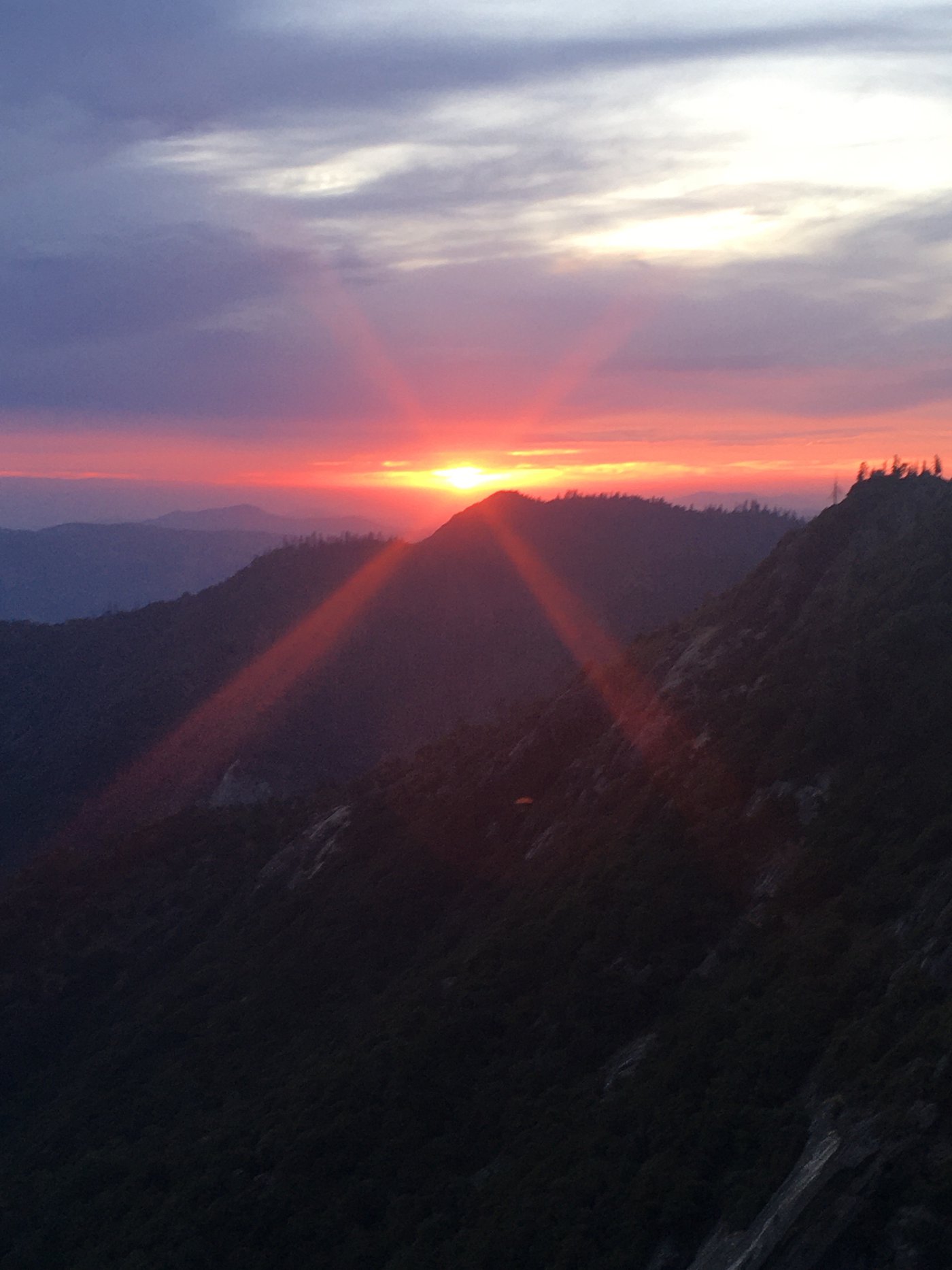 Thoughts on 2 sentences from Pastor Michael's Easter sermon of yesterday...
1 John 4:7-11
"Dear friends, let us love one another, for love comes from God. Everyone who loves has been born of God and knows God. Whoever does not love does not know God, because God is love. 9 This is how God showed his love among us: He sent his one and only Son into the world that we might live through him. This is love: not that we loved God, but that he loved us and sent his Son as an atoning sacrifice for our sins. Dear friends, since God so loved us, we also ought to love one another. No one has ever seen God; but as we love one another, God lives in us and His abiding love is made complete in us."
Like P Michael said yesterday, we don't come to Jesus, He comes to us (comes after us) seeking us in love. Jesus has come and will continue to come, seeking his lost sheep, rescuing us "from the domain of darkness" (Col. 1:13) and brings us into His kingdom of light and love.
Verse 9 in the original language explains...
Ἐν τούτe ἐφανερώθη - in this - 'it has been revealed' (is being revealed, - Present Active Indicative). So in context, this amazing 'love of God' is being revealed even now in the present - right now as we have our morning devotions
And what is being revealed here in 1 Jn 4? The most used word (15 times in 6 verses) is 'love', a God initiated selfless love - agape (ἀγάπη). In this 'it is being revealed' unto us that He truly & unselfishly did love us, is loving us & will love us. It is a perfect love (agape telios) that is made perfect in & thru us, 'not of ourselves, that any one might boast' (Eph. 2:9), but because like P Michael said, He has sought us out in His never ending 'seeking love' for us. This is perhaps the most wonderful thing in our existence that purposely & aggressively, God in Christ is "reconciling the world to Himself" thru His (2Cor 5:19). Seek Him today in response to His love seeking you.
Dave's Daily Devotion, Monday, March 24, 2021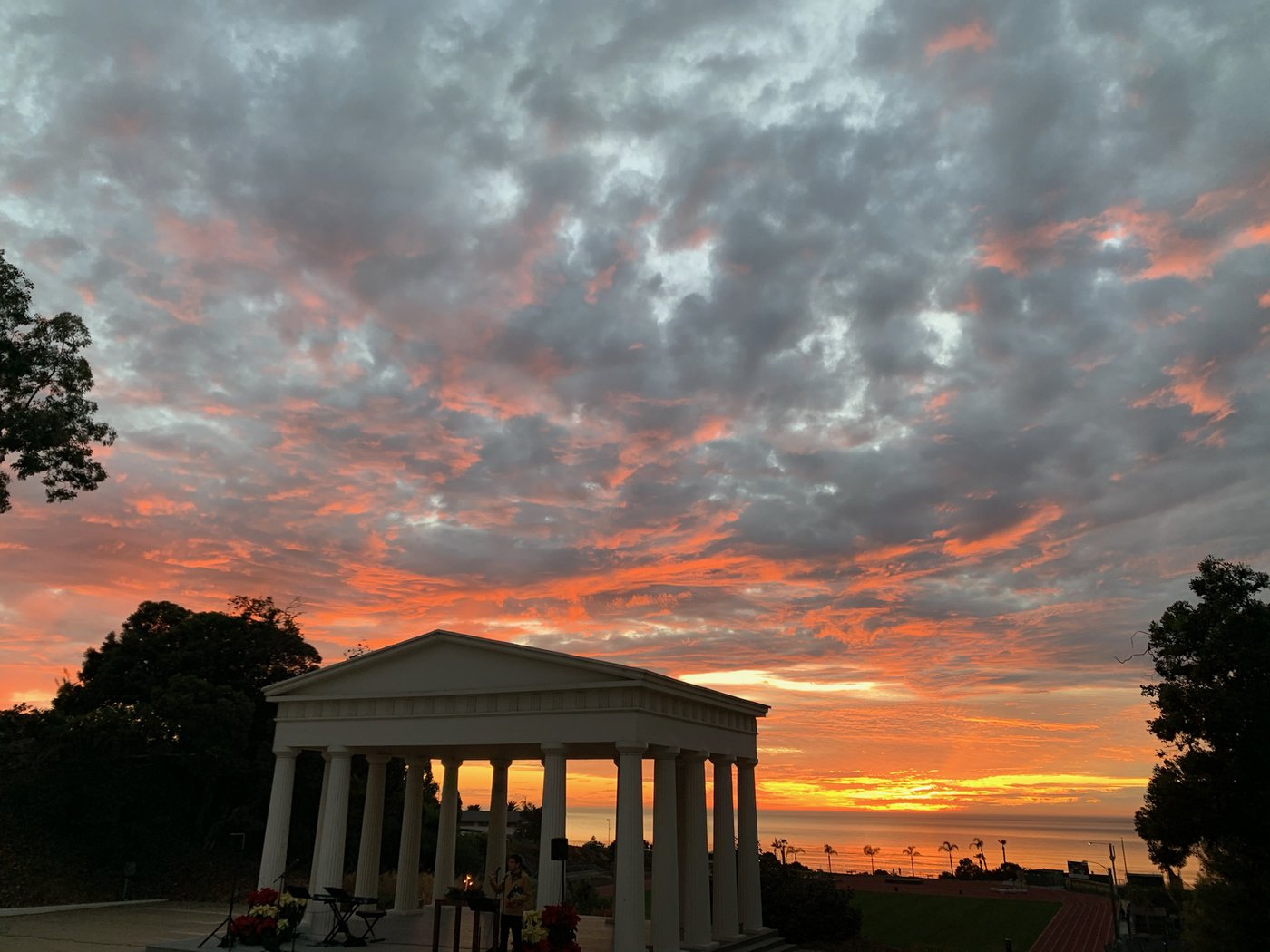 Be Still and know that I am God….
Be Still and know that I am….
Be Still and know…
Be Still…
Be…
Hey there busybody…..
What I mean - is that you are so busy in your body - that you might have just rushed
through the depth of Psalm 46:10.
If you brain works like mine-, I have a list of - 'I have to get this done ...' that runs my day.
However, there is more to life than increasing its speed & completing 'The List'.
I have trained my brain over decades to attack the daily list of 'have-to's' in order to get
everything done that I want to get done. There is something to be said for being
productive, but I find myself most often stoking my 'Doing' at the expense of my 'Being'.
OK, so I'm a compulsive minister. (insert your own vocation here…Lol)
The point is – that I'm so entranced & consumed by the task that I'm neglecting who I am.
"Be still and know that I am God…"
Yes, I want to know who God is. For sure!!
But in order to do so – I have to be still……
And – if I am still – I have to face me, myself & I.
Do you relate? In the stillness – I have to face my compulsiveness.
Hitherto, I don't want to face my inner self, as it is often painful to do so.
I end up having angry conversations with imaginary enemies & emissaries of the dark side.
In the stillness, I end up having to face my emptiness & prayerlessness.
So, I default to "The List".
There is comfort in doing - "The List".
There is victory in completing - "The List".
Conversely, in the stillness there is often an empty knucklehead...that begs to be dealt with.
So, I avoid him….& I also avoid HIM.
He is there in the stillness – waiting for me to recognize that He's worth knowing more
than anything this world has to offer me.
Be still and know…..
Dave's Daily Devotion, Wednesday, March 10, 2021
Have you ever been thirsty? Like really thirsty? So thirsty that you couldn't spit?
I once experienced such thirst.
In 1975, I was introduced to the adventure sport of technical rock climbing by way of Yosemite Mountaineering School. Ever since, I have used climbing as a ministry teaching tool. The concepts of faith and trust are no longer just 'good ideas' when you back off a 100 ft cliff while attached to a rope with a gizmo called a "6 carabiner break bar".
Several years into my climbing career, I encountered my 'very thirsty' learning experience.
I took 3 guys from my youth group camping & climbing in Yosemite Valley. We chose to tackle a moderate but lengthy 400 ft. climb just to the right of spectacular Lower Yosemite Falls.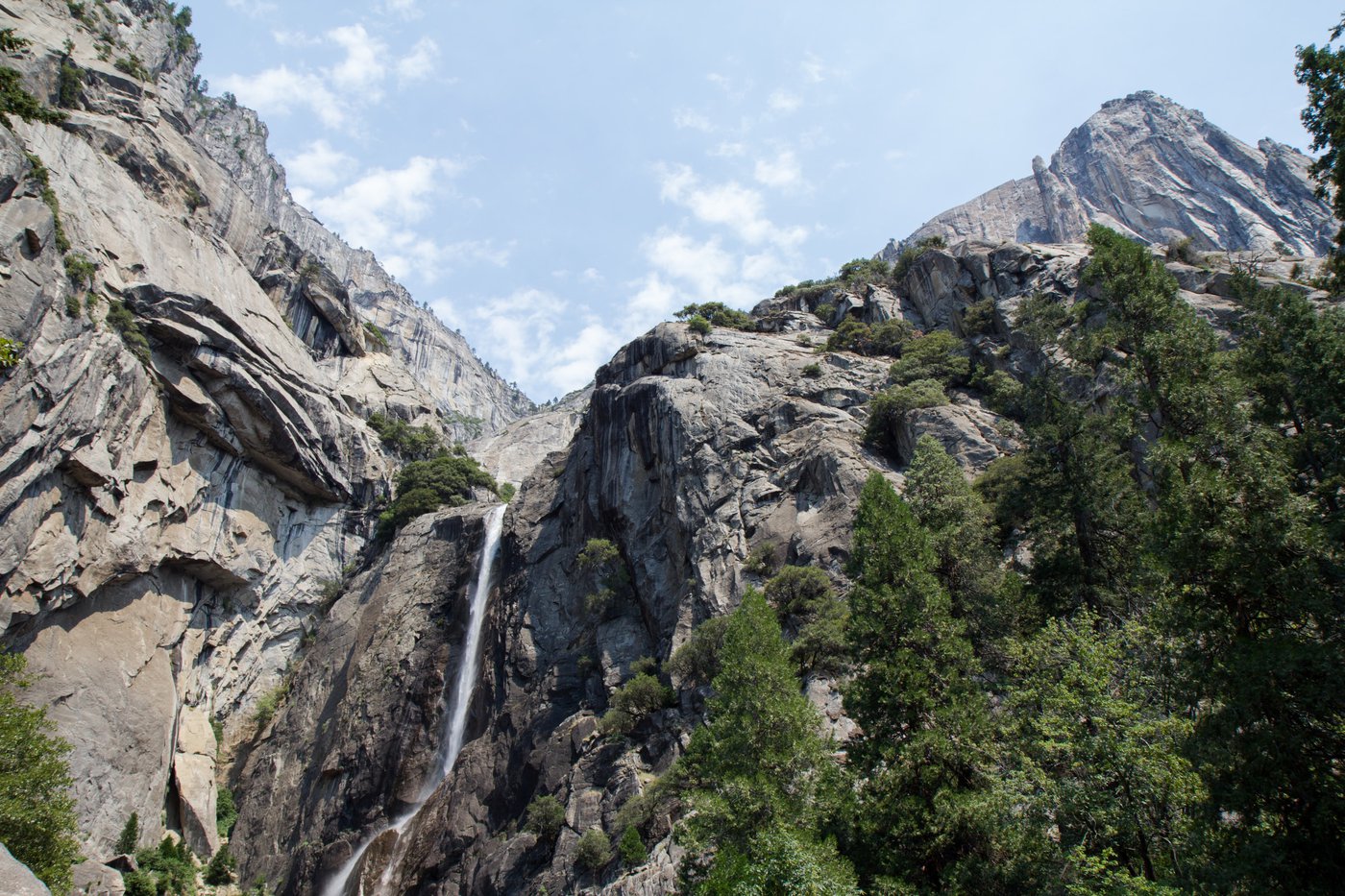 Things went well and we soon found ourselves taking in the incredible views looking down on the pine trees. While resting on nice a ledge several rope lengths above the Valley, we regretfully discovered that we had forgotten to pack the water that we needed for the all-day climb.
After some heat induced suffering, we finished the last roped pitch and made our way over to the place between Upper and Lower falls named by John Muir as "Fern Ledge" located in the Middle Cascades. Once there, it is possible to make your way down to Yosemite Creek before it jettisons over the lip of the 320 foot high Lower Water Fall.
This was before we were much aware of the problem of water born illnesses and we were so thirsty, it probably didn't matter anyway. We lay on our faces as we drank deeply of the cool, clear, satisfying Sierra water. Delicious! We drank until our thirst was satisfied.
After a lengthy rest, we rose to descend Sunnyside Bench which is the formation over which the Lower Falls descends.
As we gathered up our gear & began the walk-off hike, we discovered that we had consumed so much water that it sloshed around in our empty tummies.
Our thirst had been satisfied, but not all are so lucky.
I once heard of a young man from New Jersey who traveled to the deserts of Utah for an adventure in survival training. By day 2 in the more than 100-degree heat, he was in bad shape. He was in desperate need of water & began experiencing hallucinations. After 10 hours without water, he collapsed and died a mere 100 yards from a cave that contained fresh water.
What can happen in the natural, can also happen in the spiritual. We can become parched with spiritual thirst even though an endless supply of spiritual water awaits our discovery.
Jesus stood before the crowds gathered in Jerusalem & declared, "Let anyone who is thirsty come to me and drink. Whoever believes in me, as Scripture has said, rivers of living water will flow from within them." By this, He meant the Spirit. (John 7: 37-39, NIV).
Being in the presence of the Holy Spirit is the only thing that can satisfy the thirst of our soul. Clearly, Jesus told us how that our soul could be satisfied - by "first seeking His kingdom and His righteousness". (Mt. 6:33).
Yes! Through seeking the presence of His Holy Spirit, God the Father offers entrance into His peaceable kingdom through what Jesus, His Son has done for us. And – in that, He offers His blessed presence to any who will "diligently seek Him". (Hebrews 11:6).
Our greatest need is to pursue Jesus. He alone is the source of living water. He alone satisfies the thirsting of our souls.
"O God, thou art my God; early will I seek you, earnestly I will seek you. My soul thirsts for you and my flesh yearns for you, in a dry and thirsty land, where there is no water. - Ps. 63:1
Dave's Daily Devotional, Wednesday, July 8, 2020
In preparing to share last Sunday, about "The Discipline of Listening", I came across an illustration from the life of an Australian gentleman by the name of Don Ritchie, who for 50 years has lived across the street from a rock cliff at the entrance to Sydney Harbor called "The Gap."
While this rock cliff is famous for its views, it's also famous for another reason. Since the 1800's, people have come to this place to jump off the cliff & end their lives. There's only a small fence separating people from the edge. On the average, approximately one person a week attempts to take their lives there. Yet Don has been trying to make a difference. In these devastated peoples lives.
"You can't just sit there & watch them," Don said in an interview "You gotta try & save them, it's pretty simple." That's what Don has been doing for 50 years. He has saved 160 people according to official records, but according to ABC news, that number is much higher, probably close to 500.
How does he do it?
Each morning, as he gets out of bed he looks out his window & throughout the day, he keeps watch to see if someone is alone & close to the edge. If he notices this, he rushes out of his house to interact with the person.
A news article describes those moments well, "In those bleak moments when a lost soul has stood atop the cliff, wondering whether to jump, the sound of the wind & the waves are broken by a soft voice. 'Why don't you come & have a cup of tea?' the stranger would ask. And when they turn to him, his smile often became their hope."
That's all he did.
He offered them a cup of tea, a smile, & most importantly, someone to not just hear them & their pain, but someone who would really listen.
The news article continues, "Don remains available to lend an ear, though he never tries to counsel, advise or pry. He just gives them a warm smile, asks if they'd like to talk & invites them back to his house for tea. Sometimes, they join him. "I'm offering them an alternative, really," Ritchie says. "I always act in a friendly manner. I smile." It's amazing what a simple cup of tea, a smile, & a listening ear can do for another person. While this cannot save everyone, which is true even for the 'Australian Angel', it is true that simple kindness & a listening ear is often what speaks love in dramatic ways & brings hope to many."
A Prayer: "Lord, please help me to find a place of redemptive love that offers hope to the broken-hearted of my world. Thank you for how a smile can lead to a cup of tea that can lead to a new life. Lord, make me an instrument of your peace. Amen."
Dave's Daily Devotional, Saturday, June 27, 2020
Conventional wisdom suggests that anger is at the heart of the mayhem that has descended upon our culture. It has been sparked from racial injustice – but such an assessment would only be partly correct.
Perhaps there is a place for "righteous anger". It seems that "righteous auger" is an emotion that flows from some form of gross, unfair wrongdoing. Managed responsibly, it can change the world. Handled recklessly, it can burn it down.
I once worked with someone who, though a well-meaning person, seemed to be angry about something all the time. They were perpetually aggrieved, regularly calling offense to matters large & small. It gave them energy & a sense of purpose – but discouraged & repelled everyone else around them.
Social media is a popular forum for this type of aggrievement. In fact, the medium thrives on controversy – but to what end? Things can quickly deteriorate in a virtual setting. Studies show that people are far more inclined to be rude online than face-to-face. Personally, I think it's a wise person who avoids online argument
If we want to change the contentious climate we're living in, the first – & maybe ultimately the only – thing we can really do is change ourselves. But that's no small thing. At the root of destructive & unrighteous anger is failure to acknowledge the primary problem facing the world today – the sin in our own heart.
Granted, it won't make headlines or earn public accolades. But if we will each address our biggest challenge – ourselves – first, we will change the world around us.
The last several months, the consumption of information has increased exponentially
All of a sudden, everyone has an opinion, & everyone is an expert. With the noise level so deafening, I've asked myself:
Does a Christian worldview truly have an impact at a time when so many are shouting into cyberspace?
This era has a chance to open the door for many healing moments. One inner city Pastor from Seattle was quoted as saying,
that this is a season in which we can be talking about racial reconciliation, equality & non-violent justice.
50 years ago, that is precisely what Dr. Martin Luther King Jr. was saying.
"I have decided to stick with love.
Hate is too great a burden to bear. Darkness cannot drive out darkness;
only light can do that.
Hate cannot drive out hate;
only love can do that."
I'll settle for love any day. Love begats hope & hope does not disappoint.
Dave's Daily Devotional, Friday, June 26, 2020
"He will direct your paths." - Proverbs 3:6
Pastor Dave's path on Tuesday this week:)
"Make me know Your ways, O Lord;
Teach me Your paths." - Psalm 25:4
Oh, to walk a righteous path through life!
"Live justly, love mercy, & walk humbly with your God." - would not that solve such a great host of problems in our world?
Lord, please help me to live like this & follow your direction. "Thy Word is a lamp unto my feet & a light unto my path." - Psalm 119:105
"Help me to walk in the way of righteousness, along the paths of justice." - Proverbs 8:20
Dave's Daily Devotional, Thursday, June 25, 2020
What are the characteristics that make the church of Jesus different than any other group in the world?
Pastor Michael shared with us those special values of the early church in March. He is desiring for us to emulate the church of Acts as much as is possible.
Those characteristics are;
•They devoted themselves to the apostles' teaching,
•to fellowship,
•to the breaking of bread
•and to prayer.
Also,
•Everyone was filled with awe at the many wonders & signs performed by the apostles. (Something that we cannot manipulate).
•All the believers were together & had everything in common. (hard for us to accomplish currently).
•They sold property & possessions to give to anyone who had need. (give to the church as we feed the hungry).
•Every day they continued to meet together in the temple courts. (difficult right now).
•They broke bread in their homes & ate together with glad & sincere hearts, praising God & enjoying the favor of all the people. (possible in our family groups?).
•And the Lord added to their number daily those who were being saved. (when was the last time you shared your faith with someone outside your church family?)
This is the only prescription that is given or needed to explode the love of Jesus into any culture at any time & in any place in the history of the world. To the degree that we are able to accomplish this, the more that the church will "daily add to its numbers".
It's pretty simple, isn't it?
It's all about loving God & loving others:)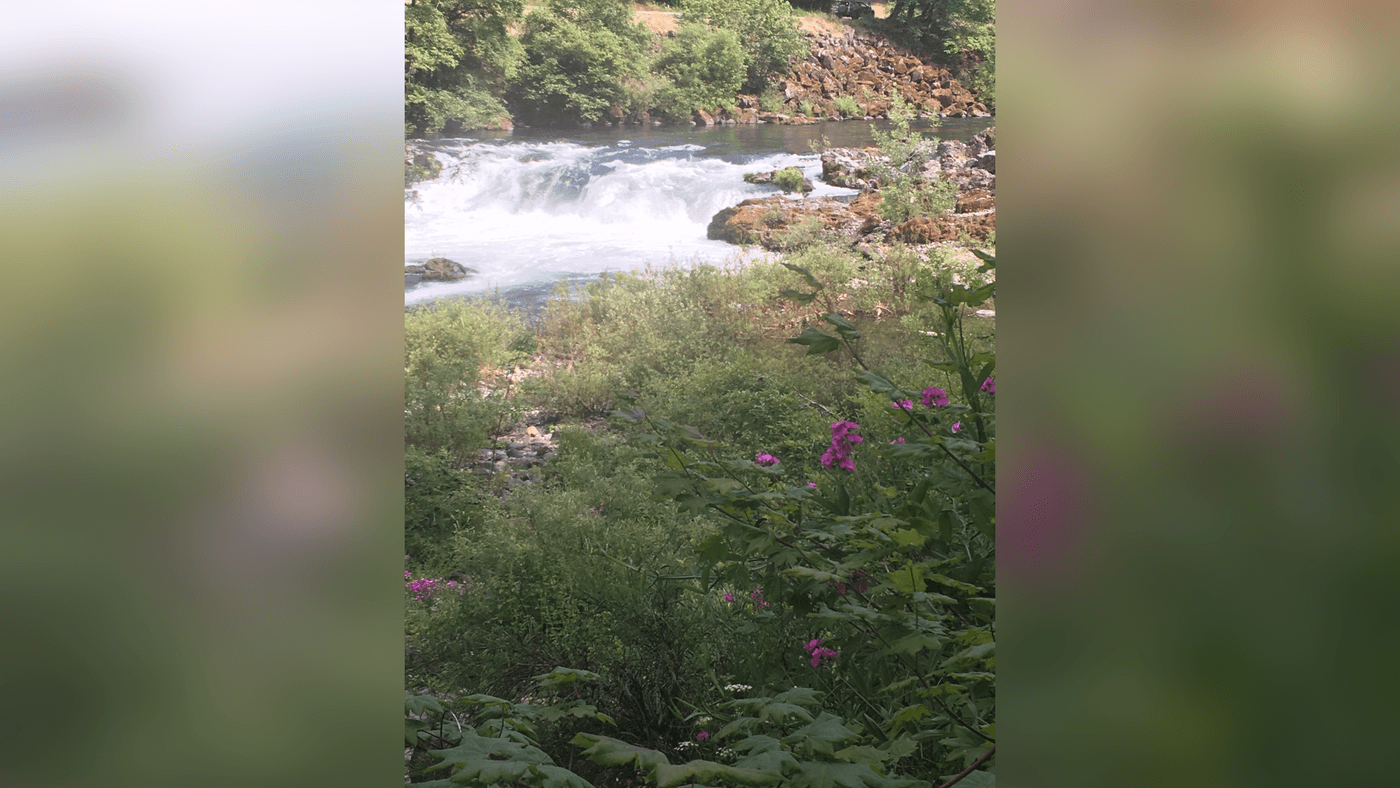 Dave's Daily Devotional, Wednesday, June 24, 2020
Prayer is a powerful discipline in the life of believers world wide today:)
Many people I know are praying for family who are facing critical risks from COVID-19. Others I know are praying for those who have lost jobs or otherwise undergoing economic hardships. Some I know are praying for governmental leaders, first responders & medical professionals who are heroically waging war in the midst of this tragedy. Many are praying for God's peace to rest upon families, friends & co-workers who are fearful. A few people I know are regularly praying for their neighbors. These are all tremendous things to be praying. By all means, keep presenting these needs to God's throne of grace!
But how many of us are praying prayers of repenting of our sins and crying out to God for mercy?
This we must do & often on behalf of others as well as for ourselves.
In light of the global reach of this pandemic, & the current worldwide response to the good news of Jesus, let us pray & petition our Lord who desires to "abundantly pardon". - Isaiah 55:7
So when we face a calamity of the growing magnitude of the COVID-19, embrace this prayer strategy of repentance & intercession:
Confess any & all known personal sins, & call out to God for mercy.
Confess any sins that are prevalent in our church & community, & ask God to pour out a spirit of mercy, grace & spiritual power upon us.
Confess the sinful patterns of our nation, as well as any participation you might share in such national sins. Call upon God for mercy for our nation.
Confess global sins & prevalent worldwide sinful patterns (think of drug violence & local wars, sex trafficking, failure to give God the glory due him through various forms of idolatry). Ask God to extend his mercy across the globe.
We must turn to God with all our hearts & souls & at the same time turn away from self-serving expectations, such as the expectation that we can do whatever we want whenever we want. As we face our own day of distress - we must call upon God to extend mercy to us, to our neighbors, our nation, & our world. It is urgent that we implore the Lord to halt the spread of this plague, & beg the Lord to display spiritual mercy in our generation by ushering in wide-scale revival! Let us pray as never before that God will demonstrate both physical & spiritual mercy in this time of distress!
"Seek the Lord while He May be found. Call upon Him while He is near. Let the wicked man forsake His ways & the unrighteous man His destructive thoughts.
Let Him return to the Lord, & He will have mercy on them, for He will abundantly pardon." - Is. 55:6 & 7
Dave's Daily Devotional, Monday, June 22, 2020
"United Together in the Mission of God"
- This is a letter from the Board of General Superintendents which function as our denominational leadership.
It is amazing how the mission of God knits us together. Any human undertaking counts on the direct & indirect contributions of others. This, however, requires people to work together, sharing in the interests, gifts, & skills of others. For this to happen, there must be cooperation as people try to get along well or to at least tolerate each other. They try to do so in the interest of material & worldly gains.
In the Kingdom of God, our togetherness is nourished by deeper & more powerful means. We call these the means of grace. Specifically, not defined by our abilities or skills but rather based on the gospel of Jesus Christ, seen in His life, death, & resurrection.
For several weeks now, despite social distancing, the church has made creative provisions for our unity. That "something" translates into words of encouragement, prayers, gifting, dreaming, & readiness for the future.
Only God can keep us together in this way as we focus on the mission of Jesus. We are imperfect people, each one contributing to the building up of Gods Kingdom. Together we can come to an amazing understanding of God's plan & actions as well as our roles & potential in God's purposes. In this project of God's, there are a few things we ought to keep in mind:
First, the Lord is with us: "The Lord God, even my God, is with you." - Joshua 1. We need historians, sociologists, politicians, counselors, etc., but only the Lord who sent His son Jesus to give sight to the blind, freedom to the captives, & salvation for all can lead us in this stage of the Kingdom building. The plan is His & it is good.
Second, the Lord is our finisher: "He will not leave you or forsake you, until all the work for the service of the house of the Lord is finished." Our setbacks & failures do not hold Him from finishing the plans that He sets in His heart to accomplish.
Jesus came to get it done, & He made His mission very clear. In the life of Christ, we find the example for what we do through Nazarene Compassionate Ministries (NCM). During these trying times, the church is reporting participation in the mission & impact on the lives of many across the globe.
438,052 people have been served by Nazarene projects.
66 world areas are covered under the Nazarene pandemic-response.
257 districts are participating in pandemic-related ministries.
3,500 churches jumped into action to serve their communities.
By the power of God's love & amazing grace, united, we must improve or even change the way we act in response, not only to the physical pandemic but also to the human wickedness that causes suffering, losses, disrespect, discrimination, & division. Together, in obedience to the God we know, we will get it done.
--Board of General Superintendents
Dave's Daily Devotional, Sunday, June 21, 2020
As a church, we have been dreaming of this Sunday of re-gathering for almost 4 months now!
As excited as we all are about worshiping together again, I'm pretty sure that it won't be the same as old times. Or at least, our worship experience will be different. We will need to wear our masks & stay in our family circles. Perhaps some will choose to listen afar off from the safety their cars.
However, worshiping the Lord will still be a wonderful experience, as it always is with Gods people. Please help us to stay safe by following the guidelines explained in Pastor Sara DeBoef's all church email.
What a privilege to be able to open up those big airplane hanger doors that usually serve as the back wall of the sanctuary & worship outside on the West lawn!
How forward looking it was for Pastor Terry Schneider & Pastor Larry Ehoff to have been so creative 25 years ago. While their vision was to use the outside option primarily for outreach concerts that we would sponsor, over the years we have been blessed to also use it for a variety of special events & Saturday Night Celebrations. I'm not sure that we envisioned that we would be using it for special services on Sunday morning for several months.
We are so blessed to have such a fantastic outside worship option! We have also been blessed as many of you have given very generously towards the purchase of a new outdoor sound system!
Thank you for loving your church & being faithful in prayer & giving.
Finally, Happy Fathers Day to all of you wonderful fathers! Your church board, church health team & church staff want to commend you for your lovingkindness & providing faithful leadership over the years for your family.
As a church body, we gather together to worship again on this momentous occasion as we celebrate Christian Fatherhood! Lord help us to be better Dads!
Dave's Daily Devotional, Saturday, June 20, 2020
I have been blessed with the best Dad in the world. Dr. Wil Spaite has been a constant inspiration to me throughout my life. While he has achieved many honorable accomplishments, both academic & ecclesiastical, he would probably tell you that his greatest treasure is that the three children that he & mom raised all love the Lord & are serving the King of Kings.
Dad has been a Pastor for over 60 years now; loving on people, encouraging the broken-hearted, counseling the curious, preaching the Word & planting new churches.
Dads responsibility was to be an overseer of 60 churches in Central California for 20 of those years. Part of Dads legacy as District Superintendent is that he challenged each of the English speaking churches of Central California to host a Spanish speaking congregation. His heart for reaching all people with the Gospel took practical initiative in encouraging spiritual growth through the lives of the Latinos of the San Joaquin.
I recently told my younger Brother that my whole life has been an attempt to emulate my Dad's character & great love for people:)
One of the favorite things that Dad did when we were young was that he would come into our room at bedtime & pray with us before we would fall asleep. When God blessed us with our boys, I found myself doing the same:)
However honorable & that Dads achievements might be, I am simply grateful that God blessed me with such a marvelous teacher, trainer & example of a Godly man.
And that is the goal of my life - to be a Godly man - like my Dad.
Dave's Daily Devotional, Friday, June 19, 2020
Whether you're a person of faith like myself or not, the question of living out of love is a real on-the-ground question. The historical person of Jesus Christ (around which my faith orbits) not only taught love; Christianity's provocative claim is that He personified love. He is love (1 John 4:7-21)
Perhaps the most beautiful as well as the most difficult thing about Christ's teaching is that He instructed & actually commanded His followers to love others, even those that despitefully used them. (Matthew 5). So, while I feel fear's power in & around me, I have wondered how a disposition of love would shape how I live. As much as I do not know the fine-print answer to that question, I know that at least part of the answer requires sacrifice & service of others - pan ethne. (All People).
Ravi Zacharias has said it beautifully, "Love is the greatest apologetic. It is the essential component in reaching the whole person in a fragmented world. The need is vast, but it is also imperative that we be willing to follow the example of Jesus & meet the need."
Wouldn't it be wonderful, if in our time, too, we Christians would primarily become known for the generous, selfless love of our neighbors, rather than the many things we oppose & judge?
Far from Christianity ever being safe, as the Christian ethic often comes full of risk. To love is to make oneself vulnerable in a variety of ways.
Loss of life is always sad on this side of heaven, but when we think of the doctors of Wuhan, China, giving up their lives so that others may live, we are moved profoundly. This is the ultimate form of love: giving up one's life so that others may live. It is precisely the kind of activity that Christ embodied.
So, as we live in this state of emergency, the question I ask myself is one I put to you: What does it look like for us to live out of love & not fear right now?
How can we think & act for others instead of looking out merely for ourselves? I'm still figuring out the exact answer, but as we contemplate re-gathering we can balance such needs. We can wear a mask out of courtesy to others. We can pray for those who have contracted the virus & have lost loved ones. We can show caring by calling. Call a friend on the phone. Call 5 friends.:) Find ways to say, I Luuuvvvv you! They will know that we are Christians by our love (not by our books, blogs or buildings), but by our love.
"By this everyone will know that you are my disciples, if you love one another." - John 13:35.
Dave's Daily Devotional, Thursday, June 18, 2020
Willie Brandt was Germany's chancellor from 1969 to 1978. In 1970, he made a historic visit to Poland. Brandt came to a place named the "Warsaw Ghetto" - an open aired walled prison where the Nazis had forced Jews to live in their occupation of Poland. They used it as a holding pen before they shipped the Jewish people to concentration camps.
Brandt's unique visit was to acknowledge Germany's culpability in the murder of 3 million Polish Jews. This was 90% of the county's Jewish population & nearly half of the 6 million Jews that the Nazis killed in their attempt to conquer Western Europe in World War ll.
Brandt was there to lay a wreath. But as he approached the memorial, he fell to his knees in anguish. It was an act of deep humility & courage. Some looked at it as a sign of weakness, but it resulted in helping Germany begin to deal with its former atrocities.
Brandt's humble attempt at repentance & reconciliation opened a door to his country's true reckoning with its past.
It's important to add that Willy Brandt fled Nazi Germany as a young man & survived the war In hiding as a dissent. He was a marked man by the Nazis often escaping capture & death.
So if anyone had an excuse to say, "I'm not responsible for my country did", it was he. However Brandt felt that he had been a part of a society that committed mass murder on an unimaginable scale. Out of this horrific situation, he felt compelled to act.
Filled with emotion on the day of the signing of a treaty to strengthen relations with Poland & taken by the enormity of the moment, Brandt spontaneously dropped to his knees before the commemoration monument, in a profound act of apology & repentance. Although he spoke no words, the image of this silent apology, seen in the news by so many Poles & Germans, had a powerful effect on both nations.
Later, when Brandt described the moment, he wrote that he felt as though he "had to do something to express the particularity of the commemoration at the ghetto monument. On the abyss of German history & carrying the burden of the millions who were murdered, I did what people do when words fail them."
Done in the name of Germans past & present, the silent act was arguably more powerful than any words Brandt might have uttered. It demonstrates how language sometimes falls short of capturing the depth of need of repentance, forgiveness & reconciliation.
How does one make right - something that is beyond words?
How does a Christian attempt to right a wrong?
How are the words & teachings of Jesus lived out by us in these chaotic days?
German Chancellor Willy Brandt kneels at the site of the Polish "Warsaw Ghetto" - December 7, 1970.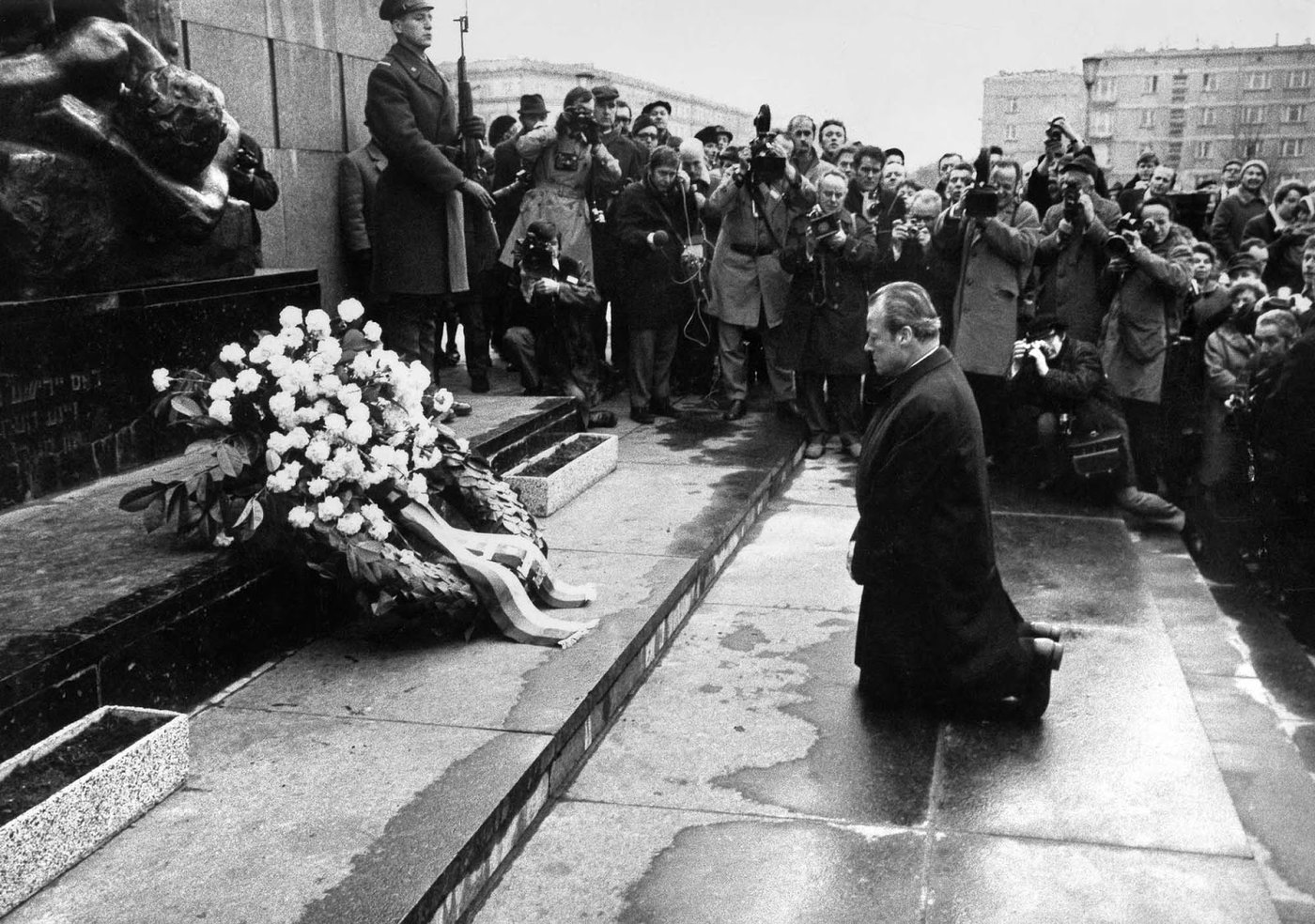 Dave's Daily Devotional, Wednesday, June 17, 2020
The problem of suffering is universal for all mankind. It collectively unites us in our unfortunate human misery. Suffering reminds that we share this condition of falleness that is magnified by our inability to escape it. Philosopher Descartes said, "I think, therefore, I am". Pastor Dave says, "I suffer, therefore, I am human".
The current problems of injustice, racism, violence, dishonesty & malfeasance of every kind are indelibly seared into our minds. How could civilized man choose to act so inhumanly?
However, through the teachings of Jesus, Christianity seeks to;
•transform injustice to altruistic fairness, •morph racism to unbridled love & dignity, •turn violence to shalom,
•dishonesty to truth &
•destructive evil to restorative righteousness.
In Jesus, we see the absolute uniqueness of the Christian response to suffering. His co-suffering love reaches to us through the eons of time & warms the hearts of anyone willing to embrace His love.
In Islam, the idea of God suffering is nonsense—it is thought to make God weak. In Buddhism, to reach divinity is precisely to move beyond the possibility of suffering. Only in Christ do we have a God who is loving enough to suffer with us.
The loving parent is not the one who never allows suffering in a child's life. The loving parent is the one who is willing to suffer alongside their children. And in Christianity this is exactly what we find.
We should probably never diminishes the pain of suffering, but neither do we need to despair. By looking to the suffering of Jesus & how He chooses to enter into our current suffering - we sense His divine camaraderie. Through Jesus, our personal misery can lead us to efficacious hope & a supernatural healing process.
Our faith in Jesus leads us to seek a reparative work that is to be accomplished in those who are vulnerable, afflicted, & abused.
It is Jesus co-suffering love that offers hope, healing & restoration to all:)
Dave's Daily Devotional, Tuesday, June 16, 2020
Dr. Miroslov Volf's book, "Exclusion & Embrace," takes a theological probe into why we just can't seem to get along with people who are different from ourselves.
Our identities, he says, whether it's race & ethnicity, gender, socio-economics... becomes the basis of excluding others. This is not about identity politics, although that's a subset byproduct but it's about understanding the concept of "otherness."
The book could just as easily be a reference to our current chaotic situation, however, Dr. Volf wrote the book in the 1990s after his experiences in the Croatian War. Catholics of Croatia, Muslims of Bosnia, & Orthodox Christians of Serbia... collectively, they ravaged their original homeland of Yugoslavia by killing thousands of their neighbors.
Volf was asked at a lecture if he could forgive the soldiers & ordinary civilians who massacred his friends. He said he knew his faith told him he must... but that his heart cried, "I can't." Volf says, "I found myself asking, well, how do I respond to this? ... although a Christian, I knew how I responded at the gut level - I wanted revenge. But then I looked at myself in the mirror & asked, well, is that who I really want to be? What does God want of me?" And therein lies the dilemma in us all. There's a conflict between what we know in our heads & what we feel in our hearts.
Volf wrote in the book, "The motives of those who set to fight against the brutal aggressors were doing so out of self-defense & justice. The evil in others, however, enraged the beast in them. The moral barriers holding it in check broke down & it went after revenge. They were trapped by evil. [p. 86]"
Dr. Volf is now the Director of the Yale Center for Faith & Culture. He has been speaking & writing about the current protests.
He writes that throughout human history, this has been the foundation of conflicts, this rivalry between "Us" & "Them." The dehumanizing, the belittling & the killing of our 'brothers," are the extreme manifestations of "Us" & "Them". The characters, time & scenery might change, but the script outline remains the same: 'Your existence threatens my identity." Now with racism, evil enjoys a hearty banquet.
Volf says, "It seems to me that racism embodies some of the most extreme forms of exclusion; & exclusion that has been both in the individual hearts of people, but that has been baked into history & culture. And it's their lives & certain structures that make it possible for it to be perpetuated.... Sin... is also a very personal thing, yet can become inculurated collectively as well."
Volf agrees that laws are not enough. The legal system allows for order... & for the most part the absence of violence. But peace, forgiveness & true reconciliation... these things require the help of God at work in the hearts of all people.
The teachings of Jesus always point us toward forgiveness & reconciliation. In Matthew 5:9-12, Jesus instructs all believers to embrace justice in His way...
"Blessed are the peacemakers, for they will be called children of God. Blessed are those who are persecuted for the sake of righteousness, for theirs is the kingdom of heaven. Blessed are you when people insult you, & persecute you & falsely say all kinds of evil against you because of me. Rejoice & be glad, because great is your reward in heaven, for in the same way they persecuted the prophets who were before you."
Let us continue to pray for our communities & nation - that peace & reconciliation will replace revenge & evil.
Dave's Daily Devotional, Monday, June 15, 2020
We look at the headlines & the images on television & the internet & have to think, surely there is a better way.
Is it possible to address decades, even centuries, of racial unfairness & inequality & do so in a manner that champions the dignity of all people & advances the cause of justice?
Progress in the area of race relations all too often seems painfully slow. How can we move forward – boldly & thoughtfully, helping the disenfranchised remain both hopeful & encouraged? God would certainly want for us to grow in love!
In this season, it is a time to listen to those who have suffered more than we ever will. Jesus suffered more than any of us ever will because He desired to know what we might face. In His life, He experienced the depths of human suffering & pain. Even today, Jesus still suffers. He suffers because so many of us continue to reject His love
More recently, some agitators, who never want to let a crisis go to waste, sow mayhem with lawlessness & violence, even addressing death with more death & destruction.
It's illogical & wicked. Answering evil with more evil creates a downward spiral.
"Do not be overcome by evil," wrote the apostle Paul, "but overcome evil with good" (Romans 12:21).
The other day I happened to notice a short but profound saying that was scrawled on the window of a dirty car. It simply said, "turn your wounds into wisdom". Let us attempt to do so, both online & in real life — whether it is by speaking up for the vulnerable, volunteering for a cause you care about, or just by making someone laugh.
The current crisis cries out for both spiritual revival & a renewal of the family & the critical role it plays in the community. Through love & Godly action we can make a difference in our hurting world.
I conclude today's devotional with some thoughts recorded & stored in my long term memory from Tulare County from 50 years ago. Forgive me for waxing nostalgic....
"Love is patient, love is kind. It does not envy, it does not boast, it is not proud. It does not dishonor others, it is not self-seeking, it is not easily angered, it keeps no record of wrongs. Above all else, guard your heart, for everything you do flows from it." - Paul the Apostle (1 Cor. 13)
"What the world needs now is love, sweet love, it's the only thing that there's much to little of." - Dion Warwick
"Some may come & some may go,
We shall surely pass.
When the One that left us here,
Returns for us at last.
We are but a moment's sunlight,
Fading in the grass.
Come on people now, smile on your brother.
Everybody get together try to love one another right now." - The Youngblood's
"I have decided to stick with love.
Hate is too great a burden to bear. Darkness cannot drive out darkness;
only light can do that.
Hate cannot drive out hate;
only love can do that."
- Dr. Martin Luther King, Jr.
Dave's Daily Devotional, Sunday, June 14, 2020
We all have scars but we all wish we didn't.
Some scars manifest physically, other's emotionally. Some might be barely visible, other's bold & bright & a bad shade of yellow. Some might have lingered in your life for decades now, fading gently into the background. Other's might be fresh, open, exposed wounds, still oozing pain.
Whatever the case, wherever they're from, however you might have acquired them — do not look at them in disgust. Don't cover them up, conceal them, hide them away.
Your scar is a kind of souvenir — granted, not one you intended — but a reminder of what was once much more painful. Metaphorically, some scars might whisper to you, "Look! This mark right here - it is where life cut you & though wounded, you survived. It's now a badge of your bravery. It is a sign that you are an overcomer, healed by the touch of the Lord Jesus - in His time.
Remember what you have overcome:) Remember what God has done:)
Others have scars, too. You know this. You've seen this. And sometimes, you try to avoid. However, it's okay to acknowledge our scars. It's okay to talk about them. It's okay to show them off.
By doing so, your scars can help others.
Your scars are to show others that they too can survive the wounds of life.
Isaiah 53:5 -"But He was to be pierced for our transgressions, He was crushed for our iniquities; The chastening for our well-being fell upon Him & by His scars - we are healed."
•Congratulations to our graduates. We celebrate their accomplishments together today in a 'drive-by graduation' from 10-11 at the church. Please drop by a card of encouragement to some of our 20 graduates along the West Lawn:)
May the Lord richly bless those who diligently seek Him.....
Dave's Daily Devotional, Saturday, June 13, 2020
Right now, with all the craziness going on in the world around us, there's a lot that could be causing you to feel stressed, fearful, worried or anxious.
Between all the unexpected changes & impact caused by the current viral crud, along with the everyday stresses of life, it's easy to feel disoriented & sometimes overwhelmed.
You get to choose whether or not you will allow fear & anxiety to overwhelm & control you. Conversely, Jesus can guard your heart & renew your mind with God's truth in the midst of uncertainty (Romans 12:1).
I feel as if I have written these thoughts like 4 or 5 times since I began Dave's Daily Devotional in March.
True hope & peace can ONLY be found in the presence of our Heavenly Father, & He will keep us in perfect peace when we fix our focus on Him (Hebrews 12:1)
Joshua 1:9 "This is my command - be strong & courageous! Do not be afraid or discouraged. For the Lord your God is with you wherever you go." - Joshua 1:9.
"Don't be afraid, for I am with you. Don't be discouraged, for I am your God. I will strengthen you & help you. I will hold you up with my victorious right hand." -Isaiah 41:10.
Dave's Daily Devotional, Friday, June 12, 2020
In times of high anxiety, very few people take the time to pause before responding to others. In order to pause & reflect before responding to others in a Christ-like way, we need to think & pray. The more anxious we are, the more time we should set aside to pray about it. If everyone took just a half hour to pray every day, it would probably change the world.
We all have wounds. Those wounds affect how we respond to issues that arise in our lives. When someone lashes out in person or online, I want to ask, "who hurt you?" Our wounds affect how we think & react to most every situation.
When I react with high anxiety, fear, or anger toward something, or someone, I ask God to show me why. He often will remind me of an event in my past that has affected my emotional reaction to others. Knowing what is happening does not prevent my reaction, but it calms it.
Then I ask Jesus to anoint my wounds with oil & bind them as the Good Samaritan did for the wounded man on the side of the road. Pray, "Good Samaritan, heal the wounds of my heart so that I may be a source of healing for others." No one is too broken to experience God's healing touch.
The healing of our nation begins with the healing in me. "He heals the brokenhearted & binds up their wounds." - Ps. 147:3
Dave's Daily Devotional, Thursday, June 11, 2020
"A peaceful heart leads to a healthy body…" Proverbs 14:30 (NLT)
As I explained yesterday, I have been enjoying walking. Not that I don't enjoy In-n-Out Burgers & fries, it's just that I can't eat that kind of food every day without wearing it for the rest of my life
On top of that, who wants to chance getting the creeping crud virus by eating out for the sake of a burger?
Food doesn't bring peace, but rather it is health in its many forms that contribute to our personal peace. Because the various aspects of our lives are integrated (body, mind, heart - cf. Mt. 22:38), to nurture health in all such areas impacts the others. Therefore, back to today's theme scripture; "A peaceful heart leads to a healthy body…" makes a lot of wellness sense.
There are so many decisions that all of us have to make on a daily basis & yet we often are missing the peace that passes understanding. This may help explain why so many people are not healthy.
Since we are inundated with media in our sequestered state, my mind sometimes tends just to be a blur. So, the first healthy thing that I have to do is find a way to quiet my mind. One excellent way that I achieve a quiet mind is that I choose to go for a walk by myself. Whereas I enjoy walking with other people, there are times where I just need to stroll off by myself & let feet hit the trail while listening to my heartbeat & let the Lord clear my mind.
Our son James, is a Christian musician who resides in San Diego. He recently released a song whose lyrics speak to the clearing of our cluttered minds.
It's entitled, "Better Yet".
"8, 17, 25, my hands feel tied.
What's the routine, clarify, detoxify.
To leave behind the things that trouble up my cluttered mind, my cluttered mind.
I've been learning that I, it's where I set my eyes, that will tell how this pain can shape & give life. I've been holding on so tight, but I know over time - that I know, yes I know, yes I know. Things are gonna get better. Things are gonna get better yet"
Making healthy choices makes things get better & leads to our experience of deeper peace on many levels. Our world is clamoring for peace, love, justice & compassion. These are things "that can get better yet" by bringing peace to many that seek it.


"Then justice will dwell in the land, & righteousness abide in the fruitful field. The effect of righteousness will be peace, & the result of righteousness, quietness & trust forever." - Isaiah 32:16
Dave's Daily Devotional, Wednesday, June 10, 2020
Walking. 'Ambulating' the med folks call it. It's something that we have physically experienced since we were toddlers.
Yet its more than just a physical thing for those of us that have discovered Gods wonderful love. Walking in the presence of the Holy Spirit in these often tumultuous days can be uplifting & energizing. Being outside with God has always been a renewing experience for me. I'm sure that you can relate.
Despite what's going on in the world, Gods marvelous nature is still operating as usual. While the coronavirus has been terrifying millions of people around the world; the flowers are still blooming, birds are still chirping, & something is still eating the plants in Kristi's vegetable garden. Drat those bugs!
While the world feels panicked, uncertain, & chaotic — nature is still working in perfect harmony. That reminder makes me feel really, really good.
My Fitbit watch tells me that I've been logging between 5-7 miles a day even though my back & legs keep complaining.
As I have walked in the neighborhood in mornings & evenings there are walkers everywhere. I have met new people & said, 'Hi' to dozens.
While i've been out walking i've run into lots of our folks from VisaliaNaz; Blankenship's, Foxes, Howard's, Myer's, Wilson's, Rondon's, Muller's, Martin's, Eric Black, Austin McKenzie, Lisa Martin & young Nateman Armstutz & Uli Cantu from youth group, just to name a few:)
I've wanted to run into Pastor Wil 'cause I miss him but they live on the other side of 198, so, instead, I've been praying for him & his family while I walk.
In fact, not to sound like super spiritual, but I pray for lots of you while I walk. "Live as Family", right? We're been sponsoring a prayer walk in the courtyard at the church for the past week. More praying &walking.
As you walk, I hope that you're praying for our nation, state, county, city, churches & your neighborhood. We are all ripe for revival, but it's starts with our repentance from prayerlessness, distractedness & lazy obsession with things, media & self. So repent & plead with God as you walk.
Ambulating with the Almighty.
Dave's Daily Devotional, Tuesday, June 9, 2020
From time to time, Dave's Devotional will bring profound thoughts & updates from other believers for you in these days of challenge. Todays Devotional is from one of our VisaliaNaz friends, Diane Barnes, entitled "An Anxious & Worried Mind".
"Historians will probably call our era "the age of anxiety." Anxiety is the natural result when our hopes are centered in anything short of God & His will for us." - Billy Graham
Worry is defined by feeling uneasy or troubled, anxious, distressed, it is also defined as to torment oneself with disturbing thoughts. Pondering these definitions, we realize the enemy can build his power over us if he keeps the mental arena busy with the wrong thoughts. For if he can keep this control, the mind will not be able to be used, for the purpose for which God designed it.
When you worry, you are putting a wall up to the Lord & His plan through whatever trial you are going through. That is exactly where the enemy wants you. It is impossible to worry & live in peace at the same time.
Fear & anxiety can be great reminders of how human we are; there are so many things in our lives we can't control, & we can either respond to these situations with fear or with faith in God who cares about us.
John 14:27 "Peace I leave with you; my peace I give you. I do not give to you as the world gives. Do not let your hearts be troubled & do not be afraid."
These are comforting words from our Savior! Anxiety & worry are both attacks on the mind intended to distract us from serving the Lord. The enemy also uses both of these torments to press our faith down, so it cannot rise up & help us live in victory.
Likewise, we are instructed by the Apostle Paul; "Do not be anxious about anything, but in everything, by prayer & petition, with thanksgiving, make your requests known unto God." - Phillipians 4:6
In Christ, everything is going to be ultimately, gloriously, eternally, inexpressibly, wonderfully okay. Therefore, Jesus says to you & me, right now, right where we're at, "Do not be anxious." He says this knowing our past, our temperament, the seriousness of our current crises, & how intense we fear the possible dread may become reality.
Prayer is the key to escaping the snare of anxiety. Don't listen to your anxieties. In prayer, direct your worries to God & cast all your "what if" concerns on Him. Only by trusting the Lord in each moment can He give you the assurance that everything will ultimately be okay.
Set a time limit on your worries. Probably 98 percent of the things we are anxious about or worry about never happen. Learning to live one day at a time is an art that can be cultivated.
No matter what swirls around us, God promises to be our perfect peace. He assures us He is constantly with us, strengthening & supporting us.
Pray that God will help you to keep your focus on Him, not on the circumstances surrounding you. Ask Him to help you to grow in your trust of His divine presence in each situation. He will be faithful to see us through.
Dave's Daily Devotional, Monday, June 8, 2020
Perhaps you missed it Saturday - amidst the challenges that we currently face in our world today.
But 76 years ago, on June 6th, more than 160,000 Allied troops landed along a 50-mile stretch of heavily-fortified French coastline, to fight Nazi Germany on the beaches of Normandy, France.
One of our very own VisaliaNaz veterans, Paul Davis was there with his Artillery unit of the U.S. Army. Now 96, Paul is a living testimony to Gods profound providence.
Just prior to this, Britain had barely survived an extensive & destructive 4 month bombing attack on London by Nazi warplanes.
The British Prime Minister, Winston Churchill was not a committed churchman—he said that though he was not a "pillar of the Church," he was a "flying buttress." Yet he had a solid faith in God. A persistent spiritual theme in Churchill's life was his belief in providential history.
Churchill's understanding of providential history meant that God directs history's course to His ultimate purposes as tragic & ironic as it might seem.
Many have viewed the D-Day invasion, as a parable of the advance of God's Kingdom in the world occupied by the adversary & his demonic hordes. The aim of the powers of darkness is the exact opposite of everything for which the Kingdom of God stands. Instead of righteousness & justice, the enemy of God seeks evil & injustice. Rather than peace, the dark rulers incite conflict. In the place of Holy Spirit-given comfort & protection, the forces of the evil one seek every opportunity to bring hellish misery. (See Romans 14:17).
The Church, the body of Christ, is to take the good news of the Kingdom from village to village, town to town, nation to nation, just as the Allied invaders did in liberating Western Europe in 1944.
If we learn the spiritual lessons of D-Day we will recognize we are here to advance Gods Kingdom, even though the spiritual battle is discouraging & the conflict is real. We depend upon the divine providence of the Lord & our fellow Brothers & Sisters to see is through. It will take unified persistence, bravery & faithfulness in prayer to bring us the victory. For our fight is not against flesh & blood but against the rulers, authorities, & the cosmic powers over this present darkness, against the spiritual forces of evil in the heavenly places. (Ephesians 6:12).
The weapons of our warfare are not of this world they are mighty to God for the casting down of spiritual strongholds. (2 Corinthians 10:4)
As I wrote yesterday, I believe "America is ripe for a revival. Not a political one – but a revival in the hearts of millions of us through prayer."
Let us join in prayer, pursuing the battle for the hearts & souls of another generation.
"God shapes the world by prayer. The story of every great Christian achievement is the history of answered prayer." - E. M. Bounds
"The one concern of the devil is to keep Christians from praying. He fears nothing from prayerless studies, prayerless work, & prayerless religion. He laughs at our toil, mocks at our wisdom, but trembles when we pray." - Samuel Chadwick
Dave's Daily Devotional, Sunday, June 7, 2020
E. M. Bounds in his classic little book "Power Through Prayer", wrote,
"What the Church needs today is not more or better machinery, not new organizations or more & novel methods, but people whom the Holy Spirit can use - people of prayer, people mighty in prayer."
America is ripe for a revival. Not a political one – but the revival of the hearts of millions of us. Historically, what precedes revival? Repentance & prayer. Does repentance & prayer begin in the hearts & minds of reveling looters? No. Repentance & prayer begins in the hearts & minds of devout believers.
According to prominent political scientist Charles Murray, the American republic is unlikely to survive without another Great Awakening — or, at the very least, a revival of the religious values that the Founders depended on to undergird their experiment. Murray is not a religious man — he is an agnostic — but he can read history, & he knows how nations die. Murray's book, Coming Apart, he explains his troubling hypothesis.
With our culture in such chaos, we long for peace. But do we long for transformation? The explanation is simple. Today, Christianity in America is prevalent but not powerful. The solution is spiritual revival & awakening in the hearts of believers like us.
We've not had an awakening in America of historic proportion for a long time. With such a great tradition of revival & awakening, there is a great need to counteract the increasing moral & spiritual decline; our nation appears ripe for a fresh outpouring of God's Spirit.
But history tells us that national revivals & awakenings cannot be manufactured. They are sovereign acts of mercy & grace by God Himself, when He supernaturally achieves in a short span what seems otherwise impossible. However, God loves to respond to the prayers of His people (e.g., 2 Chronicles 7:14).
While the decision to pour out His Spirit belongs to God alone, He gives us the privilege of hastening the day through humble repentant prayer.
This week, Visalia Naz is offering a 'Prayer Walk' that invites us to embrace God's divine intervention in our obvious national calamity. Won't you come & pray?
Dave's Daily Devotional, Saturday, June 6, 2020
Yesterday, our church was blessed to receive a load of a couple hundred prepared fruit boxes to give out to our community:) I was impressed at how much real joy there was in accomplishing such an enjoyable task together!
Not only was it fulfilling to see so many grateful faces but I thoroughly enjoyed working with the several dozen volunteers that came to help.
If you are like me (& I know that you are), you will relate to the fact that I truly enjoyed the friendship & acquaintances as we worked together. Don't tell them this but I think that they are some of the best people in the whole county.
I truly enjoyed being with those you all today, working for the Lord - helping others:) I'm feeling so very blessed by the depth of our friendships!
I love you, people of VisaliaNaz!
Pastor Dave - Community Life Pastor
Dave's Daily Devotional, Friday, June 5, 2020
Belonging to a global church, we have the blessing of the strength of spiritual direction in times of trial. James encourages us to "consider it all joy when you encounter various trials knowing that the testing of your faith produces endurance. And let endurance have its perfect results that you will be full & complete, lacking in nothing."
Dave's daily devotional shares with you today a letter from our international leader ship, the board of general superintendents....
"The last few days have been exceedingly difficult for the global family. For months now, the world has encountered the deadly effects of the coronavirus, which has affected our societies, our churches, and our families.
Yet, this week, the news of an older virus that continues to affect many segments of our society—& even our churches—has added to the world's grief. The virus of ethnocentrism, expressed in explicit and/or veiled racism, has struck again the core of our society; we are now witnessing the many ways in which people respond & react to such a rampant disease. People are in the streets calling for justice & a human cure to this endemic sin of the heart manifested in violence, political division, & great suffering.
With so much bad news, what does it mean to be a people of hope? More specifically, what is Christian hope & how does it change our perspective?
Two fundamental aspects of Christian hope are absolutely linked together. Christian hope is based in a Person.
Hope is not the power of positive thinking. It is not based on circumstances, either good or bad. It is not new & better ideas, utopian philosophies, or reformed politics. It is objectively focused in the person of Jesus Christ who has been revealed to us as "the grace of God," "the salvation of all people" & our "blessed hope" (Titus 2:11-13). Hope in anything else will not give us what we are looking for. Jesus is the only One who can satisfy the deep hunger of our hearts & the pain of our world. A deep embracing of Jesus' life, teachings, & sacrifice will give the world the true sense of peace, justice, & harmony that brings about hope.
Christian hope looks forward to a promised future.
Our hope in Jesus Christ is the hope that there is coming a day when God will make all things that are wrong in the world right again. Our hope is that God will remake the world the way He intends it to be. Our hope is that we will live a resurrected life with Jesus & with all the family of God, from all races, cultures, & times. Christian hope looks forward to a better future.
That hope changes us.
Looking forward in hope changes our behavior. Suddenly we find ourselves acting very differently & thinking very differently. "It teaches us to say 'no' to ungodliness & worldly passions" (Titus 2:12). The old way of life does not have the same pull on us that it used to.
Looking forward in hope changes our purpose. Our priorities change. Looking forward with hope means we see God's vision of a world with no more injustice, no more violence, no more poverty, no more prejudice.
Because that is a picture of what our future hope looks like—as citizens of the kingdom of heaven & people who believe that God always keeps His promises—we start working toward that vision right now, here on earth.
We begin to long for, & pray for, & work for a time where there is justice & peace; where hungry people can eat & where diseased people can be made well; where holy love enables us to live together joyfully even in our great diversity. We begin to live toward the time where there is no hatred, prejudice, unjust systems, or racism. We live today the way God wants His world to be tomorrow. Hope demands we do more than speak a good word—it is a call to act on behalf of God's preferred & coming future.
Because of our deep sorrow for the way things are, & our profound hope in God's faithfulness to bring about a more just & loving world, the Board of General Superintendents asks that we pray for the healing of the world according to God's vision for reconciliation, justice, unity, & holy love.
'All things becoming new' is the future hope of God's tomorrow in us & gives us the strength to pray, "Your kingdom come on earth as it is in heaven."
Praying with hope,
Board of General Superintendents
Dave's Daily Devotional, Thursday, June 4, 2020
From time to time, Dave's Devotional will bring profound thoughts & updates for you in these unprecedented days of challenge. Today's Devo is from one of my colleagues, Pastor Heather Collins who recently took the time to think thru a theological explanation of 'A Treatise of Regathering' by looking to Jesus Christ as our ultimate example for us to follow:)


1.Christ is active in all people & in all places wooing us towards God's love. God doesn't live in a county or a building. One way to understand what has been happening with the church in recent days, we have not been able to gather together in routine worship patterns that we are used to. It is almost as if we are learning to live in exile. Exile happened to God's people throughout Biblical history; Egypt, Moab, Babylon. Yet, in these former days of exile, God's people experienced some of their most powerful moments with God. The Lord revealed God's love & watchcare over them even though the people felt far away & lonely.


2.Christ is self giving, radically forgiving & abundant in co-suffering love. Our lives in this uncomfortable season must set an example of what it looks like to live like Jesus did. Jesus did not demand its own way. Jesus did not defy the government. Instead, Jesus lived an example of self giving, radically forgiving, co-suffering love. How does our church emulate Jesus example in this? This looks like taking care of the poor, the sick & those who are suffering. It does not look like fighting for our right to meet the way we always have at any cost, particularly at the cost of those who are most vulnerable. Eventually, all will be well again. This is only a season. Can we bear one another's burdens; emotionally, spiritually? Through the family messes & financial strains?


3.Christ is incarnational. Incarnate means God embodied in the flesh. God comes to us in human form. We are the temple the Holy Spirit inhabits. Supernaturally, God lives in us, God's people. Jesus said when two or three are gathered together, worshiping in my Name, God is present in that small group in the same way as in a larger church service. Certainly it feels different, but each gathering is infused by God's presence.


Historically, the church has been both gathered & scattered. We are now scattered. But by being scattered, the world is most impacted by the people of God. Our church has been unleashed into your home to do God's good will. While we treasure the power of a gathered service (& we're longing to return to that), for now, that is not where we are are. Not quite yet. Therefore, Don't miss the opportunity to gather with a few precious friends or neighbors and scatter God's love to everyone. So, let us act with wisdom, caution & creativity to incarnate the body of Christ in our homes & communities.


4.Christ grieves with us. This is a time of worldwide sadness, loss & grief. Certainly, God did not cause Covid-19 but God is with us in our suffering & grief. God desires to redeem & restore all that is lost & broken. God does not cause sin, death, disease or suffering, but God is with us in it. God brings beauty from the chaos caused by sin & death.


5.Christ followers embody the 'Fruit of the Spirit'; love, joy, peace, patience, kindness, goodness, faithfulness, gentleness & self-control.(Eph. 5).


In light of this, let us make decisions about when & how to return to church. Perhaps we should ask;
•Is it loving?
•Does it bring peace?
•Are we being patient & kind to all?
•Is this good & moral?
•Is this a faithful witness to the gospel?
•Am I being gentle to those who differ in their viewpoints?
•Are we practicing self-control by denying our own wants for the good of all?
•Are we living a witness to those who are far from God?
Let us bear good fruit in this season.


6.Christ clothed Himself in humility & urged us to do the same. We are in uncertain times & in unknown territory. Your church staff (& elected church board) is going to get it wrong sometimes (surprise!). So are you! It's OK to not know what to do. It's not OK to be unkind to those who disagree about the way forward.


We are daily seeking the wisdom of God as we endeavor to lead. We are doing so in consultation with medical & public health professionals, denominational & district leaders as well as a group of local pastors. We are all seeking wisdom & direction with your future in mind. We ask that you pray for us - but even more so for those who are dealing with grief & loss of job, health & loved ones.


Continue to be the hands & feet of Jesus in your neighborhood
Dave's Daily Devotional, Tuesday, June 3, 2020
As I posted on Monday, in the famous opening to the great sermon known as the Beatitudes, Jesus taught, "Blessed are the peacemakers, for they shall be called sons of God" (Matt 5:9). Christ's followers should be characterized by living a way that leads to peace—totally the opposite of lives that are characterized by violence & strife. The Christian standard of being a peacemaker is found throughout the New Testament.
The apostle Paul wrote that Christians are to do whatever possible to "live peaceably with all men" (Romans 12:18). Many scriptures support the basic truth that Christians are to "pursue peace with all people" (Heb. 12:14; 2 Cor. 13:11; Gal. 5:22; James 3:17).
Many of the New Testament authors elaborate on the "peacemakers" statement by Jesus. Notice what John wrote: "Whoever hates his brother is a murderer, & you know that no murderer has eternal life abiding in him" (1 John 3:15). Many other scriptures make it clear that hating another person is sin & breaks this command. (2 Cor. 12:20; Titus 3:3; 1 John 2:9-11).
The ultimate intent of these commands & Jesus teaching is to help us understand that God desires for us to show love toward one another & in turn - to bring His peace to all peoples, panta ethne. (Mark 12:31; 1 John 2:10).
The violence that we have observed many choosing is obviously not emulating the peaceable teachings of Jesus. However, we can live out the peace of Jesus in our relationships & make His teachings attractive to those who need it the most. Let us seek to bless those around us, confronting injustice & sowing peaceable love!
Dave's Daily Devotional, Monday, June 1, 2020
"Now when Jesus saw the crowds, he went up on a mountainside & sat down. His disciples came to Him & He began to teach them. He said:
"Blessed are the poor in spirit, for theirs is the kingdom of heaven.
Blessed are those who mourn, for they will be comforted.
Blessed are the meek, for they will inherit the earth.
Blessed are those who hunger & thirst after righteousness, for they will be filled.
Blessed are the merciful, for they will be shown mercy.
Blessed are the pure in heart, for they will see God.
Blessed are the peacemakers, for they will be called children of God.
Blessed are those who are persecuted because of righteousness, for theirs is the kingdom of heaven.
Blessed are you when people insult you,& persecute you & say manner of evil against you falsely for my Names sake. Rejoice & be glad,because great is your reward in heaven, for in the same way they persecuted the prophets who were before you.
You are the salt of the earth.
You are the light of the world.
A city built on a hill cannot be hidden. Neither do people light a lamp & put it under a bowl. Instead they put it on its stand, & it gives light to everyone in the house. In the same way, let your light shine before others, that they may see your good works & glorify your Father who is in heaven."
Jesus gives us instruction as recorded in Matthews Gospel, Chapter 5.
Dave's Daily Devotional, Sunday, May 31, 2020
Our sponsoring denomination is a worldwide church with over 30,000 churches & 2.6 million members. We thank the Lord that he has blessed us with so many brothers & sisters in over 40 world areas. We are governed by a elected general board & overseen by 6 General Superintendents that give guidance to the churches that are spread abroad throughout the world.
Our devotional today are thoughts from them concerning Pentecost Sunday.....
"We have been on a journey from Easter to Pentecost. The first Pentecost following the resurrection & ascension of Jesus is the birthday of the church. The events of that day are vividly described in Acts chapter 2 & reveal the purpose of Pentecost thru the powerful images of wind, fire, & tongues.
"And they were all filled with the Holy Spirit & began to speak in other languages, as the Spirit gave them ability" (Acts 2:4).
The last words Jesus said to His first disciples are known as the Great Commission: "Go therefore and make disciples of all nations, baptizing them in the name of the Father & of the Son & of the Holy Spirit, & teaching them to obey everything that I have commanded you" (Matt. 28:19-20). Yet, how were they going to do that? They did not have the power, courage, or passion for that assignment. They needed something they did not have to fulfill the missionary mandate given by Jesus: they needed a gift. Therefore, Jesus gave them this promise: "You will receive power when the Holy Spirit has come upon you; & you will be my witnesses in Jerusalem, in all Judea & Samaria, & to the ends of the earth" (Acts 1:8).
It is interesting that in all three of these Pentecost images, there is a reference to speaking or hearing. They "heard" the sound. They were given the gift of language to proclaim. Even the flames of fire looked like tongues. This is no accident. The Church was born to give witness to the good news of Jesus Christ. The Holy Spirit gives the Church a voice to share the gospel to every generation, even to the ends of the earth.
God does not pour out His Spirit to make us a holy huddle—God moves on His Church to make us a mighty army. Pentecost gives us the passion to care, the power to speak, & the boldness to move out. Pentecost is what purifies us, sets our hearts on fire, & enables us to communicate the unquenchable love of God & the restoration of all things through Jesus, who is making all things new.
On this Pentecost Sunday, not even a global pandemic can prevent its purpose from being fulfilled. Let us be a church on mission, empowered by the promise of the Father, purified by the sanctifying Spirit, & boldly proclaiming that Jesus Christ is Lord."
--Board of General Superintendents
Dave's Daily Devotional, Saturday, May 30, 2020
Many of you are aware that our kids, Daniel & Hannah moved to Minneapolis upon the completion of their 7 years of youth ministry here @ VisaliaNaz. There has been recent violence in their neighborhood due to the unjust & unfortunate killing of a man by police. It has led to a lot of destructive violence there. We would request your prayers for the George Floyd family, their neighborhood & the entire Minneapolis area. We share Daniels Facebook post with you here....
"George Floyd was killed 12 blocks from our apartment. We are heartbroken & confused.
My wife & I go on walks through these neighborhoods, spend time at these parks, & frequent the nearby lakes. These places & these people are full of friendship, love & peace. People from every walk of life, speaking different languages, with different religions, preferences, genders, & races, all wave & smile, often encouraging each other to "stay safe".
This is a community that respects one another & we all mourn the injustice that has happened. It is not safe today, not for all of us. Our peace & our balance have been upended.
I don't know what it is like to feel as though I am not safe because of the color of my skin, but I do know that walking in our neighborhood two weeks ago & walking in our neighborhood today do not feel even remotely the same. This is because, & this has happened many times around the country in recent years, the mask has momentarily & forcefully been lifted & the face we now look at in the mirror is not smiling & confident- it is scared & angry & in pain... & rightfully so.
I do believe that there will be a day when real unity regardless of, & perhaps even through, diversity, is a reality. That is not this day. This is a day for remorse & reconciliation. A day to stand (or sit, or cry) in someone else's shoes. It is not a day for violent protests, one of which I have just witnessed myself. It is not a time to return evil with evil. This is a day to demand the language & life of justice, beginning in my actions first, supporting all people with equal integrity, vigor, & love.
I hope you'll make an effort to do the same."
Dave's Daily Devotional, Friday, May 29, 2020
From time to time, Dave's Devotional will reprint profound thoughts for you from other Christian leaders. Todays is from Pastor Rob Songer, our own District Superintendent. Pastor Rob leads the 80 churches of our denomination from Modesto to the Tehachapi mountains. He's kind of like a bishop for our church.
"This Sunday will be Pentecost Sunday. For most of the people in the American church, Pentecost has often been like a birthday that you had forgotten that you had. If their pastor didn't mention it in the worship services, they likely would never have been aware of the great worldwide celebration that we commemorate in the arrival of the Holy Spirit. Pentecost marks the birthday of the church, 40 days after Passover & Jesus Resurrection.
However, this Sunday is different. Most everybody in America knows about Pentecost this year. Some folks that don't even profess any kind of faith in Jesus know that this Sunday is Pentecost Sunday. They may not comprehend the spiritual significance but they sure know the cultural & political significance.
Remembering the importance of the Holy Spirit's coming, Luke tells us in Acts Ch. 1 that Jesus had gathered his disciples just before He was taken back into heaven. He had promised them that they would be baptized, not with water, but with the Holy Spirit! In obedience, they should wait patiently in Jerusalem for this moment.
However, missing the point, Jesus disciples immediately responded by asking if this would "be the time when the Kingdom of Israel would be restored" to them. In other words, they went political.
They often took this wrong turn in the road. (Knuckleheads). They were asking when the restrictions were going to be lifted, when the shelter in place orders were going to end, & when the ungodly Romans were going to be kicked to the curb.
So Jesus responded by telling them, "this is for the Father alone to know & decide." He said, 'this is none of your business. You have a different kind of business that I have called you too. You have a new king & a new kingdom that has come to everyone in the world.' The Holy Spirit would fill these new believers with the transforming love of God. They would cease to be known as Jews or Gentiles, slaves or free, even male & female, probably not even as Republicans & Democrats, for they would be one in Christ. No power on earth could keep them from true worship except for their own stubbornness, essentially if they avoided the unity of the new kingdom."
Jesus made it clear that no mandate could stop them from being the church. The kingdoms of this world would have no hold on them. They belonged to the new & eternal kingdom, the 'upside down kingdom' of the Spirit.
And so, on this Pentecost Sunday, whether we gather in buildings or in homes, may we gather in the humility of Christ & the power of the Holy Spirit. We are residents of earth, but citizens of the kingdom of God. May we resist the well-intentioned vision of the disciples, pre-Pentecost, to make this day a political expression of the kingdom of our own making. May we invite God's kingdom to come & reign in our gatherings & reflect His love to the world."
"My kingdom is not of this world." - Jesus as quoted in John 18:36
Dave's Daily Devotional, Thursday, May 28, 2020
From time to time, Dave's Devotional will reprint profound thoughts for you from other Christian leaders. Todays Is from renowned Christian author, Josh McDowell.
"What will life be like after the COVID-19 pandemic?
1. Economic Climate. The economic climate will be characterized by a large number of bankruptcies. 4 months ago, many large stores & chains were teetering on the edge of bankruptcy because 4 walled stores were being challenged by online giants like Amazon. Post-crisis, many retail establishments may not have the capacity to bounce back. The COVID lockdown will have a significant impact on people's buying habits."
2. Spiritual Climate. There will be a shift in the spiritual climate with greater interest in spiritual things – but not necessarily interest in churches. Many people are seeking to understand the current reality by asking "why?" questions. The Church will need to be ready to address issues relating to the goodness of God, anxiety, depression, mental health & relationships. Relevant topics for churches to address include "How to build authentic relationships" "How to be better connected." It's likely that "church" will be done differently. Online church services have taken on new significance &a much greater interest in small groups & house gatherings may emerge as important ways of making personal connections. In the groups, there will most likely be an increased interest in relationships & faith."
3. Emotional Climate. Post-pandemic, a time characterized by intense anxiety, depression, loneliness & other mental health issues, will be widespread. Three months ago, before COVID-19, 3 top themes in mental health that were reaching epidemic proportion were: 1) Pornography addiction, 2) Loneliness, & 3) Anxiety, depression, as well as other issues. These themes have been true globally in nearly every culture. Isolation will only exacerbate anxiety, depression, pornography addiction, loneliness & mental health problems."
4. Workforce Trends. There are indications that the trend to work-at-home will continue.
5. Baby Boom. A baby boom nine months from now is a real possibility.
6. Divorce Surge. Many marriages may breakdown – especially those that were struggling pre-pandemic. The pandemic-imposed isolation will accentuate financial stress, as well as feelings of disconnection, loneliness, & fears of job loss. These stressors could become tipping points for struggling couples."
7. Educational Shifts. Parents may be facing a mix of emotions. The lockdown may well convince many, "No way with homeschooling," because they feel overwhelmed at taking on this task. Other parents may develop very positive attitudes about schooling at home. Schools will need to evaluate a new or different approach to educating our children."
Dave - These are large transitional issues that we as Christians should be prepared to encounter & tackle with Gods help in coming days.
"Cast all your anxiety upon Him because He cares for you." - 1 Peter 3:15
Dave's Daily Devotional, Wednesday, May 27, 2020
According to a new poll from Pew Research Institute, "46% of U.S. adults who said last year that they attend religious services at least once or twice a month say their faith has been strengthened during this time."
"The most religious Americans – those who frequently pray & attend services in typical times & who rate personal faith as very important to them – are far more likely than others to say their faith has grown stronger as a result of the viral outbreak. In other words, the self-reported strengthening of religious faith has been most pronounced within a segment of the public that was already quite religious to begin with." Hmmmm.... now doesn't that make sense! Ha!
"Among U.S. adults who report attending religious services at least monthly, 82% say that the place of worship they most often attend is streaming or recording its services so that people can watch them online or on TV."
"It remains to be seen whether the strengthened faith that some Americans are experiencing will translate into more widespread worship service attendance."
If church attendance in itself is what you value in identifying who you are spiritually, it is a good time to reevaluate the priorities of your spiritual strength. As one old pastor told me, "just because you live in a garage, it doesn't make you a car".
In the same way, by just showing up at church doesn't mean that you're a full on disciple of Jesus spreading His love & healing everywhere you go. In other words, you can show up at church & still be living the life of a greedy old grumpinheimer scroogemeister
Take the opportunity to strengthen in your journey.
Look at this challenge as a testing time in which to grow! Perhaps you could look at these difficult days as a time of repentance & humbly draw closer to the Lord.
Seek His face.
Call upon in at least 10 times a day for help:)
Memorize a scripture.
Do something for your neighbor.
Is this really all about you?
Don't miss this most dramatic of God given opportunities to do something for someone that is hurting or lonely.
In doing so, "you have done it unto the least of these, you have done it as unto me." - Matthew 25:40
Dave's Daily Devotional, Tuesday, May 26, 2020
From time to time, Dave's Devotional will reprint profound thoughts for you from other Christian leaders. Todays Is from renounced Christian author, N. T. Wright.
"As restrictions on gatherings begin to lift around the world, there are 2 quite different things which need to be said about opening churches (as often happens in Christian theology). We need to hear them both."
"First, church buildings are not an escape from the world, but a bridgehead into the world. Christians should therefore celebrate out & about, bringing healing & hope far beyond the visible limits of church property. Jesus does not need church buildings for his work to go forward. Part of the answer to the question, "Where is God in the pandemic?" must be, "Out there on the front line, suffering & dying to bring healing & hope."
"But there is a second point. In those countries that churches have been shut, for thoroughly practical health reasons, we languish. For the last 300 years the western world has largely regarded "religion" as a private matter: "what someone does with their solitude." The Christian faith as a whole has been reduced, in the public mind, to a "private" movement in the sense that – so many say – it should have no place in public life. Thus I can still go shopping in the crowded liquor store on the corner; but I cannot go & sit in the prayer-soaked chapel across the street. We will no doubt learn many things in this time of enforced "exile" – which is what it is. But we should be praying towards the day when our buildings will function as they were designed to do."
I find myself caught between these two viewpoints, both of which seem to me right. I totally understand that we need to be responsible & scrupulously careful. I am appalled by reports of would-be devout but misguided people ignoring safety regulations because they believe that as Christians they are automatically protected against disease, or that (as I heard someone say on television) "you'll be safe inside church because the devil can't get in there." (I wanted to say: Trust me, lady, I'm a bishop: the devil knows his way in there as well as anybody else.)
That is the kind of superstition that gets Christian faith a bad name. Equally, the debates about locking churches can easily stir up lesser controversies, between those for whom the building & all its bits & pieces has been a vital part of their spirituality, as well as those for whom all such things are irrelevant since one can worship God anywhere. Both sides here may learn from the present crisis & we do well to hold one another in charitable prayer.
Part of the answer to that prayer, as many have seen, might be to recognize the present moment as a time of exile. As the people of Israel found themselves- exiled "by the waters of Babylon," thoroughly confused & grieving for the loss of their normal life. So also we contemplate, "How can we sing the Lord's song in a strange land?" As in Psalm 137, it translates quite easily into "How can I know the joy of the Holy Communion whilst sitting in front of a computer?" Or "How can I celebrate Pentecost without being with my brothers & sisters?"
"Perhaps that is part of the way in which we are being called right now to be people of exile & lament – lamenting even the fact that we can't lament in the way we would normally prefer. Perhaps this, too, is simply to be accepted as part of what life in Babylon is like. We must, as Jeremiah said, settle down into this exile, "seek the welfare of the city" where we are. But let's not pretend it's where we want to be. Let's not forget our return to Jerusalem. Let's not decide to stay here."
This essay is adapted from N.T. Wright's new book, God and the Pandemic.
Dave's Daily Devotional, Memorial Day Monday, May 25, 2020
75 years ago, our world was a very different place. Things had been in tragic turmoil as the Worlds great military powers had been locked in mortal combat for 5 years. Gratefully, the Second World War was coming to a end & the good guys were winning.
In May of 1945, the Allies received the surrender of Nazi Germany, marking the end of the war in Europe. The day of German's surrender was celebrated as "Victory in Europe Day." The war continued in the Pacific against Japan but they formally surrendered in September, '45.
At the time, my father was a paper boy for the Pasadena Star News. Selling papers on the corner of Washington & Hill Streets, Dad recalls the joy & great relief that characterized that moment on August 14th. Dad explained that one man was so elated that he gave him a $5- tip (about $75- equivalent today).
Universally grateful Americans celebrated that the war was over! Tyrannical regimes & dictators that had sought to rule the world had been defeated by democracies & constitutional republics, bringing hard fought freedoms into reality for most of the people of the world.
On Memorial Day each year, we attempt to try to find a way to honor the over 400,000 Americans that gave their lives for our country during World War II. Memorial Day is set aside as a national solemn assembly. We adjoin them with the other American fallen hero's; 6,800 deaths n Iraq & Afghanistan, 60,000 in Vietnam, 37,000 in the Koran Conflict as well as 120,000 in World War I.
These brave Americans gave their lives in ultimate sacrifice while fighting to liberate approximately half of the world's population.
Following World War I, Memorial Day was expanded to honor those who have died in all American wars. It has been designated to honor the fallen on the last Monday in May of each year.
"Our debt to the heroic men & valiant women in the service of our country can never be repaid. They have earned our undying gratitude. America will never forget their sacrifices."
- President Harry S. Truman
VisaliaNaz Veteran, Paul Davis was a valiant participant in "Operation Overlord", also known as "Normandy Invasion" or "D-Day" on June 6, 1944. The Allied Armies of Britain, France, Australia, New Zealand, Canada & the United States launched this successful invasion of German-occupied Western Europe during World War II.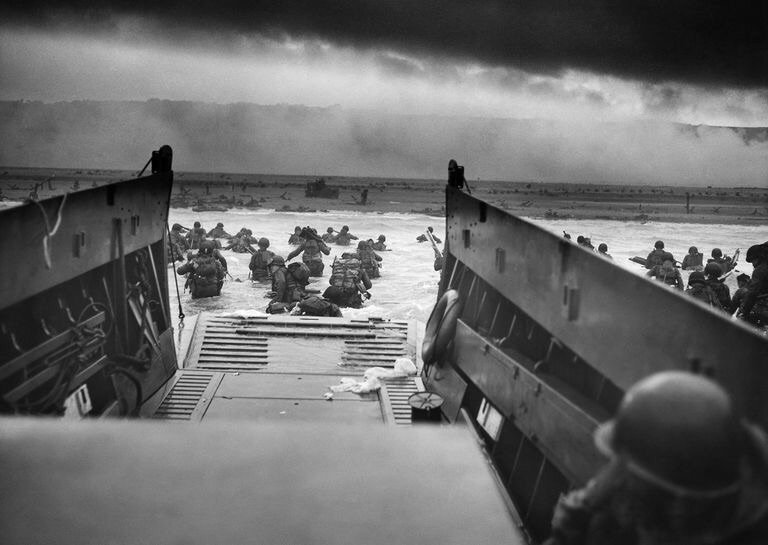 Dave's daily devotional, Sunday, May 24
Over the next several days, Dave's Daily will focus on a devotional by author Richard Foster explaining the timeless work, "Dark Night of the Soul" by 16th Century writer & poet, St. John of the Cross.
The iniquity of Secret Pride....
"Beginners in the spiritual life are likely to become very diligent in their exercises. The great danger for them will be to become satisfied with their religious works & with themselves. It is easy for them to develop a kind of secret pride, which is the first of the 7 capital sins."
"Ironically, such persons become too spiritual. How could that be? They like to speak of 'spiritual things' all the time. They become content with their growth. They would prefer to teach rather than to be taught. They condemn others who are not as spiritual as they are. They are like the Pharisee who boasted in himself & despised the publican who was not as spiritual as he."
"The Devil will often inflame these prideful ones in spiritual exuberance so that their pride will grow even greater. The Devil knows that all of their works & virtues will become valueless & if unchecked, will become vices. For they presume to practice the spiritual exercises in order to be esteemed by others. They will also begin to fear confession in order to soften their sins that will make them appear imperfect."
"They will beg God to take away their imperfections, but they do this only because they want to find inner peace & not for Gods sake. They do not realize that if God were to take away their imperfections, they would probably become even more proud."
"Those that are moving in Gods way will counter this pride with humility. They will learn to think little of themselves & of their religious works. Instead, they will focus on how great & how deserving God is & how little it is that they can do for Him. The Holy Spirit of God dwells in such persons, urging them to keep their treasures secretly within themselves."
"Humble yourselves before the Lord, and He will lift you up." James 4:10
Tomorrow, the heart motivated by feeling....
Dave's daily devotional, Saturday, May 23
Over the next several days, Dave's Daily will focus on a devotional by author Richard Foster explaining the timeless work, "Dark Night of the Soul" by 16th Century writer & poet, St. John of the Cross.
"To purify the soul...."
"At a certain point in ones spiritual journey, God will draw a person from the beginning stage to a more mature stage. In the early stage the person will begin to engage in religious exercises & grow deeper in their spiritual life. Yet, along the way, such souls will likely experience what is referred to as "the dark night of the soul."
"After a soul has been converted to God, that soul is nurtured & caressed by the Spirit. Like a loving mother, God cares for & comforts the infant soul by feeding it spiritual milk."
At this young stage, such souls will find great delight in prayer & perseverance. They will engage in all kinds of religious activities because of the joy that they are experiencing in doing so.
But there will come a time when God will bid them to grow deeper. He will remove the previous consolation from the young soul in order to teach a virtue & prevent it from developing self-centeredness.
"The Dark Night" is when those persons lose all pleasure that they had once experienced in their devotional life. While it is disconcerting, this happens because God wants to purify them & move them onward to greater heights.
John explains this growth & transformation by discussing the seven capital sins. In contemplating each of the sins, it becomes clear how the soul has begun to misuse it's spiritual consolation & why God must take it away in order to purify the young soul from these imperfections.
Tomorrow; the secret sin of pride....
Dave's daily devotional, Friday, May 22
Over the next several days, Dave's Daily will focus on a devotional by author Richard Foster explaining the timeless work, "Dark Night of the Soul" by 16th Century writer & poet, St. John of the Cross.
It describes the work of God upon the soul of the believer - not through light & joy, but through sorrow & darkness. (See James 1:2-4, Romans 5:1-5, Psalm; 5,6,12,13,15, 22,25,27,31 & many more).
John explains that such dark times are times of testing, much similar to these arduous days that we have been experiencing collectively. 🦠
John clearly explains that the "dark night" is part of God moving believers into deeper places of spiritual experience. We grow from the things that we have learned in our early faith into maturing future faith by Gods consoling direction.
•It can be a difficult experience.
•It can be a lonely experience.
•It can be a time of great questioning & doubt.
But as the "dark night" is understood, & enduring trust is put in God, it can be a marvelously purifying process that produces a closer walk with God.
Dave's daily devotional, Thursday, May 21
Christian apologist Ravi Zacharias entered into the presence of our Savior on Tuesday having spent his entire adult life reaching people of all cultures & educational levels with the gospel of Jesus Christ.
If C.S. Lewis was the greatest Christian expositor of the 20th Century, Ravi Zacharias might well go down in history as the greatest of the 21st Century.
Modern humanity, Ravi said, especially in the West, has become obsessed with ourselves, & especially seeking pleasure in order to fulfill our appetites. The false religion of hedonism, he said, is based ironically on sensations created by God for our own good. Recklessly indulging in one's appetites is to be constantly searching for ways to satisfy ourselves will accomplish nothing but destruction. Ravi rightfully accused us of being self absorbed & constantly obsessed with seeking out such pleasures.
Ravi would ask; "Are you the center of your universe or is God the center of the universe?"
Christian leader, Mark Tooley wrote; "Almost certainly he has touched the lives of probably hundreds of thousands of people in terms of winning them to faith in Christ, but just as importantly strengthening the faith & resolve of persons who are already believers in Christ."
Franklin Graham explained, "We will miss him. He was one of the great minds in the Christian world. He was incredible at defending the Christian faith, & there was no one who could ever stand against him. He was just so much smarter than everybody else."
A gentleman to his core, Ravi was always respectful toward his fellow discussants in university forums around the world.
Coming from a Hindu culture, he understood the gulf between religious views but also the power of universal truths that transcend cultural differences. He would embrace conversations about God with skeptical collegians & professors with understandable logic – all the while exuding genuine warmth towards those questioning or opposing him.
Millions of people throughout the world benefited enormously from listening in person, or through radio broadcasts/videos, or through reading the wise counsel of Ravi Zacharias.
If you would like to confirm your faith & be stretched at the same time, you can find volumes of his intriguing publicly recorded conversations on line. You will find him inspiring & his, a life worthy of attempting to emulate.
Dave's daily devotional, Wednesday, May 20
Quarantine is getting old. In many places, restrictions are beginning to lift, but it's clear we're nowhere close to returning to business as usual. In parts of California, the stay-at-home order has been extended. Just yesterday, Tulare County recorded over 100 positive tests in one day. Please pray for these people & for their families as they suffer & deal with this potentially deadly illness. I wish that we could do more.
In prolonged seasons of adversity & unknowns, we can find hope in Gods deliverance just as believers have throughout history.
The prophet Jeremiah offers us this encouragement: "For I know the plans I have for you," declares the Lord, "plans to prosper you & not to harm you, plans to give you hope & a future" (29:11). Instead of viewing the coronavirus as the end of something, maybe we need to view it as a starting point.
The church is not a building — it's a community of us who love Jesus & love one other. So, at the moment we may not be able to congregate, but lets stay connected with people that we have come to know. Neighbors, friends, even acquaintances. Let us attempt to serve the people who are most vulnerable.
Last week, our monthly food give away was very successful. Our giving for others as stayed solid. People have generously given to purchase a new outdoor sound system that we will use when we open up the big back doors of the worship center:)!
Keep praying & keep being faithful & look for others to bless. We are blessed to be a blessing!
Dave's daily devotional, Tuesday, May 19
There is a story about Jesus in Mark 14 that holds a profound lesson challenging our response to fear.
You probably remember it....Late in the day, following Jesus teaching to a multitude of intrigued Galileans, He got into a fishing boat with His disciples on the inland Sea of Galilee. In sailing to their home destination, a fierce storm arose with high winds & waves so large that they began to swamp the ship. Yikes!
It is important to recognize that the fear in this story was valid. The disciples were lifelong fishermen who knew the sea & could recognize genuine danger, & they were convinced that they were going to die.
This makes the contrast with Jesus all the more remarkable - as He was inexplicably - asleep in the stern of the ship!
It was at that moment Jesus awoke & confidently rose to command the waves to "be still!" - Instantly, the wind died & seas calmed, & it was completely calm. He said to his disciples, "Why are you so afraid? Do you still have no faith?" They had been terrified & asked one other, "Who is this? Even the wind & the waves obey him!"
His question is one we must all answer, "Why are you afraid?"
Take a moment & ask yourself.
Fear can be a symptom of a lack of faith. It is human to imagine a worst-case scenario occurring in the future—whether a pandemic, economic collapse or something else entirely. But, do we remember that God will be with us in that future? Do we see only waves or is our attention fixed on Jesus who still rests in the boat? Fear is a form of thinking in which when we imagine a future in which God will not be present. Even in a "worst-case scenario," Jesus has a funny habit of showing up & transforming it into something else entirely. This does not negate the reality of human suffering & grief. Jesus repeatedly demonstrates His compassion for those who are suffering.
Furthermore, we should not feel condemned for the fear we feel. It's natural to worry & no matter how strong your faith, you'll probably still deal with it to some extent. But this does challenge us to lift our perspective, so that we are not defined by fear.
No matter what occurs in this life, Jesus—the very Word of God—is still with us. He still has authority over the storm, & He has conquered death itself. We will go through trials, but we live in hope. It's all-too-easy & all-too-human to let fear grow bigger than God. Like the disciples, we follow Jesus during everyday life, but what happens when a storm appears out of nowhere & threatens to swamp us?
Help us Lord to move from fear to faith in these storming times. Love, Pastor Dave
Dave's daily devotional, Monday, May 18
Good morning church. I want to share with you some excepts from author Phillip Yancy on suggestions of how to pray during these challenging days....
Our prayers begin wiu"an instinctive cry for "Help!" For someone who faces a job cut or health crisis, prayer offers a way to give voice to fear and anxiety. I've learned to resist the tendency to edit my prayers so that they'll sound sophisticated and mature. I believe God wants us to come exactly as we are, no matter how childlike we may feel." Help is where we start, simple & honest.
"If I pray with the aim of listening as well as talking, I can enter into a 2nd stage, that of meditation & reflection. What can I learn from this seeming catastrophe? A time of crisis presents a good opportunity to identify the foundation on which I construct my life. If I place my ultimate trust in financial security, or in the government's ability to solve my problems,,,,," I have limited my foundation to worldly things.
"A financial crisis forces us to examine how money affects us. Am I stuck with debts I accumulated by buying goods that were more luxuries than necessities? Do I want to cling to the money I have when I know of people around me in dire need? Jesus taught us to pray, 'Your will be done on earth as it is in heaven,' and we know that heaven will include no homeless, destitute, and starving people."
"Which leads me to the 3rd & most difficult stage of prayer in crisis times: I need God's help in taking my eyes off my own problems in order to look with compassion on the truly desperate. In the Beatitudes, Jesus described a kind of UPSIDE DOWN KINGDOM (my capitalization) that elevates the poor, those who mourn, the justice-makers & peace-makers, & those who show mercy."
"The novel coronavirus has temporarily accomplished that societal reversal. In airports, janitors who clean the banisters & wipe the seats of airplanes are now as crucial to safety as the pilots who fly the jets. Each night, people in major cities honk horns, howl, or shout their appreciation for the health care workers who keep us alive. We've learned we can get along without the sports industry that pays top athletes $10 million per year to chase a ball; meanwhile, harried parents of young children have new appreciation for the teachers who earn less than 1 percent of that amount. Last month Time magazine put some of the real heroes on their cover: cafeteria workers who serve up food to needy children. They could just as easily have profiled hospital orderlies or paramedics.
The question is, will we use this crisis time to re-evaluate what kind of society we want, or will we return as soon as possible to a society that idolizes the wealthiest, the most coordinated, the smartest, the most beautiful, & the most entertaining? A just, compassionate society builds on a more solid foundation. The Sermon on the Mount, which begins with the Beatitudes, ends with Jesus' analogy of the house on the rock: "And the rain fell, & the floods came, & the winds blew & beat on that house, but it did not fall, because it had been founded on the rock."
"In the days of a collapsing Roman empire, Christians stood out because they cared for the poor, because they stayed behind to nurse plague victims rather than flee afflicted villages, and because platoons of nurses would gather up the babies abandoned along the roadside by Romans in their most cruel form of birth control. What a testimony it would be if Christians resolved to increase their giving in 2020 in order to build houses for the poor, combat other deadly diseases, & proclaim kingdom values to a celebrity-driven culture. Such a response defies all logic & common sense. Unless, of course, we take seriously the moral of Jesus' simple tale about building houses on a sure foundation." - Author Phillip Yancy.
Dave's daily devotional, Sunday, May 17
Pastor Michael will be preaching today on characteristics of the early church in the Book of Acts. Their love of God & love of one another was a profound testimony to pre-believers around them.
The modern world has suddenly become reacquainted with the fear of unavoidable death. No vaccine or antibiotic will save us for the time being. Because this experience has become foreign to us modern people, we are, by & large, mentally & culturally underequipped for the current coronavirus pandemic.
While people of all faiths, & of none, are facing the disease, the distinctive approach to epidemics that the church has adopted over time is worth examining.
The Christian response to plagues began with some of Jesus's most famous teachings:
•"Do unto others as you would have them do unto you";
•"Love your neighbor as yourself";
•"Greater love has no man than this, that he should lay down his life for his friends."
Put plainly, the Christian ethic in times of plague considers that our own life can be regarded as less important than that of our neighbor.
In our reality, this is a radical teaching.
During plague periods in the Roman Empire, Christians made a name for themselves. The pagan Roman Emperor Julian observed how "the Galileans" would care for even non-Christian sick people. This habit of sacrificial care has reappeared throughout history. In 1527, when the bubonic plague hit Wittenberg, Martin Luther refused calls to flee the city & protect himself. Rather, he stayed & ministered to the sick.
Without the blessings of work, school, public gatherings, sports & hobbies, or even the outside world at all, we humans do poorly. We need the moral & mental support of the community to be the decent people we all aspire to be.
So, within context, Christian doctors & nurses don't abandon their hospitals, Christian governors don't flee their districts, Christian neighbors don't abandon their community.
For Christians, it is better that we should die serving our neighbor than be surrounded by a pile of masks we never got a chance to use. If we care for each other, if we share masks & hand soap & canned foods, if we "are our brother's keeper," we might actually reduce the death toll, too.
The Christian motive for hygiene does not arise in self-preservation but in a desire to serve our neighbor. We wish to care for those who are afflicted, which first & foremost means not infecting the healthy.
The 1st rule of medicine is to "do no further harm". The 1st rule of the church is to "love God with all your heart & your neighbor as yourself". This kind of humble care for others is a powerful force.
May the Lord help us to do everything that we can to wisely care for & practically love those around us.
Dave's daily devotional, Saturday, May 16
These are times when God seems so far away - if not altogether absent. Trials of spiritual drought & life problems can be one's constant companion. This dark night tests & torments the depths of ones soul. You know it when you're in it. Anyone may go through a period of sadness or challenge that is so deep-seated & tenacious that it qualifies as a 'dark night of the soul'.
The phrase comes from John of the Cross, a 16th century Spanish priest who came to work with Teresa of Avila. He was one of Spain's greatest poets.
While at first it sounds scary, 'The dark night' is a profoundly good thing. It is an ongoing spiritual process in which we are liberated from attachments & compulsions & empowered to live & love more freely.
Sometimes this letting go of old ways is painful, occasionally even devastating. But this is not why the night is called 'dark.' The darkness of the night implies nothing sinister, only that a spiritual liberation takes place in hidden ways, as the Holy Spirit draws us to Himself. It happens mysteriously, in secret, & often beyond our conscious control. For that reason it can be disturbing but in the end the Lord Jesus works it to our benefit.
During these days of coronavirus many of us are not used to the isolation that we have been required to embrace. It feels different & loneliness can set in.
One of the spiritual shifts that can be made during a dark season is to ask the Lord to enter into your loneliness. In doing so the Holy Spirit can transform your loneliness into solitude. Loneliness is often interpreted as negative whereas solitude is a positive thing especially if God enters into that special place with you.
I have a short handout on "The Dark Hight of the Soul" that I will make available to anyone who desires a copy at our "Drive Thru Communion" tomorrow (Sunday) from 10-11 am at the church. Enter off of Dans Lane at the Youth Center. See you there:)
"Be still & know that I am God." - Ps. 46:10
Dave's daily devotional, Friday, May 15
What is the challenge for the church today?
I think that the bottom line is - We want a Christianity that looks like Jesus. We desire a church that acts like Jesus. We seek a lifestyle that emulates Jesus as much as possible.
Most certainly, these are difficult goals for us Jesus followers. How can we accomplish living like our Savior? Certainly not by just being better or nicer.
Someone once said that Christianity is about a nice guy telling nice people to be nicer. I'm wondering if sometimes we are proclaiming a gospel of niceness.
Certainly kindness is worth our striving in a world that has gone nuts being unkind & mean spirited to people we don't even know on social media. How ridiculously not like Jesus.
The only people that we could accuse Jesus of being slightly mean to would have been the religious leaders of His day. They were God's elect but didn't love people. They were more concerned about if they looked spiritual rather than if their hearts were committed to loving God & others.
I think the only way to be really like Jesus is to be led by the Spirit (Rms 8:14) & walk in the spirit (Gal. 5:26) & live in the spirit of Jesus (Gal. 5:25).
"If we live by the Spirit, let us also walk by the Spirit." - Galatians 5:25
Dave's daily devotional, Thursday, May 14
The concept of Trust supposes that "a nation's well-being, is dependent upon the level of trust that is present in its society."
Trust in our social context is the "expectation that arises within a community of regular, honest, & cooperative behavior, based on commonly shared norms, on the part of other members of that community."
For the past 75 years there has been a decline in social trust due to the erosion of Americans dependence upon the Biblical building blocks that our forbearers hammered out following World War II. It was in that crisis that Americans turned to God out of fear & knowing that to depend upon military might in itself was inadequate.
Currently, we are so used to living in a high trust environment, it's difficult for Americans to understand the profoundly negative consequences of a low-trust society.
From the time that the boys were young until they left for college, we didn't lock the front door at night. Now we do. I'm guessing that at half of the farmhouses in the midwestern part of the United States the folks never lock their front doors at night.
Societies need a common language to discuss good & evil. Without the ability to sustain a standard about what is right & wrong behavior, societies suffer & deteriorate. Crime & addictions go up. Trust goes down.
It seems that once the majority of Americans stopped affirming their behavior in the motto "In God We Trust," then trust in began to plummet in a general sense. Yes, to trust in God precedes a cultures ability to trust one another.
Senator Mike Lee's "Social Capital Project" found that many measures of life in the U.S. are in decline: fewer marriages, fewer children, more single parents, declining religious participation, less time spent with neighbors & friends.
Having relationships you can rely on—above all family relationships—becomes more critical as trust declines. (Live as family).
The church has two things to offer people; relationship with God & relationships with one another.
Here's a couple of ideas to help build trust...
•In these challenging days; reach out & call 5 people that you know from church & check up on them:)
•Another way that we can strengthen trust naturally in our neighborhoods is to say 'hi' to 5 people a day:) In this awful epidemic, reaching out to build trust is an opportunity that we should not miss!
•Is there someone in your neighborhood that would benefit from some extra food that you have? Cook up a casserole & happy surprise them:) If you are having a pizza delivered, order two & bless someone who is struggling.
We can build trust by living out trust... "Trust in the Lord & do good; dwell in the land & cultivate faithfulness. Delight yourself in the Lord & He will give you the desires of your heart. Commit your way to the Lord, trust also in Him & He will do it. He will bring forth your righteousness as the light, & your justice as the noonday." & order an extra Pizza for the neighbors. (Ps. 37 - one of my favorites).
By the way - today is Drive thru Food giveaway at the church!
Dave's daily devotional, Wednesday, May 13
Whatever happened to kindness & respect? Such values are under assault in our increasingly secular culture.
I was raised to have manners; to say 'please' & 'thank you' & to always show respect to my elders, whether I knew them or not. That's what my parents & grandparents taught us. We were also taught to be law abiding citizens.
So what is happening here America? The lack of respect is an ongoing problem everywhere… it doesn't matter where you go; you see it in public places; stores, restaurants, schools & highways.
As recorded in Matthew Ch. 5, Jesus implied all sorts of blessings would be heaped upon anyone who chose to be;
•a peacemaker,
•merciful,
•hungry for righteousness...
You get the picture. Most of the people I know mourn the deterioration of our honorable Biblical values.
Solution suggestions:
•Rise above the temptation to lower yourself when someone disrespects you. Your merciful choice will bring glory to God & peace of mind to yourself. Rise above.
•Spend less time on your phone & computer. Don't be weird online & say that you are defending something, anything. Chose to be a peacemaker. Honor others.
•Hunger & Thirst after righteousness. To do so will satisfy your soul & bring great blessings to those around you. Live out your faith by creating righteous acts of lovingkindness! Righteousness.
Have a righteousness day!
Love, P Dave
Dave's daily devotional, Tuesday, May 12
Shortly after Jesus called His first disciples, He launched into His public ministry. He began teaching throughout Galilee & in the synagogues, "proclaiming the Gospel of the kingdom & healing every disease & affliction among the people." (Matt.4:23) Needless to say, His notoriety increased rapidly throughout Palestine.
Towards the end of the longest sermon recorded in the New Testament, Jesus had been teaching on a hilltop surrounded by a large group of inquisitive listeners. He spoke wisdom as he proclaimed God's Words (as He was the living Word).
In Matthew Chapter 7, it is recorded that Jesus used a simile in relationship to our lives - that we were to be "like a tree". Perhaps He was referring to what David wrote (Ps. 1). There, David wrote that a godly person would grow "like a tree planted by the rivers of water, & bring forth his fruit in due season."
On the mountain top He taught; "You will recognize the false prophets by their fruit. Are grapes gathered from thornbushes, or figs from thistles? So, every healthy tree bears good fruit, but the diseased tree bears bad fruit. A healthy tree cannot bear bad fruit, nor can a diseased tree bear good fruit. Every tree that does not bear good fruit is cut down & thrown into the fire. Thus you will recognize them by their fruit." - Matt. 7:16-20.
One of my great Visalia Naz Brothers, Neal Ledbetter, wrote about this very passage in his Dinuba devotional that he creates.....
"Some of us have fruit trees at home. All trees need to work one time or another; pruning, thinning, fertilizing. It's good to eat the fruit of your own tree & when it's ready to eat, it's very delicious. We have a bunch of fruit trees & I look after them so that their fruit will ripen & be the best that it can be."
Expanding upon what Jesus was teaching he wrote, "A bad person thinks & says bad things, it comes from the heart. A good person says & does good things it also comes from the heart. When we get rid of rotten fruit, we can enjoy good fruit in our lives."
It is also recorded in John Chapter 15 that Jesus said, "I am the true vine, & my Father is the vinedresser. Every branch in me that does not bear fruit He takes away, & every branch that does bear fruit He prunes, that it may bear more fruit.... As the branch cannot bear fruit by itself, unless it abides in the vine, neither can you, unless you abide in me. I am the vine; you are the branches. Whoever abides in me & I in him, he it is that bears much fruit, for apart from me you can do nothing. If anyone does not abide in me he is thrown away like a branch & withers; & the branches are gathered, thrown into the fire, & burned. If you abide in me, & my words abide in you, ask whatever you wish, & it will be done for you. By this my Father is glorified, that you bear much fruit & so prove to be my disciples."
Brother Neal wrote; "Jesus is the Fruit Inspector of all fruit inspectors. Let your own tree be nourished by the rivers of living water. Dear Lord Vinedresser, please inspect my tree today. Let me bear much fruit. Holy Spirit prune off any bad branches & nourish me."
May the lovingkindness of the Lord - snip & trim us for His glory.
Dave's daily devotional, Monday, May 11
"How are you all doing?" Thats a question that has been asked so many times lately. It is a question of authentic caring & concern for one another. It is undergirded with love. That part of our current crisis is the 'up side of down' - most of us seem to be more concerned about one another.
Our friend Patty Hylton told me last Sunday at our 'social distancing drive thru communion' that she had gotten to know a bunch of her neighbors names! She was grateful for those new connections!
I personally have met Larry down around the corner. He sits out front with his dog in the evening when I take my fat burning walk. I hope to learn the names of a bunch more of our neighbors:)
I'm wondering if we can start worshiping soon with our neighbors out in the back yard? Underground church?
Tulare County health officials reported 66 new cases of people who tested positive for COVID-19, including two more deaths associated with complications from the disease on Friday.
The new cases bring the total confirmed coronavirus cases to 1,079, including 46 deaths, in Tulare County since the county's first cases were reported in mid-March, reported by Tulare county's Health & Human Services.
This is a call for us to continue to pray for our friends & neighbors.
For many, COVID-19 carries feelings & challenges of fear, anxiety, economic hardships, isolation & many other stresses. The prayer that I wrote below reminds us that we are not alone in our feelings & we can ease our own fears by praying for others.
Dear God,
It seems like lots of uncertainty around us. There are so many people who are in need of our prayers & support.
Today, I pray…
•For those whose health is compromised by the coronavirus or other health issues.
•For those who suffer from the economic impact of the virus, in travel, manufacturing, hospitality, energy or so many other industries.
•For health care workers & first responders, & other public servants who put themselves in harm's way for us.
•For our leaders of the world, our countries, states, & cities, as they seek to help manage this challenge.
In your Word, You tell us over & over again not to be afraid. Please show me how to trust in you. As I examine my heart, help me to turn away from my concern with self, & turn my heart, hands, & prayers toward the concerns of others.
In Your blessed Name, I pray. Amen
Dave's daily devotional, Sunday, May 10
Well, happy Mother's Day!! Even if we can't celebrate together in congregational worship- we can still honor Mom!
Find a way to bless her. Cards, flowers, yes. My favorite way to bless Mom is - ice cream, 'cause I might get to share in the frozen joy (a couple of times?). So yes, over here at our place, we already have a half gallon ready to bless Mom:)
Mom has taught us a lot of things...
•"Eat your veggies or no dessert for you."
•"You aren't going anywhere 'til you clean your room!"
•"Don't you dare walk on my mopping".
•"If you don't have something nice to say, don't say it at all!"
....& a bunch of other things that we could add to Mom's 'list of wise teachings' that are embedded in of our memories with the foundational strength of steel rebar in concrete.
Also, Mom taught us how to love. A mother's love is like no other. The love that a mother gives to her children is a gift that they will cherish for the rest of their lives.
Here are five things my mother taught me about love......
1.Love is unconditional. While my Mom didn't always approve of what I chose to do, I knew that there was nothing that I could do that would make her not love me. I forever would be her treasure.
2. Love is nurturing. Moms love possessed the power to cultivate hope & strength. When we were down, Mom taught us that love could raise you up & give you the encouragement that you need to move forward.
3.Love has unlimited capacity. Just when we thought we deserved some harsh discipline, we would often receive wise correction. Moms boundless love for us had unlimited capacity & it often surprised us. When we deserved a scowl, we often received a response of patience instead.
4.Love means forgiveness. When we would break her heart, Mom would find a way to overcome the disappointment & the temptation to fall into resentment. She would find a way to forgive us & to help us learn to forgive one another:)
5.Never hide or withhold your Love. Mom taught us to love others & to not be afraid of revealing your true feelings & emotions. Love is not an element of life that should be hidden away. Jesus & Mom taught us to give love away. Mom seldom missed an opportunity to show someone that she cared about them.
Many of our Mothers are now with the Lord. We dearly miss them, but we have not forgotten what they taught us about life & love. And, if your Mom is still with us, find a way to bless her with some of that deep appreciation & affection that she taught you about love
️!
Dave's daily devotional, Saturday, May 9
Good morning friends. One of our leaders, Diane Barnes has been staying connected with her Saturday night Family Group by writing a weekly devotional. With her permission, I share one of them with you:)
One of my favorite scriptures is from the Apostle Paul. In Romans 8:1 he writes – "Therefore, there is now no condemnation for those who are in Christ Jesus, because through Christ Jesus the law of the Spirit of life, set me free from the law of sin and death."
If you have a bad day, dust yourself off, and start again. Just as a baby learns to walk, at times, you will fall.
The devil will try his hardest to stop you in the area of 'renewing your mind'. He knows that his control over you is finished once you have learned to choose right thoughts. He will attempt to stop you through discouragement & condemnation.
We all must accept the fact that along with strengths we also have weaknesses. Let Christ be strong in your weaknesses; let Him be strong in your strengths.
Discouragement destroys hope, so naturally the devil always tries to discourage us. Without HOPE, we give up.
When discouragement or condemnation tries to overtake you, examine your thought life. Remember… you become what you think. Change your thinking and be set free! Instead of thinking negatively, thank God for helping you to make progress. Ask the Lord to transform negative thought patterns & help you to keep on - keeping on. Today will be a great day!
Tell yourself…God I know you are working in my life; you have begun a good work in me & I believe that you will bring it to full completion.
Challenge: Close your eyes, speak out loud…Lord, I know you have a purpose for me. Thank you for beginning a good work in me. Thank you, Lord, for being patient with me & never giving up on me. Thank you for your peace & hope. I accept it today.
"I am confident of this very thing, that he who began a good work in you will carry it on to completion until the day of Christ Jesus." - Philippians 1:6
Dave's daily devotional, Friday, May 8
Yesterday was the National Day of Prayer for our country, & man, do we need it.
In 1 Timothy 2:1&2 Paul writes to young Timothy; "I urge, then, first of all, that petitions, prayers, intercession & thanksgiving be made for all people— for kings & all those in authority, that we may live peaceful & quiet lives in all godliness & holiness."
It is interesting that we have been provided a biblical mandate to pray for our leaders & support those who have been put in authority over us. I find it interesting that the most dramatic description of that perspective is found in Romans 13 as Paul addressed believers at the infant church of Rome.
Having studied the Bible for 60 years, I remembered that Paul had written about this very thing. I just didn't remember how dramatic his instruction was. What is even more puzzling is that the church that Paul was writing to was subject to a government that was totalitarian, pagan & idolatrous. That government proclaimed that Caesar was Lord. That is one of the reasons Paul had to preach that Jesus was Lord in the shadows of the emperors palace. He testified that man was subject to Jesus Christ - a higher authority than governmental leaders. This same government eventually killed him because Paul proclaimed that Jesus was Lord & Nero was a mere man.
Nonetheless, it is recorded this way...
"Let everyone be subject to the governing authorities, for there is no authority except that which God has established. The authorities that exist have been established by God."
"Consequently, whoever rebels against the authority is rebelling against what God has instituted, & those who do so will bring judgment on themselves. For rulers hold no terror for those who do right, but for those who do wrong. Do you want to be free from fear of the one in authority? Then do what is right & you will be commended. For the one in authority is God's servant for your good. But if you do wrong, be afraid, for rulers do not bear the sword for no reason. They are God's servants, agents of wrath to bring punishment on the wrongdoer."
"Therefore, it is necessary to submit to the authorities, not only because of possible punishment but also as a matter of conscience. This is also why you pay taxes, for the authorities are God's servants, who give their full time to governing. Give to everyone what you owe them: If you owe taxes, pay taxes; if revenue, then revenue; if respect, then respect; if honor, then honor."
"Let no debt remain outstanding, except the continuing debt to love one another, for whoever loves others has fulfilled the law."
Well, there you have it. We are challenged to obey our government, pray for our leaders & continue to love one another from a sincere heart.
I guess that I have a lot more praying to do....
Dave's daily devotional, Wednesday, May 6
The Problem of Evil
"Pastor Dave, why is there so much pain & suffering in this world?" The young man was asking a sincere question that most all of us have contemplated. I think I responded something like; "Ok, time to put on our egghead theology hats."
From that point in the conversation, we proceeded to tackle the 'Problem of Evil' in our world.
For most western Christians, in coming to grips with the Problem of Evil - the basis of our beliefs are founded upon; 1) the Godly inspiration of the Bible, & 2) our grasp of logical reasoning. Our foundational understanding of the world & spiritual things is both reasonable & supernatural.
From our foundational beliefs, it makes sense that God has desired to bring about the best possible world as a product of His magnificent handiwork.
However perfect Gods original creation, we are aware that something really destructive happened. The Genesis account tells us the story of 'paradise lost'.
Sometime after God created man & woman & put them in the Garden of Eden, the 'beautiful Liar', Lucifer brought on the devious destruction of the perfect world. Satan tempted & deceived the magnificent couple & stole their innocence.
The theological imperative....
Because God was not willing to create us as morally robotic, the logical necessity required us to have to be created with free will. Much has been written about this cosmic quandary.
Someone once said that the moral free will that is bestowed upon us is simultaneously the most wonderful & terrible thing in the universe. With our free will, we can choose to love God & restore what was stolen from us in the Garden, or we can reject His love, opening the door for all manner of self destructive evil.
Evil is not caused by God but by us human beings as we can choose between good or evil. However, we must necessarily be allowed to choose evil if we are to have free will.
Mans great dilemma is that throughout life, we must choose between the good & righteously healthy things that God offers to us & the evil with which Satan intends to destroys us.
We have all dealt with the problem of evil, sin & pain. We have struggled against the dark side for most of our lives. Paul explains it this way; "For our struggle is not against flesh & blood, but against rulers, authorities, & powers of this dark world & against spiritual forces of evil in the heavenly realms."- Eph. 6:12
Let's get the understanding clear. Because God is not the author of evil, He is not the source of pain, suffering & disease. All of that evil comes from Satan himself - as he is evil personified.
Therefore, this disease is not from God. No disease is from God but originally is a byproduct of Satans rebellion. God allows disease but He does not produce it. He wishes to destroy disease & evil. He ultimately will be victorious in doing so. He will make all things new. (Rev.21:5).
God is all loving & good, He will defeat evil. Furthermore, God has risked eternity by included us in this cosmic battle for our souls. We do not put confidence in our own flesh (Phil. 3:3) to stand against evil. But God, in His restorative love has provided the Holy Spirit, (the Spirit of Jesus) to be our Helper to stand against the wiles of Satans evil intentions that he has planned for our destruction.
Peter instructs us in how to deal with this aggressive evil. "Be of sober spirit, be on the alert. Your adversary, the devil, prowls around like a roaring lion, seeking someone to devour. But resist him, firm in your faith, knowing that the same experiences of suffering are being accomplished by your brethren who are in the world. After you have suffered for a little while, the God of all grace, who called you to His eternal glory in Christ, will Himself perfect, confirm, strengthen & establish you."
So back to the young mans question... 'Why is there so much pain & suffering in the world?' The purpose of our suffering & the problem of evil that causes it will draw us closer into a greater dependence & maturity in Christ Jesus who wishes to "perfect, confirm, strengthen & establish you."
Daves daily devotional, Tuesday, May 5
Some have compared COVID-19 to a shared, global wilderness experience. The analogy seems appropriate.
Consider what the wilderness involves: food in short supply, water is scarce, wild animals roam in the night, far removed from the comforts of home. The wilderness is a place of scarcity & danger—there is much to fear in the wilderness. However, there is also much to gain in what it teaches.
The wilderness is often mentioned in Scriptures as a place of preparation & testing for almost every great leader in the Bible.
Some of Jesus greatest testing came upon Him in His prolific, '40 days in the wilderness.'
Well, how goes your wilderness testing?
We are not happy for the COVID-19 wilderness in which we find ourselves, but we also trust that in the midst of the danger & uncertainty of it all, God is with us. There are lessons to learn in these places of unsettledness & discomfort.
One of the major concerns that we share for the church is that we would come out of this wilderness season & miss what God wants for us to learn. Perhaps what we must come to crave above all else in these days of chaos is a renewed dependence upon our Lord. He is present in every situation & invites us to cast all our cares upon Him.
"Cast all your anxiety upon Him because he cares for you." - 1 Peter 5:7
Daves daily devotional, Monday, May 4
Yesterday morning, Sunday May 3, we celebrated Holy Communion in our homes, co-ordinated at the end of Pastor Michaels sermon OR, by driving by the church
️.
Yes, about 30 carloads of our eklessia diaspora experienced the Lords Supper in a unique venue - in our cars.
I hope that it was profoundly meaningful for those of us who could participate!
To me, it seemed unusual because we are familiar with being able to quietly focus together on the Lord in deep reverence. However, it hasn't always been celebrated with such congregational freedom.
In fact, historically, for the first 3 centuries the infant church celebrated the Lords Supper in their homes & in caves throughout the Mediterranean world. Only after the "Year of Our Lord" (Anno Domini) 325 were Christians allowed to celebrate Holy Communion in larger groups in semi-public locations. Prior to that, the church was forced underground in fear of persecution & martyrdom.
"A faith that can be destroyed by suffering is not faith." - Richard Wurbrand
Rather than being resentful of these coronavirus days & not being able to worship with unfettered freedom, the church maximizes our situation by getting creative. Worship Him wherever you find yourself!
You see, our worship of God is a lifestyle that hopefully happens anywhere that you go. The worship of God is one of the only things that we will be able to take with us from earth to heaven.
"Any man or woman on this earth who is bored & turned off by worship is not ready for heaven."- A.W. Tozer
"Worship is our proper response to God, ascribing all honor & worth to Him because He is worthy & delightfully so."- D.A. Carson
Daves daily devotional, Sunday, May 3
This morning Pastor Michael will be preaching on one of Jesus well-known stories; the wise man & the foolish man. In Matthew chapter 7 it is recorded that Jesus says;
"Therefore everyone who hears these words of mine & puts them into practice is like a wise man who built his house on the rock. The rain came down, the streams rose, & the winds blew & beat against that house; yet it did not fall, because it had its foundation on the rock. But everyone who hears these words of mine & does not put them into practice is like a foolish man who built his house on sand. The rain came down, the streams rose, & the winds blew & beat against that house, & it fell with a great crash. When Jesus had finished saying these things, the crowds were amazed at his teaching, because he taught as one who had authority, & not as their teachers of the law."
What made the wise man wise in this situation?
What made the foolish man foolish in this situation?
What does Jesus mean about building this house?
Why did Jesus tell this story?
How can we apply Jesus teaching to our lives this week?
"If any of you lacks wisdom, you should ask God, who gives generously to all without finding fault, & it will be given to you." - James 1:5
Daves daily devotional, Saturday, May 2
One of the marvelous things during these challenging coronavirus days is to see how people will reach out & love one another.
One of our dear friends Paula Anderson has been undergoing treatment for cancer over the last several months. Her mom, Dora Davis let us know that it was Paula's birthday!
Here's is a photo of some of the folks that showed up to celebrate with Paula & Richard, as well as her folks, Dora & Paul Davis. (from a distance, of course:).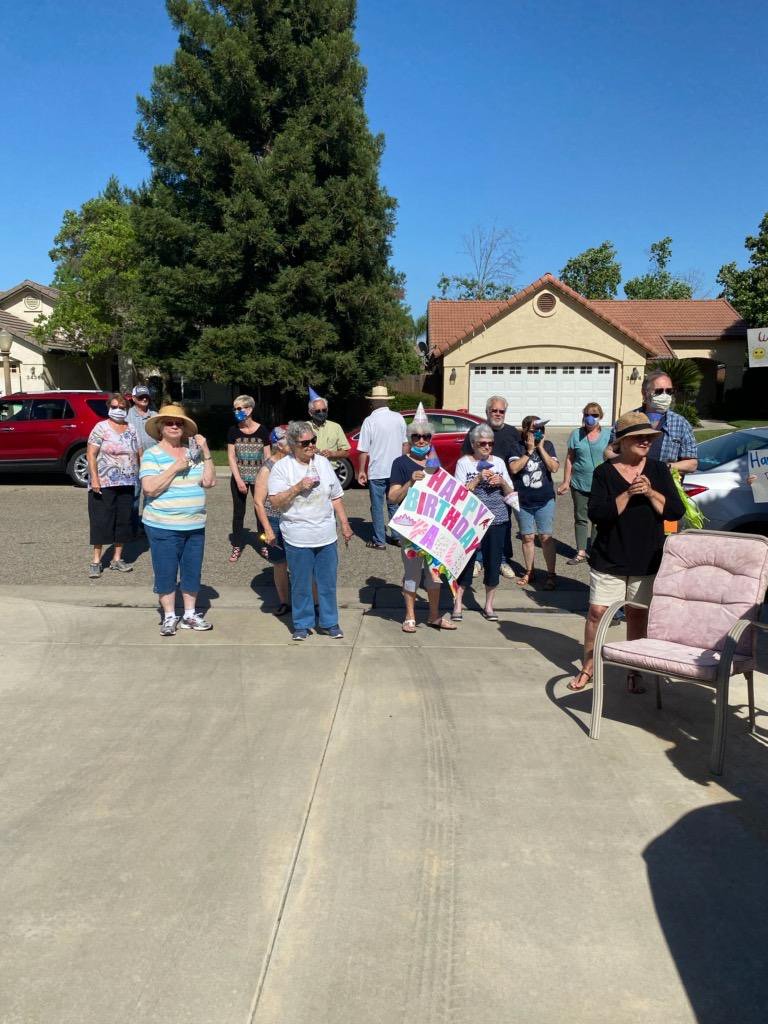 Thanks to Pastor Dan Boswell for his great leadership & excellent photography:)!
Please let me know if you have any good photos & stories about loving on people!
Daves daily devotional, Friday, May 1
In Daily Devo's, I am seeking to hear uplifting Coronavirus stories of how our church is reaching out & loving on people!
If you have any heartwarming stories, please share them with me so that I can communicate them to the rest of our fellowship! I can omit your name if you are hesitant in sharing your good deeds. I'm hoping that by sharing your story of helping others, it will inspire more random acts of kindness in our communities:)
Here's an example of what is uplifting from my excellent colleague, Pastor Dan Boswell....... "As the Senior Adult team made calls offering to help fellow seniors, partnering with the youth group in shopping, cleanup, & others needs, we had a delightful 'bounce back affect'.
"One of our beautiful young senior adult ladies called & offered - almost demanded that she be allowed to help. She was highly motivated to bless others by going shopping or cleaning homes & wanted to help anyone that might need some helping hands. This act brought tears to my eyes in the willingness of one who is in the endangered group to put herself in harms way in order to help others. That was an inspiring example of Jesus love in action."
Please send me your inspiring stories to at dave@visalianaz.org.
Daves daily devotional, Thursday, April 30
Even though we can't worship together at the church building, this is a season in which we should be unleashed to 'be the church' in our neighborhoods:)
Located near the College of the Sequoias, our neighbors have found a way to bless others by:
• dropping off of a birthday cake to a home bound senior,
•provided meals for a family whose father passed away last week,
• hosted a couple who renewed their wedding vows,
•helped repair a neighbors fence,
•brought encouragement to others by colorful & uplifting sidewalk chalk artwork:)
•volunteered at our monthly drive through "Food Giveaway" (Next one is scheduled for Thursday, May 14).
I know there are a lot of great things happening in our church as we try to help the community around us. I would like to hear more great stories of what God is doing through you.
Blessings, Pastor Dave
Daves daily devotional, Wednesday, April 29
Breakfast at the Beach
For the past two weeks, it has been the attempt of 'Dave's Daily Devotions' to continue to examine the post resurrection appearances of Jesus.
By now, Jesus had visited His disciples 4 times. The fifth time was on the eighth day after His resurrection. In John 21, it is recorded that Jesus decided to visit 7 of His disciples at the Sea of Galilee one morning while they were fishing.
This is another famous moment when Jesus (in disguise again) asks His friends if they've caught any fish. As you recall, they answered, "No."
So, Jesus yells to them from shore & tells them to "cast the net on the right side of the boat, & you will find some."
The 'know it all fishermen' must have thought; 'Who does this guy think that he is? And, what difference will it make to cast over the right side?'
The Bible tells us that the disciples had been fishing all night. Hmmm.. 7 cranky, hungry guys! They hadn't caught anything. Still, they took a chance & obeyed the mysterious man on the beach & cast their nets one more time:)
In doing so, they discovered their nets overflowing with "the multitude of fish (v5)." It's only after their huge catch (153 fish, in fact, in vs 11) is hauled in that John recognizes that it's Jesus who was the stranger with the outrageous request.
Forthwith, Jesus invites them to eat breakfast with Him. Right after that Jesus takes Peter aside & tells him to feed His sheep. Jesus says this to Peter 3 times in response to Peter's denial of the Lord 3 times on the night of His crucifixion. Yikes!
Ironically, In the end, everyone learns that Jesus has appointed Peter to be the pastor of the new church. (what?)
So, in His "Upside Down Kingdom", Jesus is teaching His Disciples that spiritual leadership need not be brilliant in order to be effective. Especially if you own a repentant heart! Furthermore, true spiritual leadership is understandably obedient & embraces correction & wisdom.
Moral of the story- If ya' mess up, be honest with Jesus & He will restore your life. Does it get any better than that? Instead of condemnation we receive restoration. Beauty for ashes. So good!
Daves daily devotional, Tuesday, April 28
The Easter story causes many people to dig deep into their own faith journey to extrapolate the profundity of the resurrection. (Yes, as verbose a proclivity as I reflect, it's true. I really do write this stuff myself. This ain't no cut & paste).
During these challenging days, one such Coronavirus response caught me off guard. It was a proclamation from "The Queen."
Straightforwardly, during these trying days, Queen Elizabeth of England has delivered what is thought to be her first Easter message in her 67 year reign. Hers is a message of hope to people that have been confined in their homes for the Easter holiday by the coronavirus epidemic.
The 93-year-old monarch - who also serves as the supreme governor of the Church of England - recorded this message in the drawing room of Windsor Castle, where she finds herself in self isolation as a result of the coronavirus epidemic.
"This year, Easter will be different for many of us, but by keeping apart we will keep others safe," the Queen said.
"But Easter isn't cancelled; indeed, we need Easter as much as ever. The discovery of the risen Christ on the first Easter Day gave His followers new hope & fresh purpose. We can all take heart from this," she added.
"We know that coronavirus will not overcome us."
So, let us "take heart" as the Queen encourages us to do!
As dark as death can be—particularly for those suffering with grief—light & life are greater. May the living flame of the Easter hope be a steady guide as we face the future together.
"Easter promises that what God does in the resurrection of Jesus is God's intention for His entire creation. - James Harnish, from Easter Earthquake.
"Jesus came to make God's love possible, and to make God's love visible. Easter celebrates an event that proved Jesus was who He claimed to be. He was God in the flesh, & He came to Earth to save us from ourselves." - Pastor Rick Warren
"Easter is why we don't give up." - Dr. David Jeremiah
Daves daily devotional, Monday, April 27
We experienced a different & unique Easter this year. It was characterized by the absence of live, victorious music & the synergistic power of the church family celebrating the Risen Lord together.
However, this Easter I was privileged to spend it with Kristi & God. In our small family group, I was brought into a place of greater introspection concerning the outrageous proposition of what Jesus had done.
Author Robert MaCafee Brown said there are two problems with Christianity, one is to be ignorant of the beliefs of Jesus and the other is being too familiar with the beliefs of Jesus. This led him to write; "every three years Christians should forget everything that they have learned about their faith & start over again."
Even if we aren't starting over again this Easter, it is faith expanding to contemplate the dramatic implications of the resurrection! We have been doing so for the past two weeks:) Selah....
Conclusively, Jesus' disciples primary Easter emotion initially must have been fear. At least to begin with.
After some of them watched our Lord die on the cross & others were scattered in disbelief & horror, the third day surely must have been confusing.
Stories were flying about concerning Jesus. Some said He was alive again & had seen Him. Some testified that they had actually touched Him. While others had said that they had eaten with Him.
As we studied yesterday, He appeared to two disciples along a road & spent the afternoon with them. Others told that He had been with them in one place & then suddenly, He reappeared several miles away in a different place behind locked doors.
The recorded truth is Jesus appeared to His disciples & followers at least 10 times before His ascension & it began right after His tomb was discovered to be empty.
These post-resurrection appearances convinced His disciples, beyond any doubt, that He had risen from the dead.
There is a high probability that Jesus appeared to many others during these 40 days. Jesus's resurrection was not a hallucination. His appearance was not a one-time showing. The fact that Jesus appeared after His resurrection as He did verifies that Jesus had indeed defeated death. This is something that we should not only celebrate for the 40 days of Easter, but 365 days a year.
"If Jesus had died & stayed dead, the disciples would either have given up the movement, or they would have found another messiah. Something extraordinary happened which convinced them that Jesus most certainly was the Messiah." - Paula Frederickson
"These three great facts–the resurrection appearances, the empty tomb, & the origin of the Christian faith–all point unavoidably to one conclusion: The resurrection of Jesus. Today the rational man can hardly be blamed if he believes that on that first Easter morning a divine miracle occurred." - N. T. Wright
"Why do you seek the living among the dead? He is not here. He has risen, just as He said." - The words of the tombstone angel - Luke 24:5
Daves daily devotional, Sunday, April 26
As the day of Jesus Resurrection dawned, two of Jesus followers left Jerusalem for the short walk to a small town about 6 miles away. As the men were walking along, another appeared alongside of them in order to share in the journey.
Luke 24 describes that it was Jesus that approached them on the road, though He kept the two companions from recognizing Him.
In one of the comic moments in the Bible, Jesus asked what they were talking about. One of the men, named Cleopas retorted back, "are you the only visitor to Jerusalem who does not know the things that have happened there in these recent days?" The veiled Jesus responded in turn, "what things?" It would be easy to imagine Cleopas with an incredulous look on his face. Unbelievable! Was this stranger living under a rock?
Cleopas filled in the details for the mystery traveler. We can ascertain how deeply the effects of the Crucifixion & Resurrection had on Cleopas by the way he related the events to Jesus in rapid fire fashion.
Once Cleopas finished, Jesus said to them, "O foolish men, & slow of heart to believe all that the prophets have spoken! Was it not necessary that the Christ should suffer these things & enter into his glory?"
If Cleopas had been shocked before, he must've been even more stunned at Our Lord's response. Imagine him thinking, 'who are You?' And there is no greater question to ask when encountering Jesus.
Then, Jesus began to interpret the Old Testament to Cleopas & his companion, starting with Moses & proceeding through the prophets. Time must've flown by, since the next detail Luke related was that they'd arrived at Emmaus in the evening.
The veiled Jesus acted like He was continuing His journey, but was persuaded to remain with them when the two men begged Him to stay.
Sitting down to a meal, Jesus took bread, blessed it, broke it & gave it to them. At that point, Jesus revealed Himself to them & their eyes were opened! Cleopas & his companion finally recognized that their mysterious companion was Jesus Himself!
At that point, Our Lord vanished. They immediately rose to head back to Jerusalem, apparently eager to explain Jesus appearance to the other disciples.
They exclaimed to one other: "Did not our hearts burn within us while He talked with us on the road, while He opened to us the scriptures?" Upon joining the disciples, they told their story & excitedly heard of more accounts of the resurrected Jesus.
The disciples emotions had been traumatically jerked around in the previous week. They had been elated to see the thousands of Passover revelers welcoming Jesus into Jerusalem in a triumphal entry to the Holy City.
This victorious moment was followed by Jesus arrest, trial & brutal crucifixion between two thieves. They were shocked, dismayed & scattered.
But now, at their lowest point, the disciples were dealing with the tragic loss of The One that they thought would redeem & restore Israel. Their messianic hopes had been dashed.
However, these two believers came face to face with the realization that the recently murdered Savior was inexplicably walking & talking with them.
There is something precious in the picture of Christ walking with us in our darkest hour. So often, humanly, we desire an answer when His desire is that we have the answer, ever present, revealed in Himself.
He knows what is required for us to reach that place of joy & peace in Him.
What an example we have in the road to Emmaus account: where two or more are gathered, there He is in their midst. (Matt. 18:20).
In this 'coronavirus mile' of your own journey, are you able to see our Jesus, or is He hidden from you?
Is the discouragement of the journey keeping Jesus veiled in your life?
Open your eyes & discover the reality of the risen Christ!
"He is not here, He is risen. Just as He said." - the angel declared - Matthew 28.
Daves daily devotional, Saturday, April 25
When the New Testament identifies the Gospel data, at least 3 significant realities items are always mentioned: the Deity of Christ & His death & resurrection. The key to Jesus' resurrection is his post-death appearances.
Critical scholars agree that the entire enterprise of the early church-worship, writings, & witness—would never have come about if Jesus' followers were not absolutely convinced that He had conquered death by appearing to them afterwards.
In total, it is recorded that at least 513 people saw Jesus alive after His death & resurrection. In any courtroom, this number of witnesses would be far more than needed to establish the accuracy of an event. Furthermore, many of these eyewitnesses suffered & died for their belief that Jesus had risen from the dead.
The overwhelming evidence points to Jesus literally returning to life on the third day after His death, appearing to many people & ascending to heaven 40 days later.
If Jesus really did return to life, according to the scriptures & the eyewitness, some of them hostile (Roman guards), His promises are true. He is the Messiah, the only begotten Son of God.
Every Easter, the world wide Christian community celebrates their firm confidence in Jesus Resurrection. Christians remained the largest religious group in the world in 2015, making up nearly a third (31%) of Earth's 7.3 billion people according to Pew Research estimates.
The world is currently experiencing greatest Christian revival that it is ever seen:)! It is happening, ironically in an atheistic country!
Although China is officially an atheist country under Communist authoritarianism, its Protestant population is likely to swell to 160 million by 2025, according to a religion expert, who says not many are prepared for "this dramatic change."
"It is going to be less than a generation. Not many people are prepared for this spiritual explosion," adds Feng, author of Religion in China: Survival & Revival under Communist Rule.
Feng went on to say, "Mao thought he could eliminate religion. He thought he had accomplished this. It's ironic – they didn't. They actually failed completely."
When China's communists came to power in 1949, they expelled Christian missionaries while allowing churches to function under the government's control. Chinese Christians faced severe persecution during the Cultural Revolution of the 1960s & the 1970s under Mao, who saw religion as "poison." However, Christianity continued to grow like fire.
Does that sound familiar? How about Christianity in the 1st Century. As the Romans & Jews failed to stamp out the reality of Jesus Resurrection, so also the Chinese Communist have failed to destroy the message of eternal life & love that is offered to the world by Jesus our Savior!
"By 2030, China will almost certainly have more Christians than any other country." - Feng Yang
What an exhilarating time to be alive. Let's pray for the Church in China! Let's pray that they will be transformed by the love of Jesus from the inside out!:)
While it is good to pray for the suffering church in China on the other side of the world, please remember to also pray for Pastor Peter Ng & the Crown Ministry Church that meets in our facility at Visalia Naz!
You can close church, but you can't close "The Church".....
Daves daily devotional, Friday, April 24
The authenticity of Jesus Resurrection is the only plausible explanation for the rapid growth of Christianity in the first three centuries following His life & ministry.
Following the coming of the Holy Spirit, Christianity exploded throughout the entire area of the Mediterranean. By A.D. 100, Christianity had become mostly Gentile & had begun to break from its Jewish origins. By A.D. 200, the faith had permeated most regions of the Roman Empire. By 325 A.D., an estimated 7 million were Christians with as many as 2 million that had been killed for their faith.
The explosive growth of the infant church can be attributed to the love of people meeting needs across cultural barriers. The self sacrificing love exampled by Christians overcame the brutal insanity of the Caesar's & the cruel Roman tyranny.
News of the resurrection of Christ produced great loyalty among followers. Christian martyrdom also, ironically, created vast interest in & respect for Christians bravery & absolute devotion to Jesus Christ & unwavering belief in His resurrection from the dead.
Throughout history, the social concerns of Christians during the plagues for the sick & the poor won many converts to the teachings of Jesus. The black plague that is so destructive that almost 1/3 of the population of the known world died from it. Christians often took in the orphans of families that had died from the Black Plague. Doing so, they knew full well that they probably would also contract that dreaded disease.
History proves that the Gospel that has been passed on to us cost many of our forebears their lives & the lives of their families.
I often marvel at the iron clad faith of the early church. They were absolutely convinced of Jesus resurrection & the promise of heaven that awaits all who will put their trust in Him:)
How about you? How is your faith doing? This time is a chance to re-evaluate your priorities in relationship to the Savior that loves you so much!
"Draw close to God & He will draw close to you." - James 4:8
"Seek the Lord while he may be found call upon him while he is near." - Isaiah 55:6
We have such a marvelous heritage within the centuries of the Christian faith that made the church so honorable. Take the opportunity to draw closer to God in these momentous days & let your contagious spirit of love bless all of those around you!
"We ought not to be weary of doing little things for the love of God, who regards not the greatness of the work, but the love with which it is performed." - Brother Lawrence
[The natural life] "knows that if the spiritual life gets hold of it, all its self-centredness & self-will are going to be killed & it is ready." - C.S. Lewis
Daves daily devotional, Thursday, April 23
We are people of the resurrection!
It's Easter all year long for us!
"The cross is not a sign of the church's quiet, suffering submission to the powers-that-be, but rather the church's revolutionary participation in the victory of Christ over those powers."
"The cross is not a symbol for general human suffering & oppression. Rather, the cross is a sign of what happens when one takes God's account of reality more seriously than Caesar's. The cross stands as God's (and our) 'eternal no' to the powers of death, as well as God's 'eternal yes' to humanity. It is God's remarkable determination not to leave us to our own devices." - Stanley Hauerwas
When the church speaks of the cross it is also speaking of the resurrection. In fact, we never speak of the cross without implying that the world's most stupendous miracle is directly associated with it. Without the cross of Jesus, there would be no resurrection of Jesus & without the resurrection of Jesus we would simply not be here. Yes, we would not exist & the world would not be as it is
Simply, the resurrection of Jesus from the grave changes everything!
"The Lord is near." - Phillipians 4:5
Daves daily devotional, Wednesday, April 22
Enduring Questions....
Questions like:
•Why do bad things happen?
•Where is God in all of this?
•How can I pay my rent on the 1st?
Or even deeper questions:
•If God exists, why does He allow evil in the world?
•Is this suffering a judgment from God?
•What is the purpose of my life?
It would be impractical to try to tackle these questions all at once, but let us examine them together over the next couple of weeks:)
Here's an obvious question that we can tackle as we journey along together....
As awful as this whole epidemic is, can any good come out of it?
How can we learn & grow through difficult times such as this?
Often, pain & difficulty are some of the greatest teachers in life. No matter how bad the situation is—whether it's a life-altering crisis or a twisted ankle, it teaches us that there's something more important than the material temporal things. Through these difficulties, we can try to understand God more completely & learn to rely upon Him more, having our faith strengthened. Fear to Faith.
The purposes of God are at work in these momentous times. Our God is a God of hope & transformation. It is Gods desire to provide hope & encouragement as we confront our fears in these anxious days.
One good thing that can come from this trying time would be a massive personal return to God. As a society we have strayed far from Him, turning our focus to the things of this world - the love of money, the worship of stuff, the idol of self. Now that many worldly pursuits have slipped into the background, people are seeking answers to eternal questions.
So, yes. Some good things can come out of these challenging days, but only if you ask for God to enter into your questions.
Pleased continue to pray for those residents & staff at Redwood Springs Healthcare Center & Lindsay Gardens Nursing & Rehab health facilities. Thank you church!
Daves daily devotional, Tuesday, April 21
Friends, this is a difficult time for all. No one has been spared from the effects of the coronavirus. Not all of us will be infected by the virus, but all of our lives have already been impacted. Looking forward - past these life changing effects we consider how each of us can be spiritually renewed in our collective efforts to halt this disease & get through this moment.
On Sunday, I challenged all of us in the church to pray for the two healthcare facilities that have had great difficulties with the coronavirus. Redwood Springs Health Care here in Visalia & Lindsay Gardens. It is often interesting how God works.
During this season I have also been calling through about 1200 names of families from our church that are in our database:) I'm over 1/3rd of the way through! It's been great to talk with you all:) It is so healthy to reconnect!
For example, please pray for my friend Nancy who has a cancer biopsy today. Also, I learned of a friend that has battled cancer & been in remission for 2 years. Hallelujah, I say!
Also, please pray for our friend Paula Anderson as she continues her journey in her fight against cancer. Please help her Lord!
On Monday, I was privileged to speak with Beverly Franco. As we talked about the effects of the coronavirus, she informed me that her daughter, Shandra had been working as a Certified Nurses Assistant at the Redwood Springs. I told her that I had asked everyone in the church to pray for the folks at Redwood Springs & Lindsay Manor just this last weekend!
Beverly requested prayer for Shandra & we prayed over the phone for her safety & good health:) Please join me in continuing to pray for Shandra & others that are working on the front lines against this disease!
P
"For God has not given us a spirit of fear but of power & love & a sound mind"- 2 Timothy 1:7.
"So do not fear, for I am with you; do not be dismayed, for I am your God. I will strengthen you & help you; I will uphold you with my righteous right hand." Is. 41:10
" God is our refuge & strength an ever present help in time of trouble. Even though the mountains might fall into the sea, still I will not fear." Ps. 46:1
Daves daily devotional, Monday, April 20
Somehow, in America today, forces have made it politically incorrect to speak the Name of Jesus in a any sort of public setting. This attitude is all too typical today. Most people are happy to agree that God exists; but in our pluralistic society it has somehow been forced upon us that it is offensive to claim that God has revealed Himself decisively in Jesus.
However, this is the definitive message of Easter & Jesus made it possible. In Jesus resurrection the world was transformed.
It is this same Jesus that all of history revolves around. His resurrection is the center. We all will come to this realization, sooner or later.
My hope is that in these trying days that we will discover the hope that Jesus gives to any person who will seek Him.
Recently, Pastor Rick Warren said, "Every crisis in our world is an open door to show God's love. While the current environment around the nation is one of fear, God is in control. Now, more than ever there is an opportunity for the Church to outshine the darkness & serve people in pain."
We are hoping & praying for God to transform these challenging days into opportunities for you to bring a spiritual awakening of luuuvvvvv to others in your neighborhood.
In a television interview this week, we'll known actor Dennis Quaid surprised me.
We are all painfully aware that are a lot of wacky people in Hollywood & yet, every once in a while we get a glimmer of hope that God is at work in transforming even the lives of the rich & famous.
Quaid was quoted as sayin that said he hoped a "really powerful & wonderful" outcome of the coronavirus pandemic was a "spiritual reawakening of this country."
Host Dana Perino asked, "I wondered about what you thought about what you'd seen in America during the quarantine. The acts of kindness, generosity & people coming together, I understand these are quite inspiring to you?"
Quaid said, "Oh, yes. This is our World War II moment, & I think there is going to be a spiritual reawakening of this country. We already see it, everybody coming together. There's going to be something really powerful & wonderful that comes out of all of this for us as a people, I think, it's already happening. We are already relearning how to do many things in our lives & think of others."
Yes, I craved a spiritual awakening of Jesus transforming love to explode around us!
As we shine His light & love in our Tulare County neighborhoods, so we will have an opportunity to replace fear with faith. It's an open door for us to share Gods love. Love, Live, Go:)
Daves daily devotional, Sunday, April 19
During this bewildering season of dealing with the epidemic caused by the coronavirus, local officials continue to encourage us to follow the 'stay-put at yer place 'til ya go crazy' rule .
We are supposed to only going out for basic services, such as grocery shopping, caring for a loved one or working an essential job (Isn't everyone's job essential? Hmmmm...)
Personally, I've been doing a lot of prayer walking. While it's difficult for me to do any two certain things at once, i've had many great times with the Lord & consequently, I'm getting to know some neighbors that I have never met before:)
My sense of community & engaging with others in our neighborhood has increased. One sign posted on a lawn said "love your neighbor as yourself" (Mark 12:31). Easier said than done, 'specially if you don't know your neighbors names
For today's devotional, I thought I might suggest that we put 'faith into action' by all of us engaging in some church wide 'focused prayer' for two Tulare County healthcare facilities.
Many of you have probably already been aware & been praying for the residents & staff of Redwood Springs & Lindsay Gardens healthcare facilities.
According to our "Visalia Times Delta" newspaper, the creeping crud virus has Tulare County reporting 15 new COVID-19 positive cases as of Saturday, adding to the 397 overall total discovered thus far. Unfortunately, we are told that 17 of these 400 or so folks have died. 10 of those deaths are attributed to the outbreak at Redwood Springs.
As of Saturday, Redwood Springs has now ascertained that those associated with the care facility has 161 positive cases - 107 residents & 54 employees. That has left it with more infected residents than any of the other 260 skilled nursing facilities in California.
Concurrently, a second nursing home outbreak was announced last week in our neighboring City of Lindsay. As of Saturday, Lindsay Gardens Nursing home has identified 20 cases - involving 14 residents & 6 staff.
Let's join together & pray specifically for Redwood Springs & Lindsay Gardens Nursing facilitates; both residents & staff. Amen.
Daves daily devotional, Saturday, April 18
I'm going to take a day to interrupt Dave's daily discussion of 'post resurrection appearances' by letting you know about a very positive spiritual event scheduled for tomorrow night Sunday at 5 PM on Facebook live.
Hope Rising
Sunday, April 19, 2020
5 p.m. Pacific
Hosted by:
Candace Cameron Bure and Kirk Cameron
To be Broadcast on 'Facebook Live'
Performances & Appearances by:
Casting Crowns
Mercy Me
Kari Jobe & Cody Carnes
Newsboys
Natalie Grant
Matthew West
Sanctus Real
For King and Country
Kirk Franklin
Gloria Gaynor
Kanye West
Bishop T.D. Jakes
Rev. Franklin Graham
An outstanding lineup of Christian artists & speakers has come together for a special event in Tampa to support the medical ministry of Samaritan's Purse as we help save lives & share the Gospel during this pandemic
Daves daily devotional, Friday, April 17
Aren't you glad it's not tax day? Just a thought...🤔
Well, anyway I have been having fun examining the arguments that some doubters have concocted to attempt to disprove or undermine the historical accuracy of Jesus Resurrection.
It often seems that mankind wants to find every way possible avoid believing in the risen Christ. This intellectual deviousness allows for them to place themselves as the authority above what God has done & recorded in His Word for us.
As my friend Dennis Hylton mentioned to me one Sunday morning, (back when we gathered together for such fun & healthy things); "Are there really any alternatives to the Biblical record? Nothing else makes any sense."
Today, I would like to briefly examine a very profound reason to believe in the resurrection. This short but obvious study points to inexplicable decisions that Jesus disciples made in response to His resurrection.
The first observation is that the disciples were transformed. Prior to the resurrection, the guys were a bunch of disbelieving knuckleheads. They had witnessed Jesus heal hundreds of people without any smoke & mirrors, right before their very eyes.
Simply, because of the resurrection of Jesus, they chose to live in mortal danger & face death daily because of their belief. Their bold confession that "Jesus is Lord" (Romans 10:9), caused them imprisonments, torture & eventual martyrdom.
It's recorded in Matthew 28 that even after the resurrection, "some doubted". Slow guys. Yet, bold guys.
The disciples that were in hiding & scattered before Jesus resurrection were transformed into fearless proclaimers of Jesus resurrection! Having experienced the stupendous miracle first hand, who wouldn't be astounded & transformed?
That which they feared most before the crucifixion- physical death, was no longer an issue for them. They had dramatically experienced what Jesus had promised to all of them. He had told them & shown them that there would be a resurrection from the dead! Although they would experience death & resurrection in a new spiritual reality, Jesus made sure that all the power of death was dead. That which had brought physical cessation of life now was transformed into the possibility of life eternal!
According to apologetics scholar Douglas Groothuis; "These men went from dejected, dispirited & grieving followers of a crucified rabbi to fearless apostles, those who had beheld the Christ & who, on that basis, preached Him as the Lord of life & the Judge of history….The actual resurrection of Jesus is the best explanation for the disciples' transformation from cowardice, despair & confusion into confident proclamation & the willingness to suffer persecution, hardship & martyrdom for the sake of Jesus & His gospel."
Well, how about you?
The resurrection gives us the joy of knowing that Christ is with us today!
He has promised that He will be with us to the end of time. This changes everything. A dead hero in the grave is no help to us. But a risen Savior in heaven gives us great confidence!
Because the tomb is empty and Jesus is on the throne, we can know for sure that we will be victorious irrespective of what is happening in today's world.
If Jesus rose from the dead, then what He said about Himself is true. He stated, "I am the Resurrection & the life; he who believes in me shall live even if he dies" (John 11:25).
Daves daily devotional, Thursday, April 16
In Dave's Daily Devotional we are continuing our examination of some of the foundational confirmations of Jesus Resurrection:)
Belief in Jesus's physical resurrection is the defining doctrine of Christianity. You, ultimately, get to decide if the resurrection is fact or fiction. Choose wisely.
Fortunately, Christianity, as a religion is rooted in history & makes claims that can be examined in measure by investigating the authentic historicity of our faith.
So how do we know that Jesus has risen from the dead? It's crucial that we be able to present objective evidence in support of our beliefs. Our claims hold no more water than the assertions of anyone else claiming to have a private experience of God. As we continue this week let's take a look at a few more of the facts:)
The Empty Tomb
Jesus' body was buried in the tomb of Joseph of Arimathea, a member of the Sanhedrin — the ruling body of Jews who ensured Jesus' crucifixion. It's all there in the Biblical record.
Besides the four Gospel records of Matthew Mark Luke & John, it is important to note that both Jewish & Roman sources also testify that on Easter Sunday morning that the empty tomb - the same one that Jesus body had been laid - was indeed empty!
Let's take a look at the lie that was devised by the Jewish leaders to attempt to discredit Jesus Resurrection....
In Matthew 28, it is recorded; "While the women were on their way, some of the Roman guards went into the city & reported to the chief priests everything that had happened. When the chief priests had met with the elders & devised a plan, they gave the soldiers a large sum of money, telling them, "You are to say, 'His disciples came during the night & stole him away while we were asleep.' If this report gets to the governor, we will satisfy him & keep you out of trouble." So the soldiers took the money & did as they were instructed. This story has been widely circulated among the Jews to this very day."
This lie is easy to debunk for several reasons. It is highly unlikely the Roman guards would have slept through the theft of Jesus body from the tomb. Falling asleep while on post was punishable by death for Roman guards, & they took their job extremely seriously. Additionally, the tomb was covered by a large stone. It seems physically impossible for the disciples to sneak past the soldiers & then move a two-ton stone up an incline in absolute silence. Certainly the guards would have heard something.
Tom Anderson, former president of the California Trial Lawyers Association, states:
"Let's assume that the written accounts of Christs appearances to hundreds of people are false. I want to pose a question. With an event so well publicized, don't you think that it's reasonable that one historian, one eye witness, one antagonist would record for all time that he had seen Christ's dead body? ... The silence of history is deafening when it comes to the testimony against the resurrection."
The preaching of the Apostles would not have lasted one day if the tomb that held Jesus body had not been empty (as was prophesied) on that Easter Sunday morning!
"The church did not create the resurrection stories; instead, the resurrection stories created the church." - Josh McDowell from "Evidence that Demands a Verdict"
"It costs God nothing, so far as we know, to create nice things; but in order to convert rebellious wills - it cost Him crucifixion." ― C. S. Lewis
Daves daily devotional, Wednesday, April 15
Today's intrigue - we continue to examine more post-resurrection observations for the strengthening of our faith....
The events of Christ's ministry, death & resurrection were documented relatively soon after they happened.
The historical evidence indicates that the
apostle Paul's letter to the Corinthians in which he writes about Jesus' life, death, & resurrection was written sometime during early 50's A.D. That would be about 20 years after Jesus death & resurrection.
There were so many hundreds (if not thousands) of people around that attested to Jesus crucifixion, death & resurrection that there was really no need to argue its historicity. It had been only 20 years since the most phenomenal & miraculous event in human history had taken place. There wasn't an urgency to record the monumental events surrounding Jesus resurrection because everybody knew without question that it had happened & everyone knew most of the details of about how that it all happened.
Let me use our own churches recent history as an illustration.
Anyone who was around 20 years ago at VisaliaNaz knows that we built a wonderful addition to our current worship center in the spring & summer of 1998. At that time, we had to vacate the current gym area that we had been using as the main worship center for the previous 20 years (1988). Until we received a construction final for our existing building, we worshiped in a large white trent that we rented & set up in the north parking lot.
To illustrate my point, I'm just getting around to writing about the details of 'the days of the tent' from 20 years ago because everyone remembers it. It is easy to go back & validate that historic season. We can even recall more details by asking others what they remember too.....
Even insignificant details about that time are easy to verify. For example, if we were to try to recall, there are details we can remember about how we ran power & sound out to the parking lot & had a small stage that weighed a ton to move. And, we can remember that we had to set up the maroon chairs every Sunday morning so that we could have a comfortable place to sit. How anxious we were to be finished with the new worship center!
Details like these are small, insignificant & easy to validate (if we so desire) by checking one another's memories.
So my point is, as trivial as the previous details are - about the historical facts of those days, twenty years ago is not too long for us to remember & record what happened accurately.
Likewise, Jesus disciples & other eyewitnesses would not have had any problem recalling the earthshaking details of the last week of Jesus pre-resurrection life. All 9 of New Testament authors confirmed the historic events that surrounded the crucifixion & resurrection of Jesus Christ. They were eyewitness reporters that accurately validated the most profound events in the history of the world.
However, some of those with 'inquiring minds' might want to ask an important question, specifically about the uniqueness of the historic records of the four Gospels of Matthew, Mark, Luke & John. They all record the happenings of the life of Jesus.
It's easy to observe some important & quizzical details about these four eyewitness accounts. Their uniqueness brings us to this good question; Why are the four Gospels similar, but different?
And, why aren't they the same?
Why do the different authors recall the same event, but they remember different things in different ways?
I'm glad that you asked.
Let's return to the illustration from our own churches history......
Let's say that the Church Board requested that Pastor Dan Boswell, Pastor Wil Hobbs, Pastor Terry Schneider, & myself to all take some time to write what we remember about 'the time of the white tent'. In doing so, the church would receive four uniquely different but similar perspectives from our memories of what happened.
By understanding the unique contribution of each one of these pastors, we could derive a more complete understanding of the happenings of the era of 'the white tent'.
Somethings would be similar but no doubt most things would not be the same. In fact, if they all ended up saying the same thing, we would say, 'Hey, you guys copied!'
By understanding the unique contribution that each of the Gospel writers makes about their remembrance of Jesus death & resurrection, we can derive a more complete understanding of who He is & what happened in those momentous days! Each writer was Holy Spirit inspired to include the significant & authentic memories that God wanted to preserve for the future proclamation of the Gospel.
The value of each Gospel is that they all provide a unique perspective into Jesus life & ministry so that we have a more complete picture of who He is.
God is always up to something good!
"If the New Testament were a collection of secular writings, their authenticity would generally be regarded as beyond all doubt."
New Testament scholar, F. F. Bruce - Manchester University
"For what I received, I passed on to you as of primary importance: that Christ died for our sins according to the Scriptures, that He was buried, that He was raised on the third day according to the Scriptures, & that He appeared to Peter & then to the Twelve. After that, He appeared to more than five hundred of the brothers & sisters at the same time, most of whom are still living, though some have fallen asleep."
Paul's testimony about Jesus in 1 Corinthians 15:3-6.
Daves daily devotional, Tuesday, April 14
This week I think that it would be good to explore some post-Easter thoughts.
These are factual & historical proofs that bring confidence to our faith from the biblical record.
The resurrection of Jesus means - amongst other eternally significant things - that all the power of death is dead. We celebrate this great victory not just once a year but every day of our earthly lives. We are resurrection people! Let's explore some of the facts that give us & the rest of the world great hope!!
Today, Let's explore some key observations from the four Gospels that affirm the resurrection of Jesus.
Observation # 1.
There were hostile witnesses to Jesus resurrection.
The only human eyewitnesses to the stone being rolled away from the entrance to Jesus tomb were Roman soldiers.
There was ample evidence, even to the non-believing Roman & Jewish authorities. Matthew 28:3-4 explains;
First, as the guards were at their stations, a great earthquake shook the region.
Second, the guards were terrified, shaking with great fear. They were so seized with terror that a temporary paralysis made them immobile.
Third, following these events & the appearance of an angel, it was painfully obvious to the soldiers that Christ was no longer in the tomb.
Some of the guards reported to the chief priests what had happened (Matt. 28) & the Jewish authorities accepted the soldiers report & bribed them to keep quiet. They paid a significant sum of money to silenced the guards so as to keep quiet the resurrection events & to conceal the abandoning of their posts in order to lie about what had actually happened. The ridiculous story was fabricated that the disciples "stole the body" while the guards were asleep. The priests & elders further promised that If his body were recovered, that would have silenced any report of a "resurrection."
All that needed to be done to disprove the resurrection of Jesus was for the Jews or Romans to produce Jesus dead body. However, they could not because Jesus was up walking around & appearing to people!
Dr. Paul Maier calls this "positive evidence from a hostile source. In essence, if a source admits a fact that is decidedly not in its favor, the fact is genuine."
Observation #2.
If Jesus wasn't raised from the dead, then the rest of the truth of Christianity is essentially meaningless.
Paul makes this very clear his 1st Corinthian letter; "If it is preached that Christ has been raised from the dead, how can some of you say that there is no resurrection of the dead? If there is no resurrection of the dead, then not even Christ has been raised. And if Christ has not been raised, our preaching is useless & so is your faith. More than that, we are then found to be false witnesses about God, for we have testified about God that He raised Christ from the dead. But He did not raise Him, if in fact, the dead are not raised....If only for this life we have hope in Christ, we are of all people most to be pitied. However, Christ has indeed been raised from the dead, the firstfruits of those who have fallen asleep. For since death came through a man, the resurrection of the dead comes also through a man."
Observation # 4.
The Gospel writers included embarrassing facts about the apostles.
The fact that Matthew, Mark, Luke & John include embarrassing accounts of the apostles, such as the fact that Peter denied Jesus 3 times & all the disciples abandoned Jesus when he was arrested, points to their authenticity. It is unlikely that people would fabricate an account that places themselves in a poor light.
Observation #4.
Who would die for a lie? Almost all of the Disciples died proclaiming the resurrection of Jesus was undeniably true. Apparently, the exception was John, the beloved disciple was exiled to the Island of Patmos & died of old age.
While people have been known to die for a lie because they believed it to be true, it is almost impossible to find someone who would die for a lie with the full knowledge that it was false. It is highly unlikely that the disciples would have given their lives for a claim they had themselves fabricated.
The primary duty of the apostles was to bear witness to Christ's work & claims. In order to do that effectively, they had to be witnesses of His resurrection. Each post-Resurrection appearance was purposeful, even though some incidents were recorded without details. For the events that are recorded, the Scriptures reveal specifics that are intriguing & inspiring. The divine miracle of Jesus resurrection was monumentally important because it gave credibility to Jesus' life. Jesus resurrection verified that He was indisputably - who He said He was.
Observation #5.
Jesus or the angels rolled away the stone from Jesus' tomb not so He could get OUT, but so others could get IN & see that the tomb was empty, truthfully testifying to Jesus resurrection.
The stone weighed around 2 tons & would have taken many strong men to move it. The tomb was also sealed off & watched by Roman guards. So, the idea that the disciples secretly came at night to steal Jesus body is hard to buy. If the tomb had not been empty, claims of the resurrection could not have been maintained even for a short period of time, knowing that people in Jerusalem could have gone to the tomb to look for themselves.
These eyewitness accounts of both believers & unbelievers confirm their testimony as they were witnesses to the crucifixion & resurrection of Jesus Christ from the grave.
"Be it far from me to boast except in the cross of our Lord Jesus Christ, by which the world has been crucified to me, and I to the world."
―The Apostle Paul in Galatians 6:14
Daves daily devotional, Monday, April 13
6 Ways Jesus' Resurrection Changes Everything.
1. The Resurrection of Jesus from the dead - proves that Jesus really is who He said that He is.....
Following Jesus death & resurrection He appeared alive again - to hundreds of people, (perhaps thousands) as He walked around Palestine! Anywhere that He went He created quite a stir & had to choose selective appearances following His resurrection in order to avoid causing mass gatherings of new believers, inquisitors & curious truth seekers.
2.The Resurrection of Jesus - brings fulfillment to over 300 Old Testament prophecies.
These prophecies about the 'Messiah which was to come' were uttered & recorded hundreds of years before Jesus' birth. Jesus fulfilled these prophecies in His life, death & resurrection. The Resurrection validates Gods amazing plan of salvific love for us!
3.The Resurrection of Jesus - changes how that we look at Gods promises.
According to one account there are 3573 promises in the Bible. We know the Bible is full of God's promises placed there to help us in our every time of need. Jesus resurrection provides authority & truth to the many & various wonderful promises that are proclaimed in God's word.
4.The resurrection of Jesus - saves us from ourselves & from our PAST.
His resurrection provides the proof that death has no more authority over our past sins & messes that we created. Our sins — past, present & future — are forgiven by Jesus' sacrifice.
5. The resurrection of Jesus - empowers our PRESENT lives.
Our new lives are different from the lives we used to live! The old is gone, the new has come because of Jesus Resurrection. In this present moment, we can live an abundant life thru the power & purity of the presence of His Holy Spirit!
We believe there is a life to come & Jesus Resurrection is a key to living an abundant life now, in the present.
6.The Resurrection of Jesus - is the basis of our FUTURE hope of spiritual victory over death.
Only our Savior lived a life that was worthy of heaven. The crazy thing is that because of Jesus Resurrection, all Christians get to share in Jesus' victory & His inheritance.
Jesus' resurrection has big implications for our past, present, & eternity. In a world that lives for the moment, the resurrection reminds us to live with forever in mind.
The old fisherman, Peter, put it this way;
"Blessed be the God & Father of our Lord Jesus Christ who, according to his great mercy has caused us to be born again to living hope thru the resurrection of Jesus Christ from the dead. To receive an inheritance which is imperishable, undefiled & will not fade away reserved in heaven for you, who are protected by the power of God to receive a salvation that is to be revealed in the final days." 1 Peter 1:3-6
"There is no historic incident better or more variously supported than the resurrection of Christ." - Brooke Wescott


"I know the resurrection is a fact, and Watergate proved it to me."
"How? Because 12 men testified they had seen Jesus raised from the dead, then they proclaimed that truth for 40 years, never once denying it. Every one was beaten, tortured, stoned & put in prison. They would not have endured that if it weren't true."
"Consequently, Watergate embroiled 12 of the most powerful men in the world-and they couldn't keep a lie for three weeks. You're telling me 12 apostles could keep a lie for 40 years? Absolutely impossible." - Chuck Colson.
"The tomb of Christ is famous because of what it DOES NOT CONTAIN" - Sam Morris
"No matter how devastating our struggles, disappointments, & troubles are, they are only temporary. No matter what happens to you, no matter the depth of tragedy or pain you face, no matter how death stalks you & your loved ones, the Resurrection promises you a future of immeasurable good." - Josh McDowell
Daves daily devotional, Easter Sunday, April 12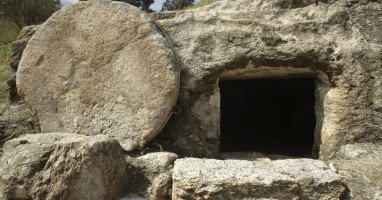 We have been retracing Jesus steps each day of Holy Week, attempting to discover, once again Gods amazing plan to love us to Himself.
Early Sunday morning, several women went to the tomb & discovered that the large stone covering the entrance had been rolled away.
An angel announced:
"Don't be afraid! I know you are looking for Jesus, who was crucified. He isn't here! He is risen from the dead, just as He said would happen." (Matt 28:5-6)
On the day of His resurrection, Jesus Christ made at least 5 appearances.
Marks Gospel says the first person to see him was Mary Magdalene. Jesus also appeared to Peter, to the two disciples on the road to Emmaus, & later that day to all of the disciples except Thomas while they were gathered in a house for prayer.
The eyewitness accounts in the Gospels provide what we believe to be undeniable evidence that the resurrection of Jesus Christ did indeed happen.
The resurrection of Jesus Christ is the most important event of the Christian faith, in fact, it is the most important event in the history of the world.
The Apostle Paul testified to it in 1 Corinthians 15. "For what I received I passed on to you as of first importance: that Christ died for our sins according to the Scriptures, that He was buried, that He was raised on the 3rd day according to the Scriptures, & that He appeared to Peter & then to the 12. After that, he appeared to more than 500 of the brothers & sisters at the same time."
Author Timothy Keller put it this way.. "If Jesus rose from the dead, then you have to accept all that he said; if he didn't rise from the dead, then why worry about any of what he said? The issue on which everything hangs is not whether or not you like his teaching but whether or not he rose from the dead."
"Easter says you can put truth in a grave, but it won't stay there."
– Clarence W. Hall
"Is it not wonderful news to believe that salvation lies outside ourselves?"
- Martin Luther
"The resurrection of Jesus completes the inauguration of God's kingdom. . . . It is the decisive event demonstrating that God's kingdom really has been launched on earth as it is in heaven. The message of Easter is that God's new world has been unveiled in Jesus Christ & that you are now invited to belong to it."
– N.T. Wright
Daves daily devotional, Saturday, April 11
What happened in the life of Jesus on Saturday of Holy Week?
Well, Jesus' dead body lay in its tomb, where it was guarded by Roman soldiers throughout the day on Saturday, which was the Sabbath. When the day ended at 6 p.m., Christ's body was ceremonially treated for burial with spices purchased by Nicodemus:
"He brought about 75 pounds of perfumed ointment made from myrrh & aloes. Following Jewish burial custom, they wrapped Jesus' body with the spices in long sheets of linen cloth." (John 19: 39)
Nicodemus, like Joseph of Arimathea, was a member of the Sanhedrin, the court that had condemned Jesus Christ to death. For a time, both men had lived as secret followers of Jesus, afraid to make a public profession of faith because of their prominent positions in the Jewish community.
Similarly, both were deeply affected by Christ's death. They boldly came out of hiding, risking their reputations & their lives because they had come to realize that Jesus was, indeed, the long-awaited Messiah. Together they cared for Jesus' body & prepared it for burial.
While his physical body lay in the tomb,
it would seem like nothing was happening.
However, in keeping with Sabbath & fulfilling prophecy, our Savior was still in the process of achieving His redemptive destiny. In the stillness lay Jesus earthly body. Without a doubt, all physical functions of Jesus life had stopped.
•The Romans had accomplished their brutal murder of the innocent God-man. •The Jewish authorities assumed that they had finally disposed of this mysterious trouble maker from Galilee.
"But God, who is rich in mercy, because of His great love for us," - had much more monumental plans for Jesus & for all of mankind. (Ref. Eph. 2:4).
Gods plan is probably best described in a unforgettable sermon given by Dr. Tony Campolo.
"It's Friday… Jesus was nailed dead on a cross. But it's only Friday; Sunday's coming!
It's Friday… Mary's crying her eyes out 'cause her Jesus is dead. But it's only Friday; Sunday's coming!
It's Friday… The disciples are running around like sheep without a shepherd.
But it's only Friday; Sunday's coming!
It's Friday… Pilate's strutting around washing his hands 'cause he thinks he's got all the power & the victory. But it's only Friday; Sunday's coming!
It's Friday… People are saying "as things have been so they shall be – you can't change anything in this world." But it's only Friday; Sunday's coming!
It's Friday… Satan's doing a jig saying, "I own the whole world!" But it's only Friday; Sunday's coming!
It's Friday… The temple veil ripped from top to bottom -the earth shook- the rocks split & tombs opened. The centurion screamed in fear, "Truly, He is the Son of God!" But it's only Friday; Sunday's coming!
For Jesus 11 slow guys, on that Saturday of Holy Week - everything would have seemed dead. They were scattered, hiding & fearful.
But for us, we rest in the fact that 'some things are not always as they seem.' Today it's only Saturday, filled with grief & remorse as we think about the suffering & death of our Dear Lord-
However, we know that it's only Saturday & Sunday is ACOMIN!
Daves daily devotional, Friday, April 10
What happened in the life of Jesus on Friday of Holy Week?
Was Good Friday the end? - or the new beginning of the 'Upside Down Kingdom' of Jesus?
Good Friday is the most difficult day of passion week. Christ journey turned treacherous & acutely painful in these final hours leading to his death.
According to Scripture, Judas Iscariot, the disciple who had betrayed Jesus, was overcome with remorse & hanged himself early Friday morning.
Meanwhile, before the third hour (9 a.m.), Jesus endured the shame of false accusations, mockery & beatings. After multiple unlawful trials, he was sentenced to death by crucifixion, the most horrible & disgraceful method of capital punishment known at the time.
Before Christ was led away, soldiers spit on him, tormented & mocked him, & pierced him with a crown of thorns. Then Jesus carried his own cross, dragging it up "the road of sorrows" outside the city to a place called Golgotha where, again, he was mocked & insulted as Roman soldiers brutally nailed Him to a wooden cross.
At this point in Holy Week, I'm often tempted to turn away out of fear, horror & grief. They are torturing & killing my best friend.
"The most obscene symbol in human history is the Cross; yet in its ugliness, It remains the most eloquent testimony of Gods loving sacrifice." - R.C. Sproul
"Love, not anger, brought Jesus to the cross. Golgotha came as a result of God's great desire to forgive, not his reluctance."
― Richard J. Foster
On that wonderful, horrible day, Jesus spoke 7 final statements from the cross. His first words were, "Father, forgive them, for they do not know what they are doing." (Luke 23:34). This statement shows God's heart toward all of mankind. And Jesus last words were, "Father, into your hands I commit my spirit." (vs. 46).
"It was Christ who willingly went to the cross, & it was for the sake of our forgiveness that His love took Him there." - Franklin Graham
Then, about the 9th hour (3 p.m.), Jesus breathed his last breath & died.
"As Christ struggled up Calvary's hill & bled upon it, His aim was to eradicate self-love & implant the love of God in the hearts of men." - Walter Chantry
"Come, & see the victories of the cross. Christ's wounds are your healings,
His agonies are your comforts,
His conflicts are your conquests,
His groans are your songs,
His pains are your solutions,
His shame is your honor,
His death is your life &
His sufferings are your salvation."
By 6 p.m. Friday evening, Nicodemus & Joseph of Arimathea took Jesus body down from the cross & laid in the tomb, once again, fulfilling prophecy.
Isaiah 53:9 says, "He had done no wrong & had never deceived anyone. But he was buried like a criminal; he was put in a rich man's grave." This was written about the Messiah that was to come - 700 years before Jesus crucifixion.
"We were buried therefore with him by baptism into death, in order that, just as Christ was raised from the dead by the glory of the Father, we too might walk in newness of life." - Paul in Romans 6:4
"For the word of the cross is folly to those who are perishing, but to us who are being saved it is the power of God." 1 Cor. 1:18
Daves daily devotional, Thursday, April 9
What happened in the life of Jesus on Thursday of Holy Week?
Holy Week took a somber turn on the Thursday of the last week of Jesus pre-resurrected life.
From Bethany, where Jesus had been staying with His disciples, He sent Peter & John ahead to the Upper Room in Jerusalem to make preparations for the Passover Feast. That evening after sunset, Jesus washed the feet of his disciples as they prepared to share in the Passover. By performing this humble act of service, Jesus demonstrated by example how believers should love one another.
As we know from history, in the 1st century the folks wore only sandals everywhere they walked.
Can you say dusty?
Sometimes muddy?
Maybe sometimes grimy filthy?
Jesus showed us again the irony of His new 'upside down kingdom' by doing the task usually reserved for servants- taking a towel & basin to serve His disciples.
Wow, think about that for awhile. Jesus the Great Rabbi, was willing to defile himself by stooping to wash His disciples feet, just as He was willing to defile Himself in order to heal the 10 lepers in Luke 17.
Talk about the upside down kingdom. All through his life Jesus the Rabbi - was willing to defile himself by reaching out to the socially outcast & marginalized. Examples would be Him reaching to the Samaritan woman, the calling of Matthew & Zacheaus, the despised tax collectors, & of course, the healing of anyone with an infirmity including the lame, blind, deaf or any woman. Of course, Jesus was the great liberator of women.
All through Jesus life, He elevated the respect of women within a male dominant culture. Jesus the Great Rabbi transformed attitudes toward women & showed repeatedly how he valued & affirmed women in His new 'upside down kingdom'.
Following Jesus humbling act of washing His disciples feet, Jesus shared the feast of Passover with his disciples, saying:
"I have been very eager to eat this Passover meal with you before my suffering begins. For I tell you now that I won't eat this meal again until its meaning is fulfilled in the Kingdom of God." (Luke 22:15-16).
During this, Jesus Last Supper, He inaugurated the Lord's Supper, or Communion, instructing His followers to continually remember His sacrifice by sharing in the elements of bread & wine as emblems of His brokenness for us.
Later, Jesus & the disciples left the Upper Room & went to the Garden of Gethsemane, where Jesus prayed in agony to God the Father. Luke's Gospel says that "His sweat became like great drops of blood falling down to the ground".
Late that evening in Gethsemane, Jesus was betrayed with a kiss by Judas Iscariot & arrested by the Temple guards. He was taken to the home of Caiaphas, the High Priest, where the whole council of the Sanhedrin had gathered to begin making their case against Jesus.
Meanwhile, in the early morning hours, as Jesus' trial was getting underway, Peter denied knowing his Master 3 times before the rooster crowed.
As Peter denied Jesus 3 times, Jesus later restored Peter 3 times as recorded in John 21. Jesus is the Great Restorer, the Great Forgiver, the Great Lover of our souls!
The sadness of Holy Thursday led to the tragedy & horror of Good Friday.
Yes, upside down......
Daves daily devotional, Wednesday, April 8
What happened to Jesus on Wednesday of Holy Week?
The Bible doesn't say what the Lord did on the Wednesday of Passion Week. Scholars speculate that after two exhausting days in Jerusalem, Jesus & his disciples spent this Wednesday resting in Bethany in anticipation of Passover.
Just a short time previously, Jesus had revealed to the disciples, & to the world that he had power over death by raising his friend Lazarus from the grave.
After seeing this incredible miracle, many people in Bethany believed that Jesus was truly the Son of God & had put their faith in him.
Also in Bethany just a few nights earlier, Lazarus' sister Mary had lovingly anointed the feet of Jesus with expensive perfume.
However, Jesus disciples, especially Judas, complained that it was a wasteful & extravagant act. They postulated that the expensive perfume could have been sold & instead the money given to the poor.
Jesus rebuked them & explained that what she had done in loving kindness was to anoint His body for burial.
The '12 slow guys' probably had a difficult time understanding this.
In the flesh, Jesus popularity was exploding with the people, yet He kept talking about dying & leaving them.
How could it be that Jesus would abandon them, leaving them leaderless & vulnerable to the Jewish authorities & the brutal swords of the Romans?
Jesus plan was Gods plan & still today, His plan often doesn't make sense to us. We are still slow......
"The cross is not a sign of the church's quiet, suffering submission to the powers-that-be, but rather the church's revolutionary participation in the victory of Christ over those powers. The cross is not a symbol for general human suffering & oppression. Rather, the cross is a sign of what happens when one takes God's account of reality more seriously than Caesar's. The cross stands as God's (and our) 'eternal no' to the powers of death, as well as God's 'eternal yes' to humanity. It is God's remarkable determination not to leave us to our own devices." - Stanley Hauerwas
Daves daily devotional, Tuesday, April 7
What happened on Tuesday of Holy Week?
In the morning, Jesus & his disciples returned to Jerusalem. They passed the withered fig tree on their way, & Jesus spoke to his companions about the importance of faith.
Back at the Temple, religious leaders were upset at Jesus for establishing himself as a spiritual authority. They organized an ambush with the intent to place him under arrest. But Jesus evaded their traps and pronounced harsh judgment on them, saying:
"Blind guides!...For you are like whitewashed tombs—beautiful on the outside but filled on the inside with dead people's bones & all sorts of impurity. Outwardly you look like righteous people, but inwardly your hearts are filled with hypocrisy & lawlessness...Snakes! Sons of vipers! How will you escape the judgment of hell?" (Matthew 23:24-33)
Later that afternoon, Jesus left the city & went with his disciples to the Mount of Olives, which sits due east of the Temple & overlooks Jerusalem. Here Jesus gave the Olivet Discourse, an elaborate prophecy about the destruction of Jerusalem & the end of the age. He spoke as usual, in parables, using symbolic language about the end time events, including His Second Coming & the final judgment.
We are grateful for this instruction from our Savior who promised His return to earth to all of us who believe. He will usher in a "new heaven & a new earth" (Rev.21).
Scripture tells us that this Tuesday was also the day Judas Iscariot negotiated with the Sanhedrin, the rabbinical court of ancient Israel, to betray Jesus (Matthew 26:14-16).
After a tiring day of confrontation & Jesus warnings about the future, once again, Jesus & the disciples returned to Bethany to stay the night.
Please take some time this week to contemplate what might've been going on in the mind of our Lord as he faced the coming suffering that he knew was his destiny and would reshape the destiny of all mankind.
"I am the Alpha & the Omega, the Beginning & the End. To the thirsty I will give water without cost from the spring of the water of life." - Rev. 21:6
Daves daily devotional, Monday, April 6
So what happened in Jesus life on Holy Monday of Holy Week?
On Monday morning, Jesus returned with his disciples to Jerusalem from Bethany, about 2 miles to the East of the "Golden Gate". It was through that gate that Jesus had entered victoriously the day before.
Along the way, he cursed a fig tree because it had failed to bear fruit. Some scholars believe this cursing of the fig tree represented God's judgment on the spiritually dead religious leaders of Israel. Others believe the symbolism extended to all believers, demonstrating that genuine faith is more than just outward religiosity.
(Just cause you show up to church doesn't make you a Christian just as if living in a garage doesn't make you a car.)
When Jesus arrived at the Temple, with His band of ruffians, he found the courts full of corrupt money changers. He began overturning their tables & clearing the Temple, saying, "The Scriptures declare, 'My Temple will be a house of prayer,' but you have turned it into a den of thieves" - Luke 19:46.
This brings to mind the fact that in Jesus kingdom & throughout the Gospel's there are places where it is easy to say, 'He's not supposed to be doing that.'
It had been tradition for many hundreds of years for those money changers to provide a service to the people that were coming to the temple. The problem here was that the money changers were charging exorbitant prices to those that needed to purchase a dove or lamb. The people felt that to bring a worthy sacrifice would atone for their sins & these crooks were taking advantage!
Jesus decided because of their dishonesty he needed to turn their cheating tables upside down.
Jesus was making a scene & a very big point here. That point is - One of the ways to desecrate Gods house is to cheat people. With Jesus & His new Kingdom He was saying that dishonesty will not be tolerated.
One of my friends once told me; "If a person will lie to you, he'll also steal from you." Then he told me a story about a former employee that did both.
Just as Jesus turned the moneychangers tables upside down - so he was going to turn the old rituals upside down in his new kingdom.
Has Jesus turned your world upside down? He might make a scene in order to get your attention. Yikes!
If Jesus comes busting into your life, you better pay attention.
"Whoever walks in integrity walks securely, but he who makes his ways crooked will be found out." - Proverbs 10:9
Daves daily devotional, Palm Sunday, April 5
Listening to Pastor Michael's sermon this morning caused me to look again at the sequence of events of that momentous week. We'll walk through it again together.
On the Sunday before his death, Jesus began his trip to Jerusalem, knowing that soon he would lay down his life for our sins. Nearing the village of Bethphage, he sent two of his disciples ahead, telling them to look for a donkey & its unbroken colt. The disciples were instructed to untie the animals & bring them to him.
Then Jesus sat on the young donkey & slowly, humbly, made his triumphal entry into Jerusalem, fulfilling the ancient prophecy of Zechariah 9:9:
"Rejoice greatly, O Daughter of Zion! Shout, Daughter of Jerusalem! See, your king comes to you, righteously full of salvation, gentle & riding on a donkey, on a colt, the foal of a donkey."
The crowds welcomed him by waving palm branches & shouting, "Hosanna to the Son of David!" Blessed is he who comes in the name of the Lord! Hosanna in the highest!" These were special religious shouts of mostly political origin as Pastor Michael explained.
On Palm Sunday, Jesus & his disciples spent the night in Bethany, a town about two miles east of Jerusalem. This is where Lazarus, whom Jesus had raised from the dead, & his two sisters, Mary and Martha, lived. They were close friends of Jesus, & probably hosted Him & His disciples during their final days in Jerusalem.
That night in Bethany- What must have been going through Jesus mind?
Maybe He was having thoughts like; 'they seek a conquering King on a white stallion like Isaiah wrote about. But no, I choose to inaugurate my Kingdom as the Suffering Servant, ridding the donkey of Zachariahs prophecy.'
He might have also thought something like; 'When are those 12 slow guys going to figure out that my Kingdom is upside down compared to what they long for?"
It gives me hope that Jesus disciples certainly were '12 Slow Guys'. It gives hope to all of us knuckleheads that, perhaps we will eventually figure out this topsy-tervy Kingdom that Jesus was building from the bottom up.
"My Kingdom is not of this world." - John 18:36
Let's seek His Kingdom together this week!
Daves daily devotional, Saturday, April 4
Hey friends & family.
In our homes & in our church we often thank the Lord for his many blessings!
I'm wondering if we can compile an online list of the many blessings that we are thankful for this weekend?
Email me at dave@visalianaz.org or fill the form below this devotional with your name & what you are thankful for in this amazing Resurrection season. Let me know this weekend & I will post your grateful responses here on Dave's Daily throughout this next week- Holy Week.
We call it Holy Week because each year we set aside a week to recall the final week of Jesus life here upon the earth.
The four Gospel accounts; Matthew, Mark, Luke & John chronicle the life of Jesus Christ our Messiah. You might not be yet aware but more than 1/3 of these Gospels is devoted to the last week of Jesus life.
They devoted that much material to His final week because they wanted to leave a complete testimony of what they had witnessed about Jesus Death & Resurrection.
This next week we will examine the eyewitness material about our Savior & the most history changing, life transforming events that ever happened.
To put it simply, the Resurrection of Jesus changes EVERYTHING.
Be sure to tune in to Pastor Michaels sermon tomorrow morning at 9 am on the church website & we celebrate Holy Communion together.
Daves daily devotional, Friday, April 3
What opportunities are we missing?
Whenever we find ourselves in difficult times - like the one the world is facing right now, there's an invitation to refine our focus, and to make sure we're standing on solid ground. We have an opportunity to ensure that everything in our lives, including our attitude, relationships, connection with our families & loved ones, are anchored in God's best for us & for the world around us.
We have an opportunity to engage at a deeper level.
We're finding that being home & engaging face to face gives us the opportunity to lead us to an interesting place in faith.
This is an opportunity to follow in the footsteps of Jesus & learn to "love your neighbor as yourself". Mark 12:31
Here's a couple of creative ideas......
Last week, I heard of an opportunistic 20-something gal from one of our sister churches in Austin, Texas. She discovered a whole bunch of extra toilet paper that her husband had stockpiled long before the virus fiasco descended. Rather than hoard the case, she decided to wrap each roll in Christmas paper & delivered them one at a time to the doorsteps of her neighbors.
She attached a little note that said, "I'm grateful for my neighbors. Please except this small gift as we roll together thru this crisis. God bless you today!" & left it unsigned:)
Others have gone to the store for their senior neighbors rather than allowing for them to be exposed to the crud.
Several All Star volunteers in our church have been helpful in lovingly providing a 'groceries for geezers' service. They will go to the store when someone runs out of food or needs a prescription. The one who came up with such a practical idea - as well as the mischievous name shall remain anonymous. (Just checking to see if anyone, including geezers are reading these devotionals that I labor over every day).
As I was taking a morning stroll in our neighborhood, I noticed that someone from our church had written some positive notes with sidewalk chalk as an encouraging & uplifting way to seize an opportunity to bless anyone who might happen by.
It stopped me in my tracks & I just had to take this photo to share with you all:)
Daves daily devotional, Thursday, April 2
Prayer & Thoughtfulness
The coronavirus is highly contagious, but so are the actions we can take that are inspired by love & joy. We are reminded yet again of the interconnectedness of the lives of the people around us in our neighborhoods.
While, of course, we must heed medical experts to undertake precautionary measures to avoid the spread of the virus, we can also do our best to spread happiness & a friendly attitude to help quell this virus.
At the least, to acknowledge people's good intentions & engage others out of love rather than fear are ways to help defeat the trials put before us by the coronavirus.
As hospital staffs across the country battle the coronavirus many are turning to their faith to carry them through long, difficult days.
Danny Rodriguez, ER tech at Jackson Medical Center, said Wednesday, "Our team said a prayer, asking God for guidance & protection while we are at work, & to keep us & our families safe," Rodriguez added.
"It felt good to do this with some of my amazing co-workers," Angela Gleaves, a labor & delivery nurse, wrote on Facebook. "We could feel God's presence in the wind. Know that you are all covered in prayer."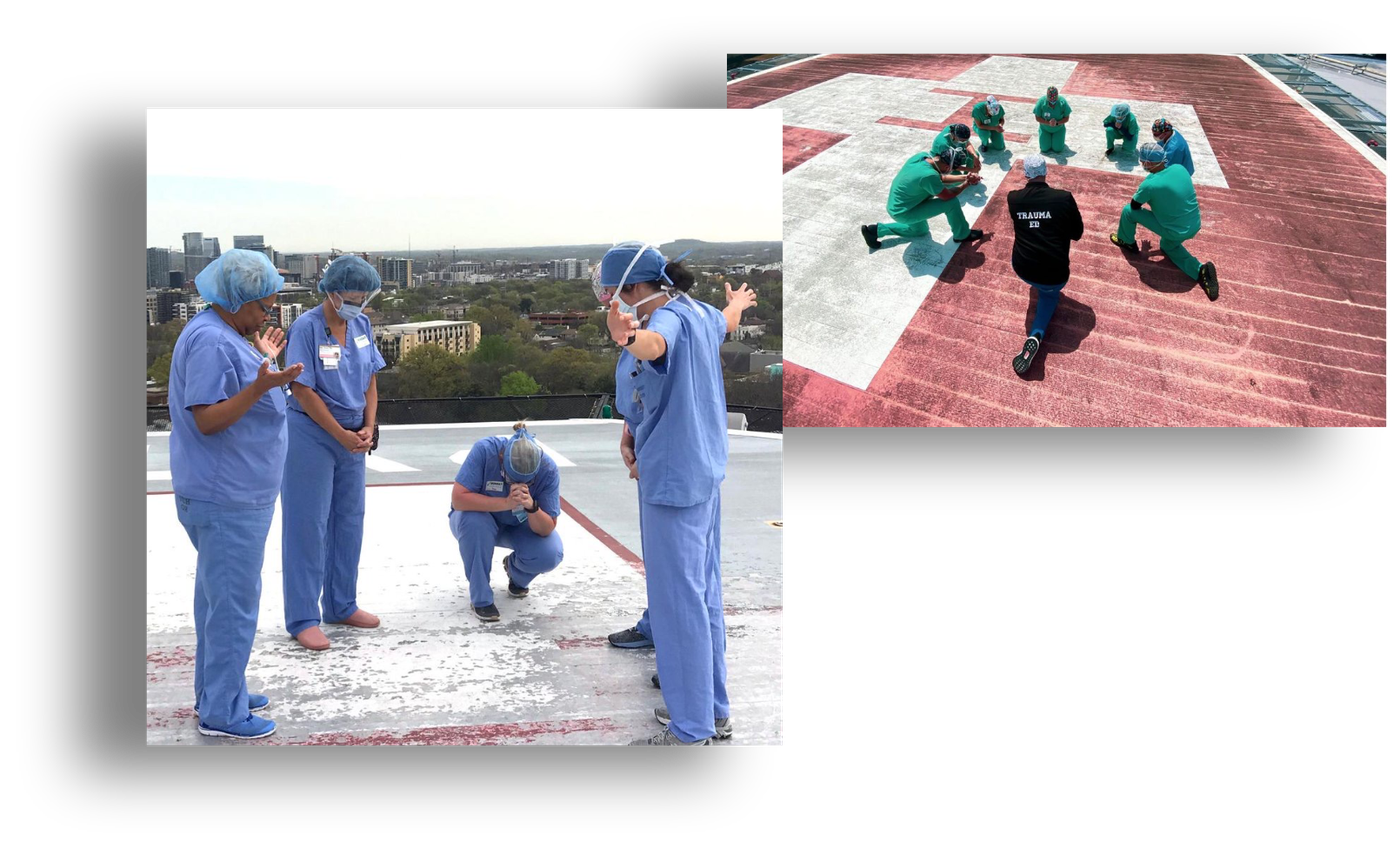 Spread love, spread faith, spread optimism.
Pastor Greg Laurie of Harvest Church in Southern California brought a good word. "We need to remember that God is greater than the coronavirus," Laurie said. "You may know Jesus, but you will never know Him deeply until He comes to you in the midst of the storms of life. COVID-19 is a massive storm we are all going through. It's better to be in a storm with Jesus than anywhere else without Him."
The times may seem bleak, but we can all do our part to ensure that a brighter tomorrow is around the corner. Continue to keep in touch with friends & neighbors.
Today, pray for others on the front lines. Doctors, nurses, EMT's, firemen, police officers all need prayer for safety & for their families. Keep on Praying! Keep on loving!
Daves daily devotional, Wednesday, April 1
While mankind is groping for a scienchtific solution to the awful coronavirus, people of faith (that's us) are groping for a solution behind the solution. We seek to connect with the 'ultimate solution' because we know that - to do so - is to know God, or, at least - to know Him in part, (1 Cor. 13).
While we are significantly interested in both science & God in seeking a solution for the coronavirus, we believe that science without God is relatively meaningless.
In fact, we know that most of the 'Fathers of modern science' looked to God as the center of all things. They were astounded at the intricacies of how God had created the human body, as well as His handiwork in all things of the natural world that they were discovering.
Galileo, Copernicus, De Vinci, Bacon, Newton, Mendel, Pasteur, Volta, Pascal, Marconi & Lister & a host of others professed their Christian faith as the basis of their discoveries in the natural world. Their study of the Bible led them to view the world in a way that helped them understand the connectedness of the natural world & the supernatural world.
While in the 20th century, many perceived science & faith to be at odds, it is historically obvious that it was religion that birthed modern science by way of such prominent scientists who held a Christian world view.
From the time of the Reformation (1517), the Christian world view pervaded Western Europe & the Americas (1620 going forward). Christianity formed the basis of the modern world & brought countless improvements to human life & the development of civilization.
In the Twentieth Century, two world wars cost millions of lives as the world was made aware of the insidious problem of evil - as carried out in the lives of evil men.
If Mankind was to be allowed to be the center of the world, then, evil would reign supreme & enslave & destroy vast numbers of people. Man as the center of the universe proved to be an untrustworthy & utter failure (again).
Let me take a moment to dig a little deeper into the relationship of what we can see as a clashing of biblical values with that of the majority of the worlds material values. Some might refer to it as the clash between a God-centered universe & a human centered universe. In a philosophical sense it is Theocentrism vs. humanism.
As Christians, we believe that God is the Creator & the center of the universe. The Bible is our Divinely Inspired roadmap to life & the center of human history. Jesus is God come to earth & His life & victorious resurrection is the center of the Bible.
Almost 50 years ago, Dr. Francis Schaeffer's book, "How Should we then Live, the rise & fall of Western Civilization", shook the world. It was a documentation of how that our western culture & Christendom specifically had been under assault from secular anti-God sources for 100 years or more.
The central premise of Dr. Schaeffers monumental work is that a God-centered approach to forming society leads to a harmonious existence for humans.
Schaeffer chronicles that throughout history, societies that base themselves on 'humanistic principles' were bound to fail. Schaeffer explains that the main flaw of humanistic societies is that people disagree on what is best for people, which creates conflict & inequality.
He explains how various societies throughout history failed because of their reliance on humanism. These include the fall of the Roman Empire (500 A.D), as well as the humanistic systems of the Middle Ages of Europe. Schaeffer praises the Christian elements of the Middle Ages, but he suggests that the gradual incorporation of humanism, which culminated with the Renaissance & Enlightenment corrupted the Bible-based foundation of those societies.
After discussing the failings of the Renaissance, Schaeffer, discusses the Protestant Reformation & why the reformers wanted to leave the Catholic Church. He details how the Reformation impacted even non-Christians positively.
During the Enlightenment, however, society separated the achievements of humans from the influence of religion. Schaeffer suggests that the flaw of this approach is that it assumes God can be easily understood or controlled by man.
In fact, he discusses how over time, certain scientists completely disavowed religion altogether, reaching the dismal conclusion that humans are simple animals who exist only by chance via a series of natural accidents. How could it be that we were created by random purposeless forces? Schaeffer credits this philosophy with society's de-prioritization of God.
"When people began to think this way, there was no place for God or for man as man. Therefore, God died, & consequently man murdered love."
Schaeffer proposes that all societies based upon a biblical worldview can live in harmony as culture rediscovers Gods intended purpose for them in history. This leads to what Schaeffer calls "Freedom without chaos."
To discard a Biblical culture leaves mankind with the pursuit of two basic 'relativistic values';
1) the quest for Personal Peace (the desire to be personally unaffected by the world's problems) &
2) Affluence (the pursuit of wealth).
He warns that when we live by these values we will be tempted to sacrifice our freedoms in exchange for an authoritarian government who will provide the relative humanistic values.
He further warns that this government will not be obvious like the fascist regimes of the 20th century but will be based on manipulation & subtle forms of information control, psychology, & genetics. "This is so because humanists, having no god, must put something at the center, & it is inevitably society, or the state."
The question, which troubled Francis Schaeffer so much in 1976, troubles all of us now.
How will we live now?
We're about to find out if Christians in this generation are going to believe & live an authentic biblical Christianity.
Gods truth is absolute & it is pervasive, clearly seen throughout the world. Every Christians worth their salt would believe that. But Schaeffer so astutely handles truth, in such revealing ways, that our faith is made sight in ways that can't be anything but exhilarating and confidence-inspiring in all that is good, true, & beautiful in the world.
"You shall know the truth and the truth shall set you free." - Jesus in John 8:32
"For since the creation of the world, Gods invisible attributes, His eternal power & divine nature, have been clearly seen, being understood through what has been made, so that man is without excuse." - Paul in Romans 1:20
"Regardless of a man's system, he has to live in Gods world." - Francis Schaeffer
Daves daily devotional, Tuesday, March 31
We should trust God in all things, but be careful to not test Him (see Matt. 4:1-7). In these momentous days, there is much that we can do to trust in the Lord without the need to test the limits of His capricious providence. Let me explain...
Martin Luther chastised Christians of his day who said that 'taking precautions' against the Bubonic Plague showed a 'lack of faith'.
He rebuked those Christians who made "no use of intelligence or medicine." This, he said, "is not trusting God, but tempting him. God has created medicines & provided us with intelligence to guard & take good care of the body so that we can live in good health."
The aforementioned Plague arrived in Europe in 1347, when 12 ships from the Black Sea docked at a port in southern Italy. People that gathered on the docks were met with a horrifying surprise: Most of the sailors aboard the ships were dead, & those still alive were gravely ill. Authorities hastily ordered the fleet of "death ships" out of the harbor, but it was too late: Over the next 5 years, the "Black Death" would kill more than 20 million Europeans, almost 1/3rd of the continent's people. It took 200 years for Europe's population to recover to its previous level.
"Do not be afraid" is a recurring theme throughout Scripture. Since God is on His heavenly throne, we, His servants can trust Him in all things, no matter how grim life might become. Our faith in Gods healing power can be balanced with the greatness of scientific knowledge that God has imparted to us. Trust God, but you don't need to test Him by tempting His specific will in limitless situations (Luther). I will expand on this more completely in tomorrow's devotional.
We find it difficult to fathom all that we are going through with this global health crisis. Just a month ago, we took it for granted that we could meet together for worship. Now the whole world is dealing with the virus & we are seeking solid scientific answers & life-saving strategies.
While God is able to deliver us from many things, as 21st century Christians, we are grateful for what God has given to us through the knowledge of medical understanding. Therefore, we agree with Luther who proclaimed 500 years ago, "God has created medicines & provided us with intelligence to guard & take good care of the body."
When we face illness, our Biblical belief system encourages us to pray - & to pray for all that we are worth, plus, we take our medicine.
Faith, plus common sense is a spiritually wise response to how we face health problems. While God chooses often to heal us supernaturally from illness, He also works through modern medicine to heal our infirmities. Whatever method God chooses to heal us, we gratefully consider to be in His providential intentions.
An ancient Middle Eastern saying states, "Trust God, but tie your camel."
Certainly, it is wise to do both:)
"Our God is a refuge & strength, an ever-present help in times of trouble. Therefore we will not fear, though the earth is shaken & the mountains are toppled into the depths of the seas, though their waters roar & foam & the mountains quake in the surge (Psalm 46:1-3).
Daves daily devotional, Monday, March 30
One of the most ancient Books of the Bible is the heartbreaking & profound story of the patriarch Job.
Ultimately the Book of Job presents the question: Will you choose to trust God even when everything in your life goes wrong?
Job lost his livelihood, his wealth, his health & even family members. Yet, he remained resilient in faith by choosing to trust God in the midst of his challenges. Job's story reminds us that we honor God, not by praising Him once our problems have passed, but by staying committed to Him in our difficulties.
It's easy to think our faith is developed when things are good, & we can easily praise God. But what weight & power are there to our faith if we can only trust Him when life is hunky-dory?
Job didn't praise God because He put the original plans back in place. Job chose to praise God even when his life's plans were derailed.
As we believe that God is who He says He is, we need to ask ourselves: How can we allow this season to shape our faith to be as deeply instilled as it was for Job? It is within these seasons that our faith is truly being formed.
In our Christian walk, we can often assume that as trials come, we will innately have the faith to keep our eyes on God. But what we often fail to recognize, is that in the hard moments we must choose to keep our eyes set on our Savior.
In the end, the Book of Job tells us that God rewarded Job for his trust in God when every circumstance around him was trying to convince him to lose his faith.
Ultimately, God is our creator & protector. We can take this season & allow ourselves to be overwhelmed by uncertainty, or we can allow it, in faith, to remind us that we are recipients of His protection. We are incredibly precious to Him.
"Those of steadfast mind you keep in peace—because they trust in you. Trust in the Lord forever, for in the Lord God you have an everlasting rock." - Isaiah 26:3-4
"Who of you by worrying can add a single hour to your life? Since you cannot do this very little thing, why do you worry about the rest?" - Luke 12:25-26
"Snakes. Why do there always have to be snakes?" - Indiana Jones "Raiders of the Lost Ark"
Daves daily devotional, Saturday, March 28
Hello church! I encourage you to listen to Pastor Michael's excellent sermons along with heart felt musical worship & the essential announcements of the week each Sunday morning. You can access these worship services all week long by going to our website VisaliaNaz.org. It is a way to stay connected in a time that we are feeling somewhat disconnected with one another.
I think that it's a healthy sign that we do truly miss one another. One of my young friends Nate Amstutz texted me the other day, simply, "Pastor, I miss church."
Nate speaks for a lot of us in this season of life. Perhaps we have been taking the beauty of gathering together for worship for granted.
The Lord longs for us to worship Him every day:) However, missing worship time together is making me hunger for the hundreds of relationships that we have with one another & how our corporate worship is magnified when we are together!
So here is what I'm feeling & maybe you relate. Im sensing that we are experiencing a deep need of community at the same time that our community is really wanting to be together! We are hampered by constraints imposed upon on us by this deadly virus.
It has brought to mind a profound analogy from Gods great creation. Our famous Sequoia trees have something important to teach us about community.
The Redwood groves are referred to by botanists as 'communities' for a special strategic reason. Although some of the Sequoias rise over 300 ft high, they do not have a very deep tap root. However, their root systems extend out from the base of the tree up to a hundred feet! God has designed them to interlock their roots together. Therefore the Sequoias rarely fall. They have withstood strong winds, earthquakes, fires & storms over the centuries.
Because their root system is intertwined with the others, they literally hold each other up. The trees are dependent on one another for nutrients, as well. Because they live in community they interlock with each other & strategically & foundationaly hold each other together.
So it is with the church. We desire the strength of community and when we are not able to worship together like we have become accustomed, we feel vulnerable. Therefore, let us draw close to God, our Great Creator & He will help us stand against this storm.
Our community will soon be restored and we will be able to worship again together in our family groups & community worship center. As we wait upon the Lord, continue to seek community, stand tall & strong against the stormy blast.
"Let your roots go down deep into God's marvelous love." - Eph. 3:17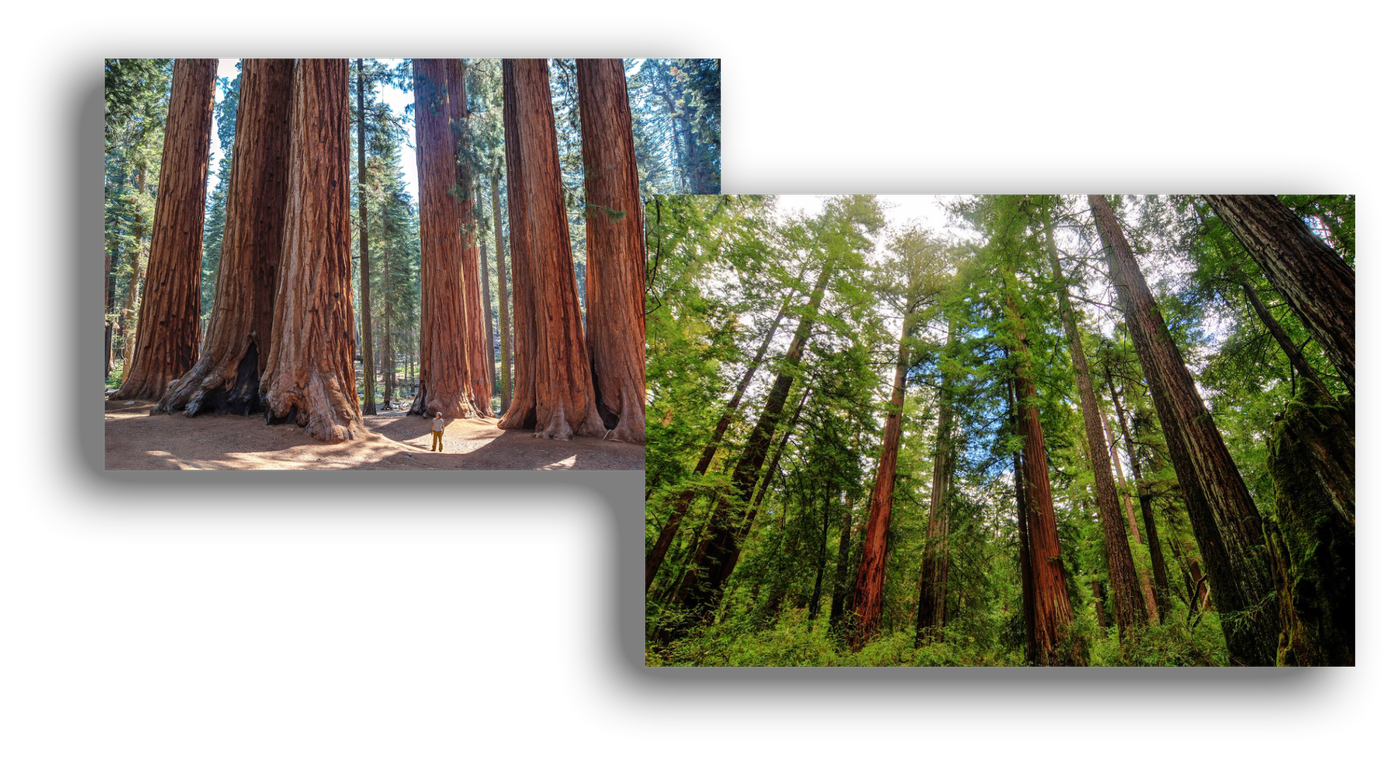 Dave's daily devotional, Friday, March 27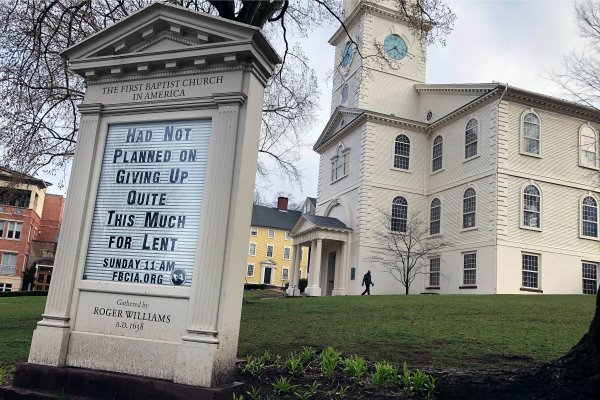 Author Robert Frost, & later musician Jimmy Buffet, observed if we couldn't laugh we would probably all go crazy.
If that's true, then the hard times we're all experiencing as a result of the coronavirus might just be when we need some lighthearted thoughts to make us smile.
There is, of course, nothing funny about the coronavirus nor the disruption it has brought (& will bring) to so many lives & livelihoods. Yet, laughter can be the best medicine, so long as it's within the bounds of good taste.
How about the church sign posted above at the historic 'Real' 1st Baptist Church in N. America (1638) which reads: "Had not planned on giving up quite this much for Lent." - join us online for worship.
I was just thinking the other day (Pastor Glenn says that is dangerous for me).
So I was thinking, remember when we used to save those rolls of toilet paper in order to go TP our favorite friends house after the football game? Changes....
Or in discussing the irony of it all with Charles Shannon, he quipped; "50 years ago you could seal a business deal with a handshake. Now we can't even shake hands."
Then, my young friend, Mariah Boland texted me, "Due to the quarantine, from now on, I will only be telling inside jokes."
Then there's Fox News anchor Julie Bandaras tweeting: "How long is this social distancing supposed to last? My husband keeps trying to get into the house."
However corny the humor might be, it is at least a way of escaping some of the weirdness of this unintended season.
One parent thought of calling their kids school teachers to try to get back the hand sanitizer they sent at the beginning of the year. ha!
Here's an idea - Maybe we can all text Pastor Michael a photograph selfie, so that we could print out our pictures & tape them up where we usually sit in the worship center. So, when Pastor video's his sermon for the website for Sunday Morning, he won't feel so all alone. lol
I also thought about putting up some signs on the church office door that said, "Gone Fishin' - Mark 1:17" but I was afraid that people wouldn't get it & simultaneously make the mailman jealous.
We know that humor is good for us & has been around for a long time. Solomon wrote, "A merry heart makes good, like a medicine." (Prov. 17:22)
Certainly when bad things happen to good people, we share in their sorrow. Yet, somehow James challenges us to "consider it all joy when you encounter trials knowing that the testing of your faith produces endurance." (Chap. 1:2 & 3)
To quote Army General George Patton, "It's Not How Far You Fall; It's How High You Bounce."
Another way of saying that is - 'it's not so much about what happens to you in life that measures your resilience, it's how you learn to trust in God when bad things happen.'
Laughter does, however, provide reprieve from worry, if only for a moment. And then, in a more lasting way, laughter reminds us of how much that we need one another. It's relationships that bring a deeper meaning to life - relationship with God & relationships with one another.
If we remember this, then, when we come out of this coronavirus misery – and we will come out of it – we will not have suffered in vain & our relationships will be there to bring many a smile:)
"Trust in the Lord & do good. Dwell in the land & cultivate faithfulness." - Ps. 37
Dave's daily devotional, Thurs. March 26
In a negative world that is magnified by a skeptical & critical media, I find myself researching for positive information for "Dave's Daily". In doing so, I gratefully came across this uplifting story that magnifies Gods presence in our world.
A coronavirus survivor told his story on Monday's Fox @ Night (3/23).
Clay Bentley, a retired sheriff's deputy from Georgia, shared the story of his miraculous recovery after a bitter battle with coronavirus.
He believes he contracted the virus after attending a gathering at the Church at Liberty Square in Cartersville, Georgia. He rapidly declined, going to urgent care the next day after struggling to breathe. He was ultimately diagnosed with pneumonia & sent him home.
However, he went back to the hospital days later after his condition worsened, & they eventually confirmed that he had contracted the coronavirus.
"I was in the hospital for about 12 days. I guess it was around the fifth or sixth day, the doctors told me, 'we tried everything,
we ran all these antibiotics through you. We've done all these tests, & he said, 'You're worse today than you were when you came in the hospital,'" he continued, noting that the doctor stressed the importance of getting the fluid out of his lungs.
At that point, Bentley said he heard God tell him, "You're getting better."
"I'm just going to tell you, I heard the voice of the Lord tell me as He was telling me that," he says, 'You're getting better." Then, "At about 3 o'clock in the morning I got to the point where I couldn't even breathe, & I tell you I felt like I had a man laying on my chest & the weight of this man was so heavy that he was taking my breath," Bentley said.
"And then all of a sudden I felt this — I felt air blown into my lungs & I know as a believer that God was there with me, & He began to blow air in my lungs & I took a deep breath."
"The doctor came in the next morning & checked me & he said, 'Clay, You hardly — yesterday you were worse than you've ever been & I come in here today & you don't have hardly any fluid in your lungs at all.'"
"Then he questioned me, 'I just want to ask you if you're a praying man,' & I said, 'Yes sir, I pray. I've been praying constantly,'" he explained.
"And the Doctor said, 'Well I have found in my practice when people pray, that positive energy causes the body to begin to heal itself.' And I told him, 'You can believe that if you want to, but I'm telling you, God came in my room last night and healed me.'"
We serve a wonderful & powerful God!
He daily baffles doctors & nurses around the world with his capricious & compassionate healing of our physical, emotional & spiritual issues.
Many of you in our fellowship testify of Gods supernatural healing in your life, as well.
May the Lord encourage you today & remind you of how that He has healed you in the past & how that He continues to heal you today!
"Come, magnify the Lord with me & let us exalt His name together."! - Psalm 34:3
Dave's daily devotional, Wed. March 25
In Your presence is fullness of joy
Our world is changing at a pace not seen in years, and it is no time to become captives of fear despite the real dangers brought about by the covid-19 virus.
Unfortunately, lying, deceit, & cover up surrounded the mysterious birth & spread of the virus that emerged late last year. It has now infected close to half a million people & caused more than 20,000 deaths worldwide.
In our nation, we are attempting to rise up & pull together by staying home as much as possible. Millions of us across our nation are looking to the Lord for His continuing help & protection. As He has been faithful in the past, He is faithful still today.
On both the spiritual & practical side of this challenging season, we are making progress:) (So you might ask, 'Pastor Dave, when is spiritual not practical? ha!)
Here's what we are trying to accomplish:
•improved hygiene - slowing the spread of the virus by staying at home & hand washing & obsessively cleaning (Lysol commercial inserted here),
•keeping essential infrastructure in place so that we can still obtain food, gas & medical help,
•each day we obtain more technical medical knowledge about the creeping crud & how to fight it,
•we are seeing better medical protocols discovered which will increase the rate of survival throughout the nations of the world (super!),
•we are discovering that some drugs that were created to deal with other serious maladies are miraculously working on this virus. (Yay God!)
These improvements, plus the fact that warmer weather has frequently caused other flu viruses to diminish in their contagiousness combine to offer us hope that we will soon be beating this thing.
At some point in the near future, we will see the number of infections drop & certain areas of our nation will able to improve both physically & economically.
Then, presumably, our lives can resume with reasonable precautions with hyper focus on the specific places that outbreaks of the virus are still raging.
Let us remember that in past times of national crisis, our country has been communally resilient in as much as we found our sufficiency in God:) He has providentially sustained us through some really terrible things.
In our self driven world, it is easy to think that life is 'all about us', when life is really all about Him! "In Him was life, & this life was the light of men." (John 1). Profoundly, we are not the center of the universe, rather, our Creator is. The more we treat Him as such, the greater will be our understanding of what God is up to. And, He is always up to something good!
In Psalm 139 - twenty-six times, King David reminds us that "His Mercy endures forever." The word, "mercy" also means compassion & forgiveness:)
Prayer - "Today we give thanks for your great mercy, Dear Lord. We are grateful for your everlasting compassion & cleansing forgiveness. We remember that You are "rich in mercy" (Eph. 2) & "your mercy endures to all generations" (Ps. 100). "From everlasting to everlasting, You are our God." (Ps. 90). We look to You in these challenging days as did our ancestors who loved & honored You. They reaped the eternal rewards of trusting in Your everlasting mercy. May we learn from our rich heritage of your everlasting mercy. May we not seek Your blessings more than Your presence. (Ps.16), "For in Your presence, is fullness of joy". Amen".
Dave's daily devotional Tuesday, March 24
From Chaos to Cosmos through Caring
When God created the world, he brought perfect order out of that which was "without form and void."
But with human rebellion against God, disorder (chaos) was introduced into His creation. Thankfully, God continues to redeem us & the world (Gr. Kosmos)back to His desired paradise of creation:)
Since Genesis 3, mankind has experienced various forms of chaos caused by the sin of the Fall & it's consequences. Satan's embezzlement of the Kingdom of God & his methods of deception have reeked chaos upon us. Personally, we all have suffered from the chaos of the Dark Side.
However, throughout the Bible it seems that God is trying to restore us back to Himself.
Throughout redemptive history, we observe;
•God's grace for us,
•His aim to deliver us,
•His faithfulness to His promises
•& His intent to restore His creation to a paradise that was lost.
So biblically & theologically, when a person embraces Jesus great salvation, they are restoring a bit of what was lost in the garden:) As we embrace God's forgiveness, He restores that which the 'Enemy of our souls' has intended for our chaotic destruction - an actual, 'Highway to Heck'.... (hey, so I'm a Pastor)
We are currently experiencing all sorts of chaos. It has been avalanched upon us by way of this microscopic bug
Apparently, these sorts of bugs have caused incredible devastation throughout history. Cholera, bubonic plague, & influenza are some of the most brutal killers of humankind. Before we discovered a cure for smallpox, it's estimated that it killed between 300-400 million people in its 5,000 year existence. Glad we have that vaccine! Yikes!
As of Tuesday mid-day (March 24), Tulare County has a total of 17 positive cases; 13 contracted by folks out traveling who brought it home. There are also approximately 135 people under self-quarantine & being monitored by Tulare Co. officials. (I thought that we are all pretty much under quarantine under the 'stay put' rule?)
There are also 13 cases in Fresno & 2 in Kings County & a couple in Kern. Fortunately, no one in the 7 county area of the San Joaquin Valley has died of 'the crud' yet, Praise God! I wish that we could say the same for alcohol related deaths during the same period.
So, where are Gods people in all this chaos?
Can this chaotic moment become a time of holy helpfulness?
Can this be an opportunity for God's people rise up with wisdom & courage, transcending the fray & the fear?
With a little communication & compassion I believe that chaos can transform a really bad situation into hundreds, perhaps thousands of kind & thoughtful acts.
In the past week, I have heard that good hearted folks in our church family have delivered food, dropped off prescriptions, & braved Costco on behalf of others.
The crazier (& darker) that things get, the more clearly Gods light can shine through us!
Be smart about your health but don't live in fear. If you can't get out - use this time to pray for others.
"Shine your light & make a positive impact on the world; there is nothing so honorable as helping improve the lives of others." - Roy T. Bennett
"Hide yourself in God, so when a man wants to find you he will have to go there first." - Shannon L. Alder
"Shine. Let it shine before all men.
Let 'em see good works & then,
Let 'em glorify the Lord." - Newsboys
"Believers are lights, but it helps us keep that in proper perspective when we realize that our light is derivative—we get it from God. We do not originate the light, we reflect the light." - Mark Grislier
"Don't be afraid to shine. The world needs your light." - Timi Nadela
"Let your light shine before men, that they may see your good works, & glorify your Father who is in heaven." - Jesus (Matt. 5)
Dave's daily devotional Monday, March 23
"They were Giants"
One of my favorite contemporary authors is Stanford professor & Selma raisin farmer, Victor Davis Hanson.
As a fourth generation Central Valley farmer & classic historian, he brings profound thoughts into practical words.
Recently, Dr. Hanson wrote about the contrast of what we currently face & what our previous generations accomplished.
"Does anyone believe that contemporary Americans could build another transcontinental railroad in six years?
Who were those giants of the 1960s responsible for building our interstate highway system?
America went to the moon in 1969 with supposedly primitive computers and backward engineering. Does anyone believe we could launch a similar moonshot today?
Our ancestors were builders & pioneers & mostly fearless.
We are regulators, auditors, bureaucrats, adjudicators, critics & social media junkies. A distant generation created; we mostly delay, idle & gripe.
Contemplatively we ask: 'Who were these people who left these strange monuments that we use but can neither emulate nor understand?' In comparison to us, they now seem like giants."
Wow & Ouch.
Dr. Hanson brings a painful reality to bear in our challenging current world.
Without wanting to downplay the problems that we currently face, it is true that our grandparents fought in wars for us. Yet, in stark contrast - In facing this virus, all that we're being asked to do is to sit on the couch. Our governor asked that we "Shelter at home" or as I wrote last week- obey the 'stay put rule'.
Without sounding harsh, asking several generations that love to sit on the couch - to sit on the couch, require us no sacrifice whatsoever.
"There are very few monsters that warrant the fear that we have of them." - Andre' Gide
Dave's daily devotional Sunday, March 22
"Sabbath - a weekly festival having its origin in the fact that God made the world in 6 days & was arrested on the 7th." - Ambrose Bierce
Eugene Peterson, author of "The Message " exclaimed, "If you don't take a Sabbath rest, something is wrong. You're doing too much, you're being too much in charge. You've got to quit, one day a week, & just watch what God is doing when you're not doing anything."
As a hard working Pastor, I have been asked by a concerned friend or two "when do you take your Sabbath?" I suppose it is because they are astutely aware that I am running around the church on Sunday in high gear. I have often quipped, "I'm a 2nd Day Adventist, I take Monday's off."
No matter what day of the week that you choose to rest, we are definitely charged to do so by the Lord. (My little brother MD, Dan wrote a book about this very thing)
Before Jesus transformed the traditional Jewish 'Friday night at sundown to Saturday night at sundown' through a Sunday morning resurrection, an obedient Jew was not to do one little smidgen of anything that could be considered 'work'. To do so would be to incur the wrath of the Levitical priesthood & to be labeled "a Sabbath Breaker" which apparently had some serious social ramifications.
For us modern dolts, the keeping of Sabbath is much more than physical rest. It involves spiritual renewal and worship. But keeping the "Sabbath day holy" is much more than going to church. It is a day of rest that God intends for us to keep. Unfortunately, next to lying (#9), the breaking of Sabbath is probably the next most often of the 10 Commandments that we brake.
There are continual distractions that our culture has devised to help the Enemy keep us away from the challenge of keeping the 3rd of Gods original Commands.
It seems to me that Sabbath contains both 'active rest' & 'passive rest'. I think that 'active rest' is fulfilled by gathering together to "worship the Lord in the beauty of holiness" (Ps. 96;9).
Conversely, 'passive rest' means not that I watch golf or football (back when they played such sports) all afternoon, but that I take a nap or some other sort of restful, physically restorative time with the Lord:)
Let me say something before I say something.... hang with me.
I'm semi-secretly wondering if perhaps this whole strange imposition brought on by this virus is a sort of sneaky way of God whispering to us - 'you're breaking Sabbath & you Americans have been doing so for a very long time'.
Let me follow that up by clearly explaining that God is not the author of disease but it is Satan that has caused all disease & our eventual physical death. Biblically, The Scoundrel deceived us long ago (Genesis 3 & following) & he is the one that is to blame for the problem of evil, disease & all suffering in the history of the world.
So now that I've said that - let me say this
The Year of Jubilee, which, for the Old Testament people came every 50th year, was a year full of releasing people from their debts, freeing all slaves, & returning property to who owned it. It was like a HUGE Sabbath year & was universally dedicated to REST.
The Israelites were not supposed to sow or harvest crops; it was a time for the people to return to their families & loved ones & to focus on the Lord.
So, I'm kinda wondering; in the here & now, stuck at home, contemplating the forced solitude....what is God whispering to you in this strangely bizarre viral Sabbatical?
You might think that old Pastor Dave has finally lost it theologically or you might just sit quietly & listen to that wonderful whisper that is so hard to hear amongst the wasted noise of a culture that worships things - other than WHO we are supposed to truly worship.
Dave's Daily Devotional Saturday, March 21
OK, SO NOW WHAT DO I DO?
So much has changed in such a brief time. Our daily news cycle is filled with reports of the global Wuhan pandemic. Government leaders, medical professionals, researchers & scientists are diligently working to stem the tide of the virus & to protect folks like us from the crud. We have all been impacted in great & small ways.
As our lives have been disrupted, I'm sure that you have been experiencing a variety of emotions, frustrations & fears.
I think that it is time that we ask the Lord to help us face these problems & ask for His ability to transform these negative life experiences into redemptive situations.
This certainly it is a chance for us to spend time at home, love on our families, reach out to our neighbors & encourage one another via social media.
I have received fine words of encouragement from many of you in our wonderful fellowship. However, I am searching for those that might feel isolated & challenged in this strange season. I need your help in order to find them & minister to them:)
While I was writing this short devo, I received this encouraging text from my musician brother Matt Haus. "With all the closings, cancellations & reschedulings going on, I'm comforted to know that our Lord Jesus is still risen! No matter where we are or what inconvenience we are facing, He has not, nor will He ever forsake us! In these trying times He sustains us - so that we can proclaim His holiness."
The people of God do not live in fear nor respond in trepidation because, as Paul reminded the Phillipian congregation; "The Lord is near" (4:5). These four words have the power to transform our reality wherever we find ourselves emotionally, physically & spiritually today. Because the Lord is near, we need not fear.
"For God has not given us a spirit of fear, but has given us power, love & a sound mind" 2 Timothy 1:7.
"I'm not afraid of storms because I'm learning to sail my ship." - Louisa Mae Alcott
Dave's Daily Devotional Friday, March 20
OK, so now what do I do?
Some of you may have heard that last night, our governor (was he appointed or elected? Ignore this thought). He proclaimed that we should all stay put in attempt to negate our collective sharing of all things microscopically viral & bacterial. He called it "shelter in place". I call it 'the stay put rule'.
So, I ask you - What are you going to do while you 'stay put' in your place?
I have a few suggestions. To begin with, you can take any negative thoughts or grumpy complaints to God. King David got away with it. I mean half of the Psalms are him complaining, right?
Long ago one of my professors suggested that good old king David might even have been bipolar? Nonetheless, we can take the initiative to find peacefulness in our 'stay put' time with God.
However, what about moms with young children? Do Gods promises reach to the single (or even married parent) that is tired of doing laundry, cleaning the kitchen & attacking the unending mess that is created by their offspring?
I respond with a resounding YES!
My friend, Chris McClain reminded me that Susanna Wesley, mother of John & Charles Wesley was a 'stay put' mother of ELEVEN children! At prearranged times during her day, she would escape the mayhem by quietly sitting in a chair & would throw her cooking apron over her face. Her children learned that during those moments she was spending with God!
How about with us? We can do it too! Let's start with Psalm 1.
"Blessed is the man (or women) who walks not in the counsel of the ungodly nor stands in the way of sinners nor sits in the seat of scoffers but his (their) delight is in the law (word) of the Lord & in His law (word) does he meditate day & night.
So there you have it - you have a grumpy old bipolar King that writes to us saying that the way to be blessed is to meditate every waking moment on the Holy Promises of Gods Word & apply them to your sequestered soul
I think that some really peaceful God moments can be birthed in YOU during these very strange days, but you will have to 'seek Him' while you 'stay put'.
Isaiah 55:6 "Seek the Lord while He may be found, call upon Him while he is near."
Dave's Daily Devotional Wednesday, March 18, 2020
Good Morning Church!
These are unprecedented days of challenge. However, from the very beginning, the 'Church of Jesus' had to be creative & tough as it faced severe persecution and a variety of life threatening issues.
It is in the latent DNA of the church to face change with faith and not fear.
This 'need to not fear' takes many forms for the Christian.
In this daily devotional I will remind you about what you already know about God & your faith over the next few weeks.
We as a church hope that you will find it inspirational because our God is the source of inspiration!
Let me start by reminding of this verse from the Prophet Isaiah -
"So do not fear, for I am with you; do not be dismayed, for I am your God. I will strengthen you & help you; I will uphold you with my righteous right hand." Is. 41:10
May the Lord grant you health & wisdom today!